6 Best Calendar Apps To Run Your Small Business Like a Pro
Authors

Name

Twitter
Published on
Ready to Sync
Your Calendars?
Create a OneCal account to sync multiple Outlook and Google Calendars, create Booking Links, and much more.
Millions of businesses operate around the world, and do you know which is probably the most important software almost all businesses use? The good old Calendar. Remote work has made the importance of a good calendar app more evident, as now companies can hire employees internationally, making collaboration and coordination harder.
Before remote work, everyone would be in the same office, making collaboration easier, but now, companies have to manage employees across different continents, each having a different timezone.
This is where calendar apps save the day, as they help businesses keep track of each employee, and make meetings easier and streamlined, without the need to think about timezones, locations, or double-bookings.
In this article, we'll list the best calendar apps for business, exploring calendar apps with different goals. If you're a small or large business, this article is for you, as you might find Calendar apps that might save time for your business.
What is a Calendar App for Business?
A Calendar app for business or a Business Calendar app, is a digital calendar app that allows employees of a business to manage their calendars, easily share their availability with team members, sync multiple calendars to avoid meeting conflicts, and more. Overall, the goal is to facilitate scheduling, and management and streamline the availability.
6 Best Calendar Apps To Run Your Business Efficiently in 2024
1. OneCal - Best for Syncing Calendars and sharing booking links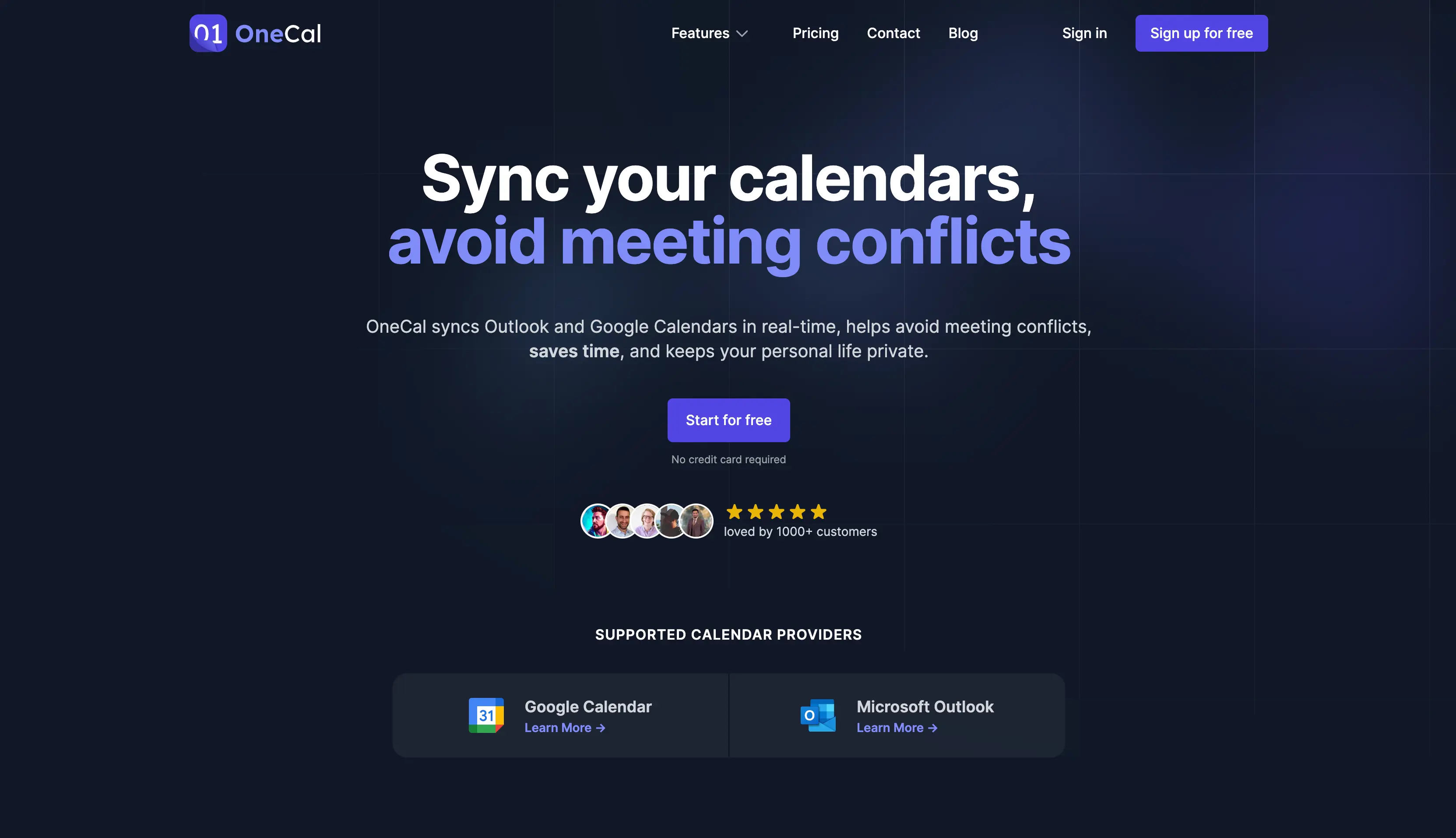 OneCal is a calendar app that supports Outlook and Google Calendar and can be used by professionals to sync calendars, share booking links, and view multiple calendars in a single view.
OneCal is not a standalone calendar app but instead can be used to enhance your calendars and save you time. When sharing Outlook or Google Calendars, you make the calendars public, exposing company information to the public. By using OneCal, you can sync Outlook or Google Calendar in real-time, fully in control of what to share, without exposing anything.
Main Features
Calendar Sync

: With OneCal, you can

sync all your business or personal calendars

, streamlining your schedule across all calendars, and

avoiding scheduling conflicts

.

The way it works is: Imagine you have a work calendar and a calendar for the client you're working for. Given that you've got meetings in both calendars, it's not uncommon for your co-workers to schedule a meeting in your work calendar at the same time you have a meeting in your other work calendar.

This happens because the meetings are scattered across both calendars, and your availability is not fully shared across them. If you use the Calendar Sync feature, your meetings in the work calendar will be cloned to your client's calendar, and vice versa.|

This way, when someone uses the Find a Time feature in Google Calendar or Outlook, they'll be able to see the full availability, avoiding confusion and double bookings.

Multi-calendar scheduling links

: With OneCal, you can quickly create and share

multi-use scheduling links

, that take into account the availability from multiple calendars. This is indispensable when you work with clients or team members outside your organization, or simply have meetings with potential clients. You can ensure that they book a time with you when you're free, and have control over the whole process. You can set custom availability for each booking link, set buffer times, booking approvals, and much more.

Calendar View

: The

OneCal Calendar View

allows you to view multiple Outlook or Google Calendars under the same view. Using Calendar View you won't have to open all your calendars one by one to see your schedule or join meetings. Just open OneCal, all your meetings across all calendars lie in one place.

Intuitive UI and UX: The app is quite intuitive and easy to use. You can set up your account, calendar syncs, and booking links in less than 5 minutes.
Pricing
Starter: $5 per user per month

Essential: $10 per user per month

Premium: $30 per user per month

Custom/Enterprise Plans: contact for pricing
Please refer to the pricing page for more details.
You can sign up for a 14-day free trial of OneCal to sync Google Calendars, share scheduling links, and view your Google Calendars in one view. No credit card is required.
2. Fantastical - Best for managing multiple calendars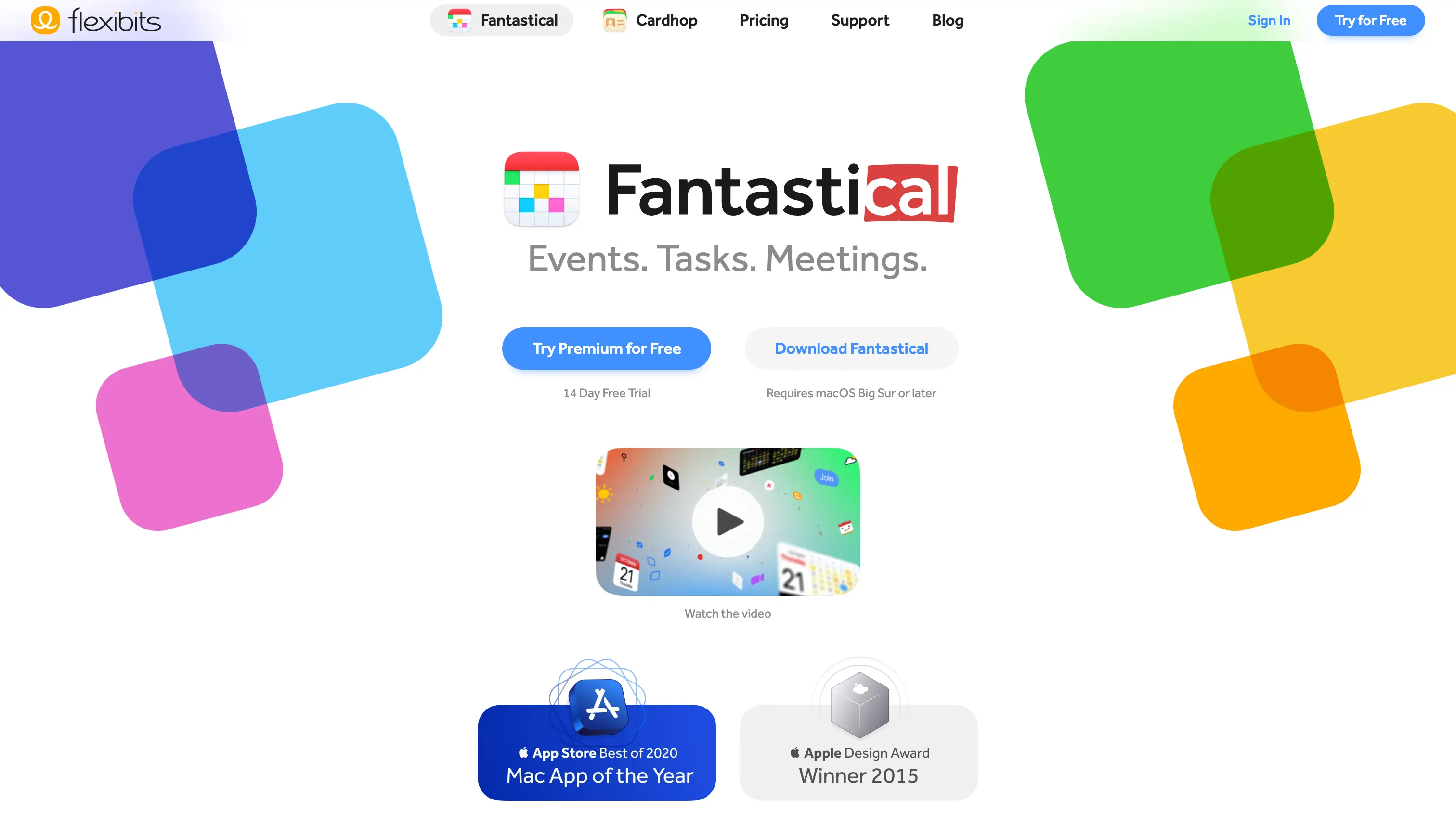 Fantastical is a desktop calendar app that allows you to manage multiple calendars with ease. Fantastical is known for its sleek and intuitive design, as it won the Mac App of the Year award in 2020.
Features:
Supports most calendar providers: Fantastical supports iCloud, Google, Microsoft Exchange, Outlook, Microsoft 365, Yahoo, and more. This is quite powerful, as most calendar apps don't have this kind of calendar support.

Native Desktop app: Although only available on Macs, through the App Store, the Native Desktop app is quite amazing. The UI and UX are top-notch, I assure you that you'll be amazed by the hard work the Fantastical team has put in to make sure you get the best experience.

Natural-language event creation: Fantastical allows you to create meetings just by typing normally, for example, if you type: "Create a 1:1 meeting with Eraldo at noon", it will parse the words, get the relevant information, and create the meeting.

Scheduling links: You can also create scheduling links to share with others.
Cons
No Windows or Android support

: If you're on Windows or Android, Fantastical is not for you, as it's only available on the App Store.

Cron

is an excellent choice if you're a Windows user, as it's intuitive and quite feature-rich. Check out the in-depth guide we wrote about

the best Google Calendar tools

to learn more about Cron and other relevant apps.

Arguably expensive: To access the hot features I mentioned, you'll need a premium plan.
Pricing
Free

For Individuals: $4.75/month, billed annually

For Families up to 5: $7.50/month, billed annually
3. Any.do - Best for task management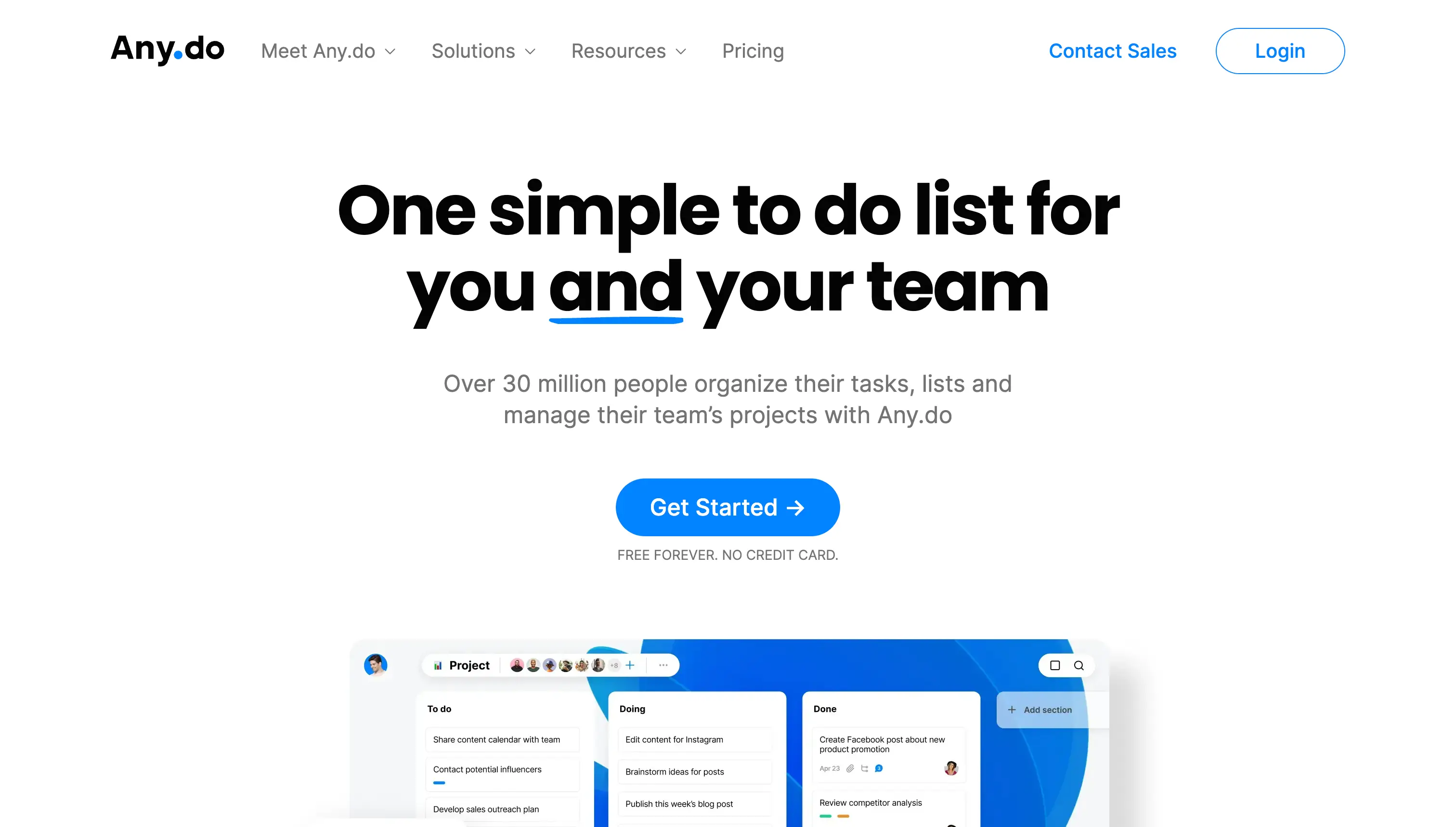 Any.do mainly focuses on organizing tasks, lists, and projects with your team.
Features:
Smart Suggestions: Any.do can learn from previous entries, so when you create new tasks, it can give suggestions.

Voice Commands: If you use the mobile app, you can create tasks by simply speaking.

Task view: You can view all your tasks in a single view.

Plenty of integrations

: Any.do works integrates with Google Calendar and Outlook, meaning that you can manage your Outlook or Google Calendar tasks directly from Any.do. If you want to add an iCloud Calendar to Any.do, you'll have to

sync the Apple Calendar to Google Calendar

, then add the Google Calendar to Any.do.

Overdue tasks handling: It allows you to handle tasks when they are over-due, by rescheduling them. They also appear in the calendar view.
Cons:
Takes some time to get used to: Given that the product has grown over the last year, you'll have to get used to getting efficient using the entirety of features offered by Any.do.
Pricing:
Free

Premium: $3 per month, billed annually

Team: $5 per user per month, billed annually
4. Google Calendar - Best for Google Calendar Users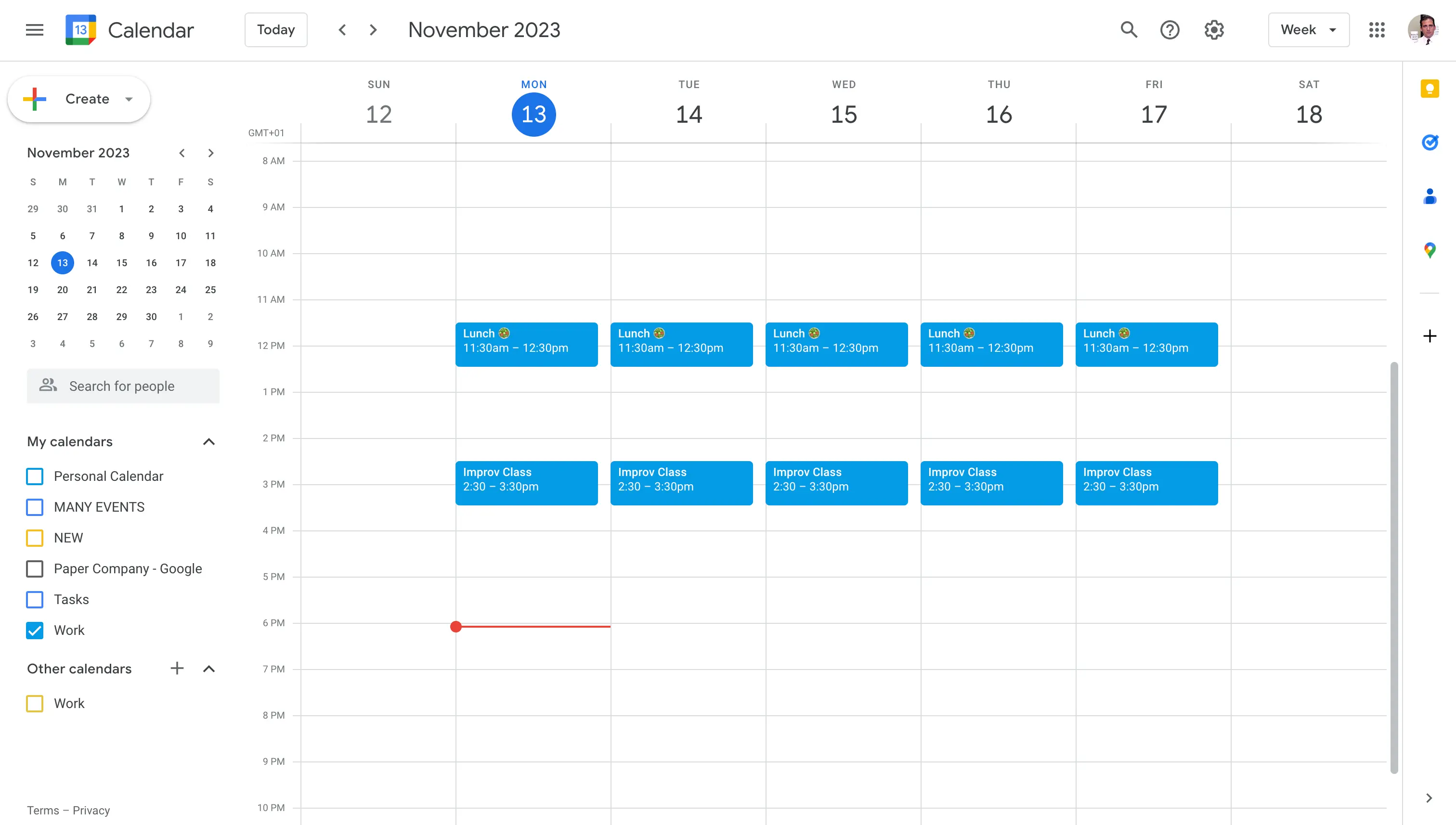 Google Calendar needs no introduction, as it's the most used digital calendar to date. Although it's very used and has many useful features, it lacks some essential features, along with limitations.
Features:
Available on all platforms: You can use Google Calendar in Web, Desktop, or Mobile. Your availability is also reflected across all these calendars, no matter which you choose to use.

Reminders: You can set custom event reminders to any meeting or event, Google Calendar will notify you via email.

Built-in Gmail integration: You can create meetings from Gmail, they'll be automatically added to Outlook. You can also accept or decline meeting invites straight from Gmail.

Scheduling Links

: Google announced the

Google Appointment Scheduler

, which allows you to create and share scheduling links straight from Google Calendar.
Interested in scheduling appointment solutions? Check our article on Top 7 Calendly Alternatives to find out alternatives to Calendly, the most popular scheduling solution.
Cons:
Sharing Privacy

: When you choose to share your calendar, your events and their details might be visible to others, depending on the settings you choose when you share calendars. To avoid this, you should use a

Calendar Sync Tool

that allows you to sync multiple calendars, without sharing private information.

Only checks the primary calendar when booking

: If someone uses the

Find a Time

feature on Google Calendar, Google Calendar won't check your availability in the secondary or shared calendars. This means that you'll get double booked, and to avoid that, you can use

OneCal

, to sync all your calendars.

Slow sync with Outlook

: If you choose to share or

sync Google Calendar with Outlook

, events take up to 24 hours to update, furthermore your private details are visible to the Outlook user you shared the calendar with.
Pricing
Free

Paid plans start at $6/month
5. Apple Calendar - Best for iCloud/Apple Calendar users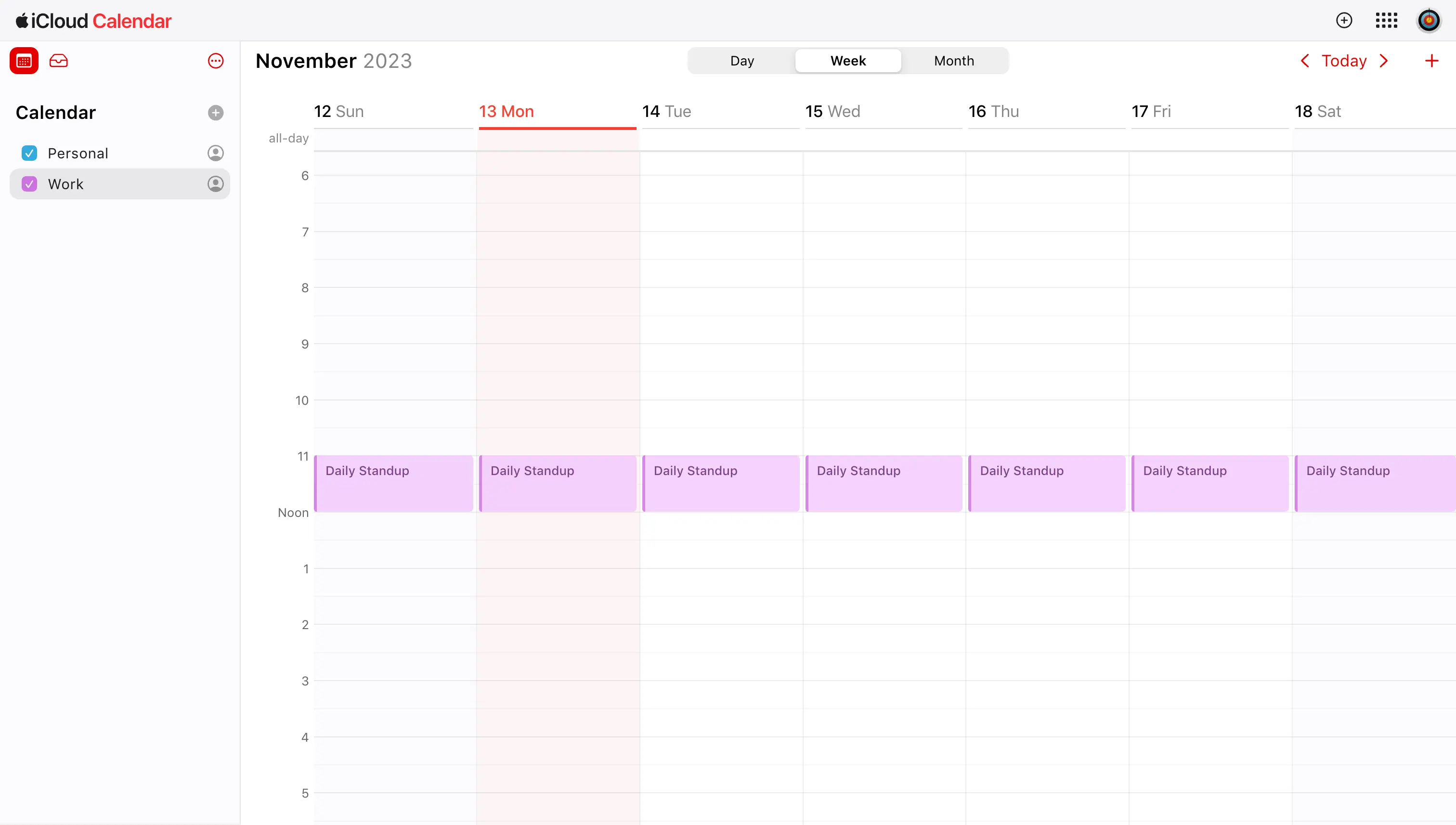 Apple Calendar is the calendar provided by Apple, available on all Apple devices. It more or less shares the same features as Google Calendar, and ultimately, suffers the same issues.
Features:
Integrates with the Apple Ecosystem: The Apple Calendar comes pre-installed on Macs, iPads, and iPhones, and can be synced across all your Apple devices.

Invitations and reminders: Apple Calendar sends you invitations and reminders via email, so you don't miss a meeting.
Cons:
Not as flexible as Google Calendar or Outlook: Although you can use the sharing feature Apple Calendar offers, the integration with other calendar providers is not the best.

Sharing privacy: Same as Google Calendar, if you share your iCloud Calendar with someone else, they'll be able to see your private event details.
Pricing:
Free

$0.99/month for unlimited calendars
6. Outlook - Best for Microsoft Outlook users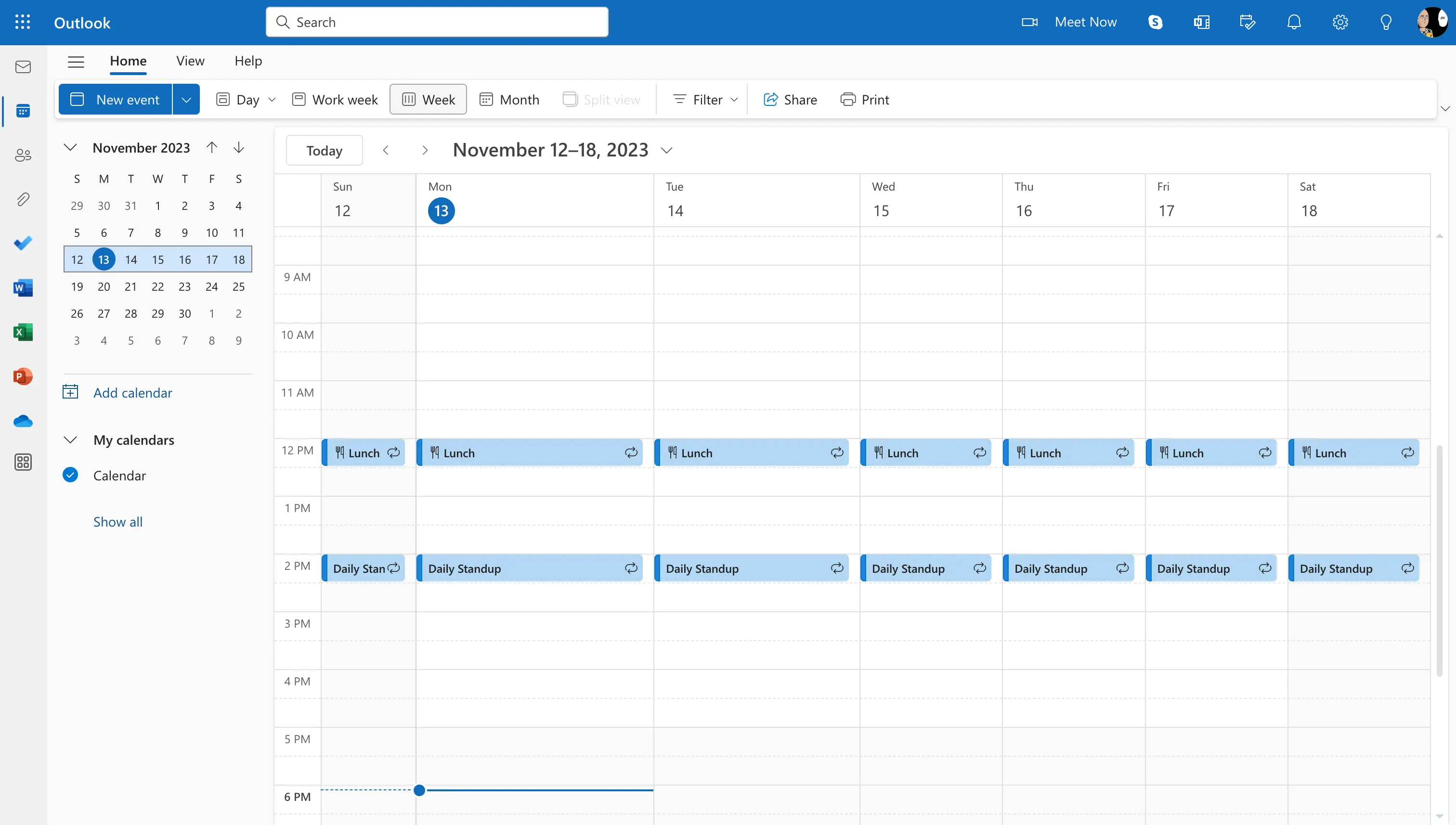 Outlook is the go-to calendar for Microsoft users, used by millions of professionals. Microsoft is also pretty serious about it, as the app has evolved and gotten better over the years.
Features:
Email integration: Given the Microsoft ecosystem also has an email, Outlook integrates with Outlook Mail, making sure you receive notifications, invites, reminders, and more, straight from Outlook Mail.

Primary and shared calendars: Same as Google Calendar, Outlook has primary calendars and shared calendars.

Find a time feature:

Outlook has a similar feature to the Find a Time feature in Google Calendar, that allows you to book a time with your co-workers in Outlook. The downside, same as Google, is that you can't really see when the other person is busy, as the availability you see is only from the main calendar. In order to avoid scheduling conflicts, you'll have to

sync the calendars

.
Cons:
Privacy concerns when sharing calendars

: By default, when

sharing an Outlook Calendar

to another, doesn't let other users see when you're busy. To avoid this, you'll have to make the calendar public, and by doing so, others will be able to see your events along with their private details. To avoid this, you have to use a Calendar Sync tool like

OneCal

that syncs Outlook Calendars in real-time.

Slow syncs with Google

: If you choose to

sync your Outlook Calendar with Google

, it takes up to 24 hours for new events to update. Furthermore, you don't have control over what meeting details will sync over to Google Calendar.
Pricing:
Free

Basic: $19.99 per year

Personal: $69.99 per year

Family: $99.99 per year

Business Basic: $6 per user per month

Business Standard: $12.50 per user per month
What makes a great Business Calendar app?
Given that the way that businesses operate has changed over the last decade, the traditional ways of scheduling meetings won't cut. Modern Business Calendar apps give you the ability to quickly share your availability, allow you to seamlessly view all your calendars in one go, help you block your time across all your personal and work calendars, and more. Here are some of the features that make a great Business Calendar app:
Outlook and Google Calendar Support: A great business calendar app should have support for Outlook and Google Calendar, as most businesses deal with multiple calendars, often time Outlook and Google Calendar combined. Having support for iCloud/Apple Calendar would be nice to have, but not a must-have, as most corporates use Microsoft 365 or Google Calendar to manage their calendars.

Easy to use, designed with a purpose: It's very important for a great business calendar app to be designed with purpose, and accomplish the goal of saving time for its users, not the opposite. A great calendar app simplifies operations for you, makes it very easy to manage your calendars, and achieves its main functionalities.

Feature-rich and customizable: A great business calendar app should be packed with as many useful features as possible, and be as customizable as possible. The ability to share booking links, view all your calendars in one place, and see when your team is available to schedule meetings, are the most important features of a great business calendar app.

Mobile friendly, available on multiple devices: The workplace has become quite dynamic, it's important for a business calendar app to be mobile friendly, and preferably available on as many platforms as possible (Mobile, Web, Desktop).
Leverage OneCal for your business scheduling needs
OneCal is an invaluable Calendar tool, that can save you tens of hours doing manual work, scheduling meetings, and re-scheduling because of meeting conflicts.
Using OneCal, you can streamline your availability across all your calendars and stay on the same page with your team members.
Sign up for a 14-day free trial, no credit card required, to leverage OneCal for your business, with no hard attachments.