OneCal as a

Reclaim alternative
OneCal's sophisticated calendar synchronization software, combined with its user-friendly interface, straightforward team invitations, and reasonably priced pricing model, positions it as the top Reclaim AI alternative for calendar synchronization.
Get 30% recurring discount + assistance with onboarding and migration if needed.
Reclaim Alternative
What makes OneCal a
superior Reclaim AI alternative
for calendar synchronization?
Outlook and Google Calendar Support
With OneCal, you can synchronize Outlook and Google calendars at the same time.
Reclaim only supports synchronization for Google calendars.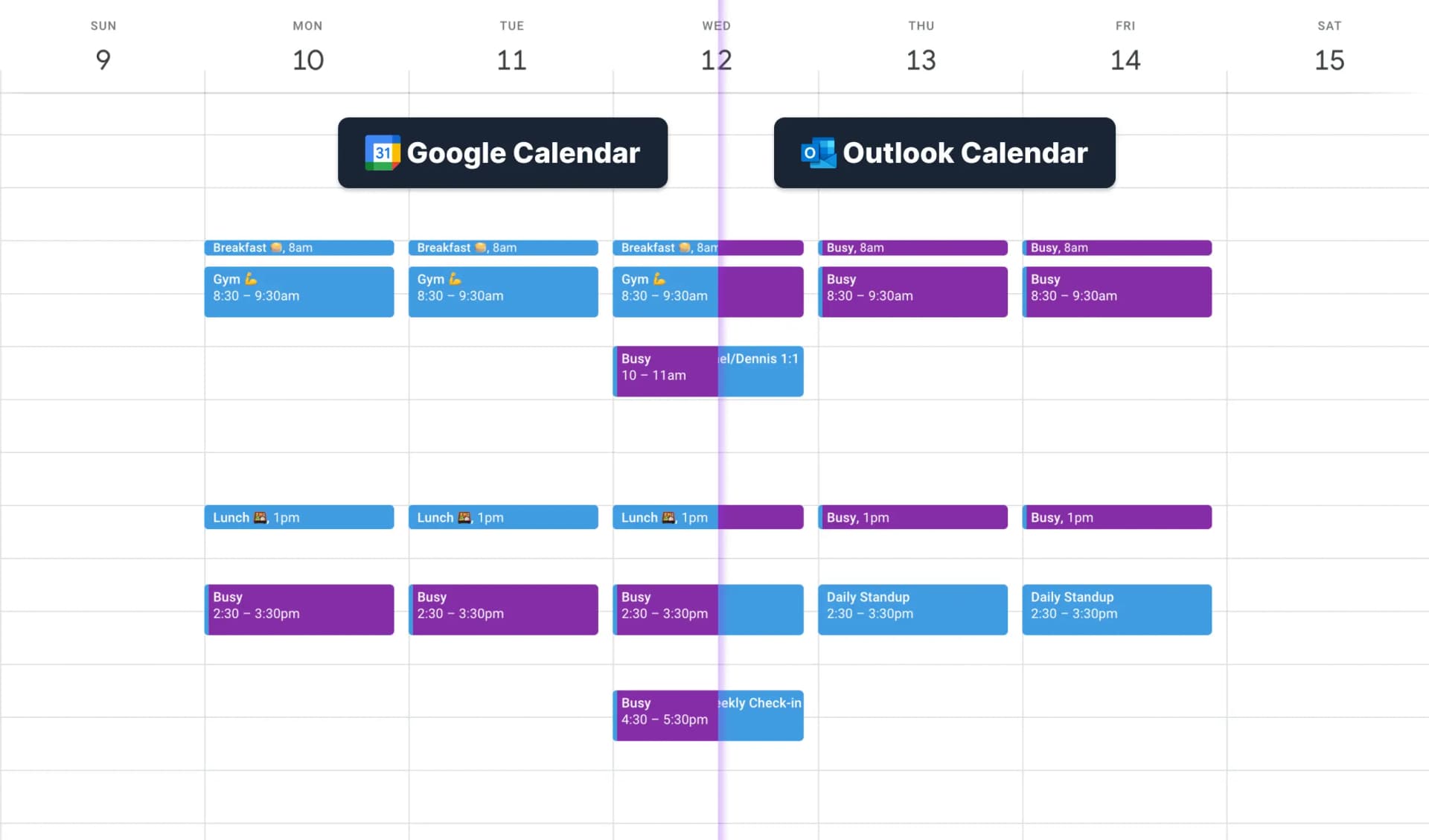 Advanced Sync Configuration
OneCal gives you a wide range of options when it comes to configuring your syncs. You can choose exactly what details you want to be copied over, and which ones not, making it the most advanced calendar synchronization software.
Reclaim's calendar synchronization capabilities are greatly restricted. It replicates events exactly as they are, without allowing for customization, resulting in undesirable outcomes, such as team members having visibility into confidential or private appointments.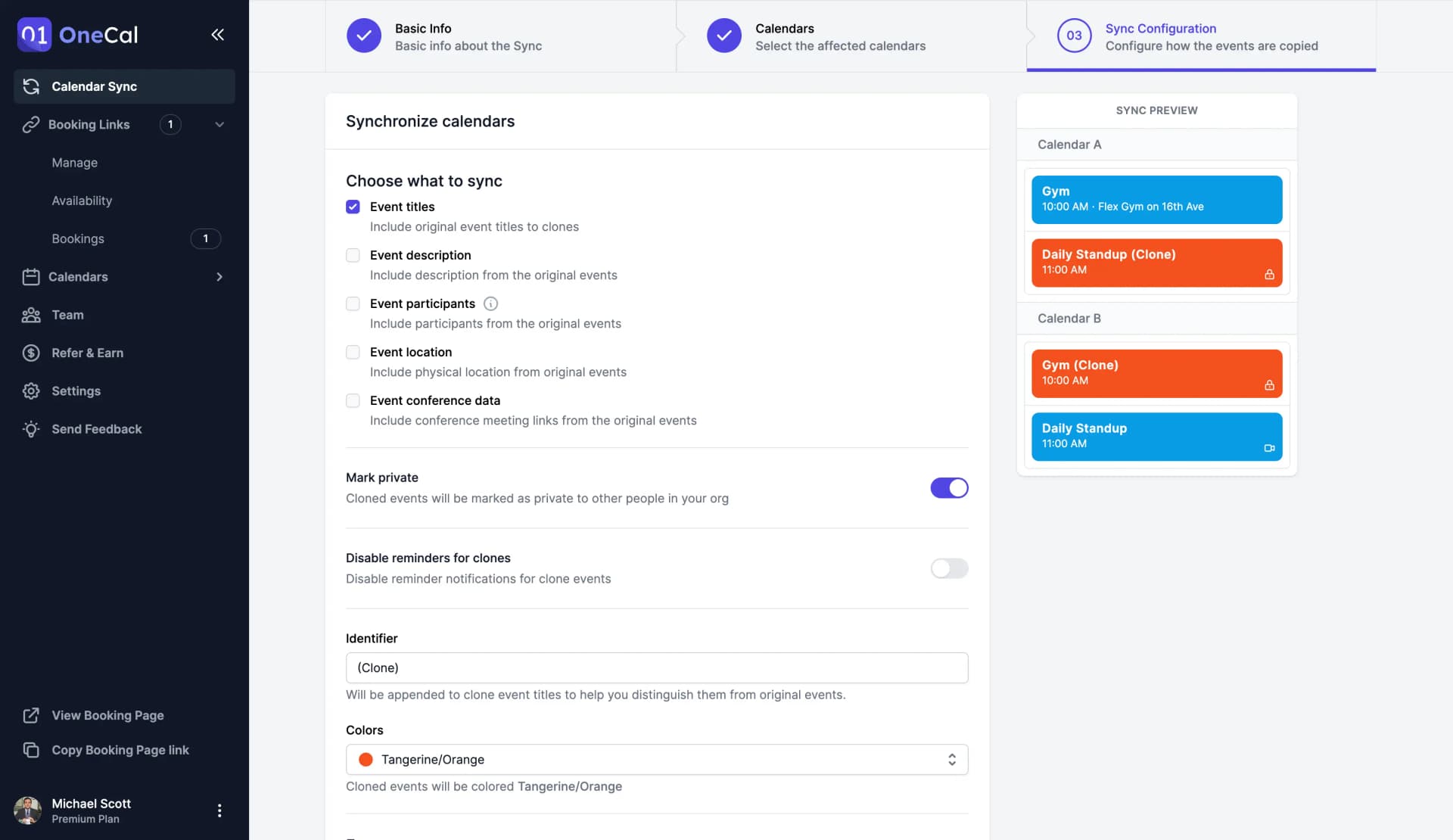 Fast, reliable syncs
Our team has put in a lot of effort to optimize the calendar sync process for speed and reliability. With our algorithm, it's possible to sync multiple calendars with thousands of events in less than 5 minutes, all at once.
With Reclaim, there's no way of knowing if a sync has completed or is still in progress. This is especially confusing when you want to sync more than 2 calendars together, with multiple syncs.
Sync multiple calendars in one go
With OneCal, you can sync one calendar with one or multiple others, or even multiple calendars simultaneously.
With Reclaim, if you want to sync more than 2 calendars, you have to create a new sync for each pair, in each direction.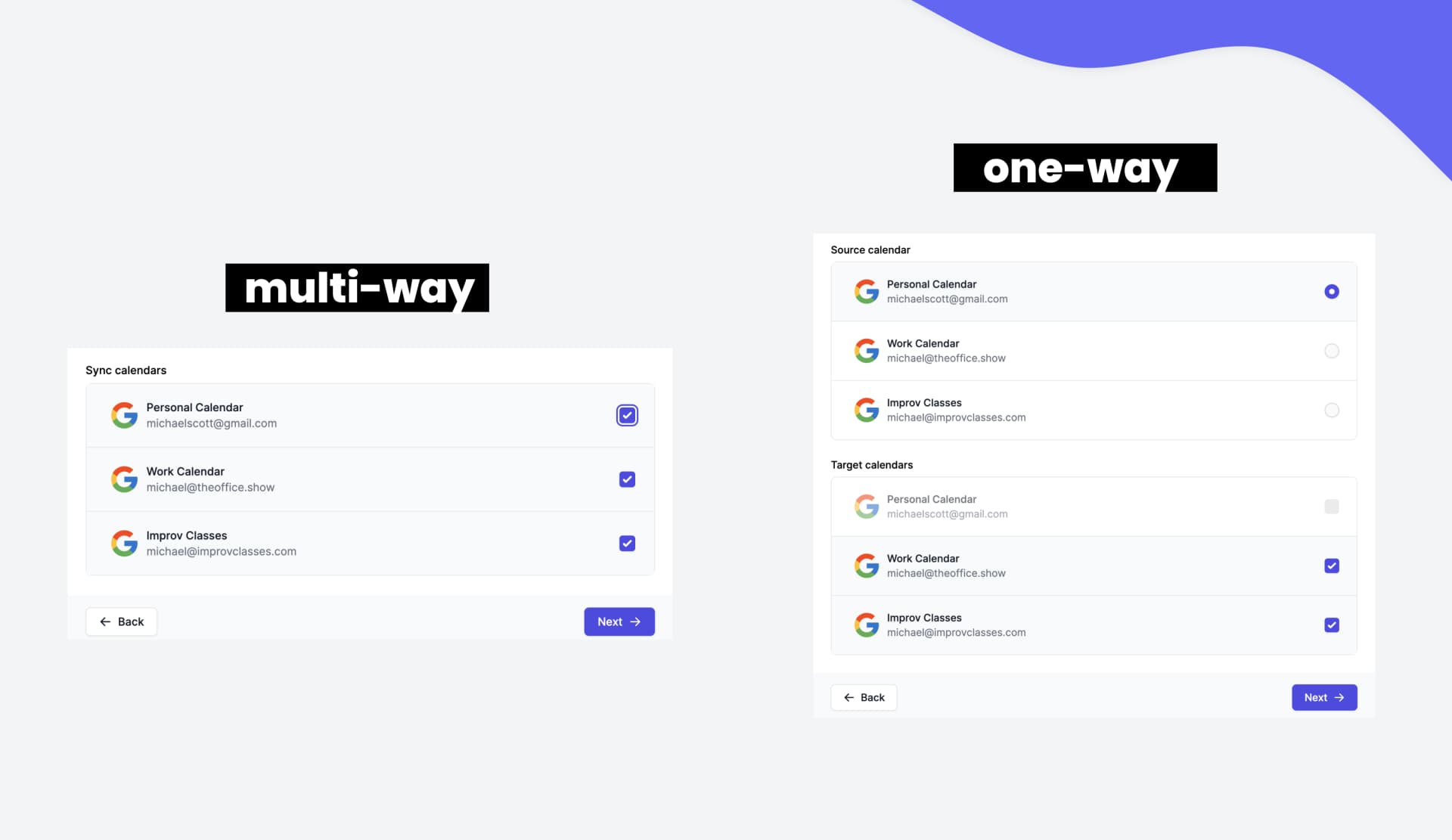 Intuitive Scheduling Links
Say goodbye to tedious back-and-forth communication and confusion. You can easily share your availability, allow others to book directly into your calendar.

Michael Scott
Improv Class
Are you ready to unleash your inner comedian and master the art of improvisation? Look no further! Join me, Michael Scott, for an exciting journey into the world of spontaneous creativity.
| M | T | W | T | F | S | S |
| --- | --- | --- | --- | --- | --- | --- |
| | | | | | 1 | 2 |
| 3 | 4 | 5 | 6 | 7 | 8 | 9 |
| 10 | 11 | 12 | 13 | 14 | 15 | 16 |
| 17 | 18 | 19 | 20 | 21 | 22 | 23 |
| 24 | 25 | 26 | 27 | 28 | 29 | 30 |
| 31 | | | | | | |
Uncluttered, User-Friendly Interface.
OneCal is dedicated to delivering a sleek user interface and a seamless user experience. Synchronizing your calendars requires no need for tutorials or documentation.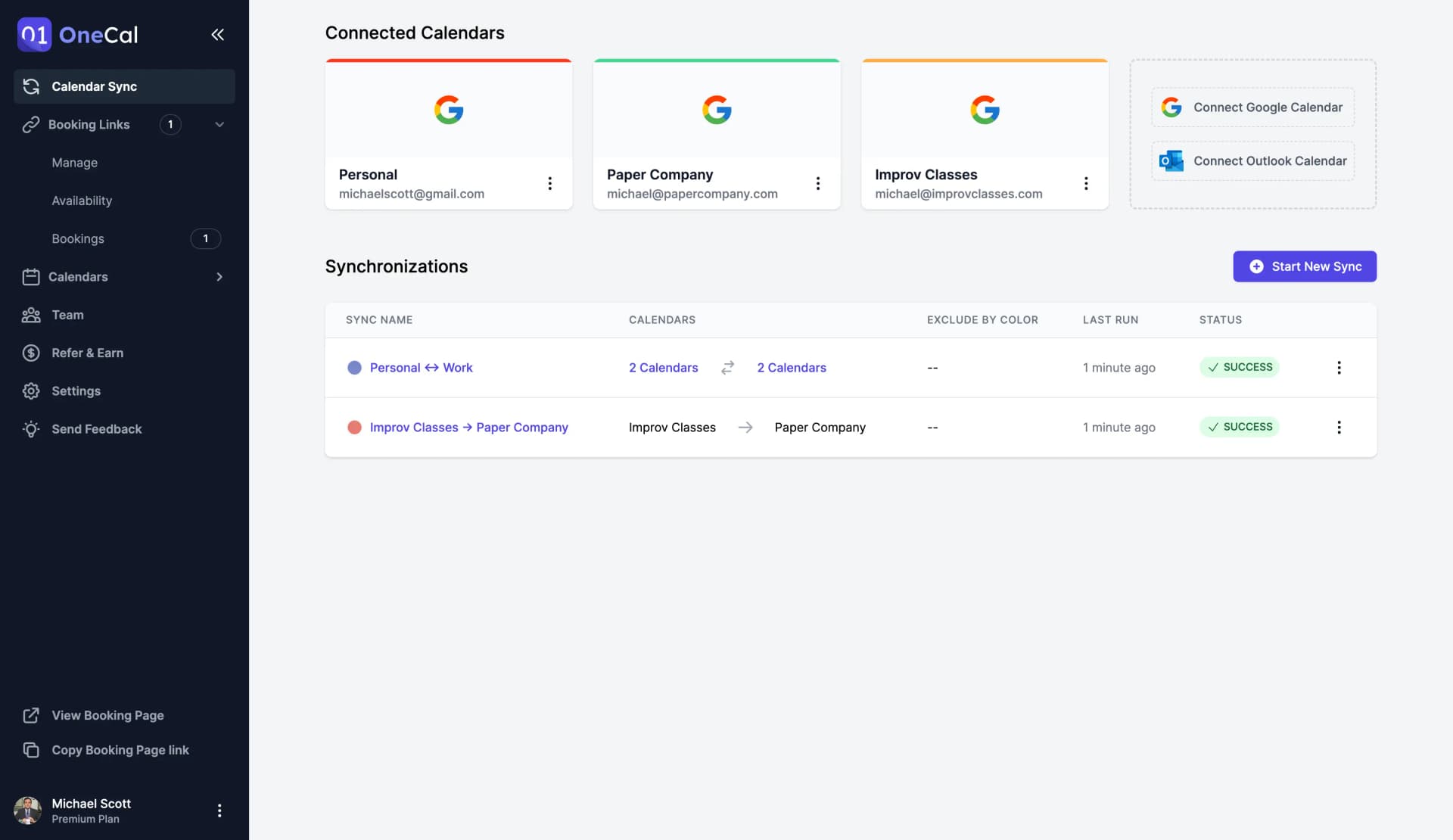 Cost-Effective and User-Friendly Pricing Model
OneCal provides a cost-effective and straightforward pricing package, tailored to your needs based on the number of calendars you want to synchronize and the number of team members you want to pay for. The possibilities are limited only by your imagination.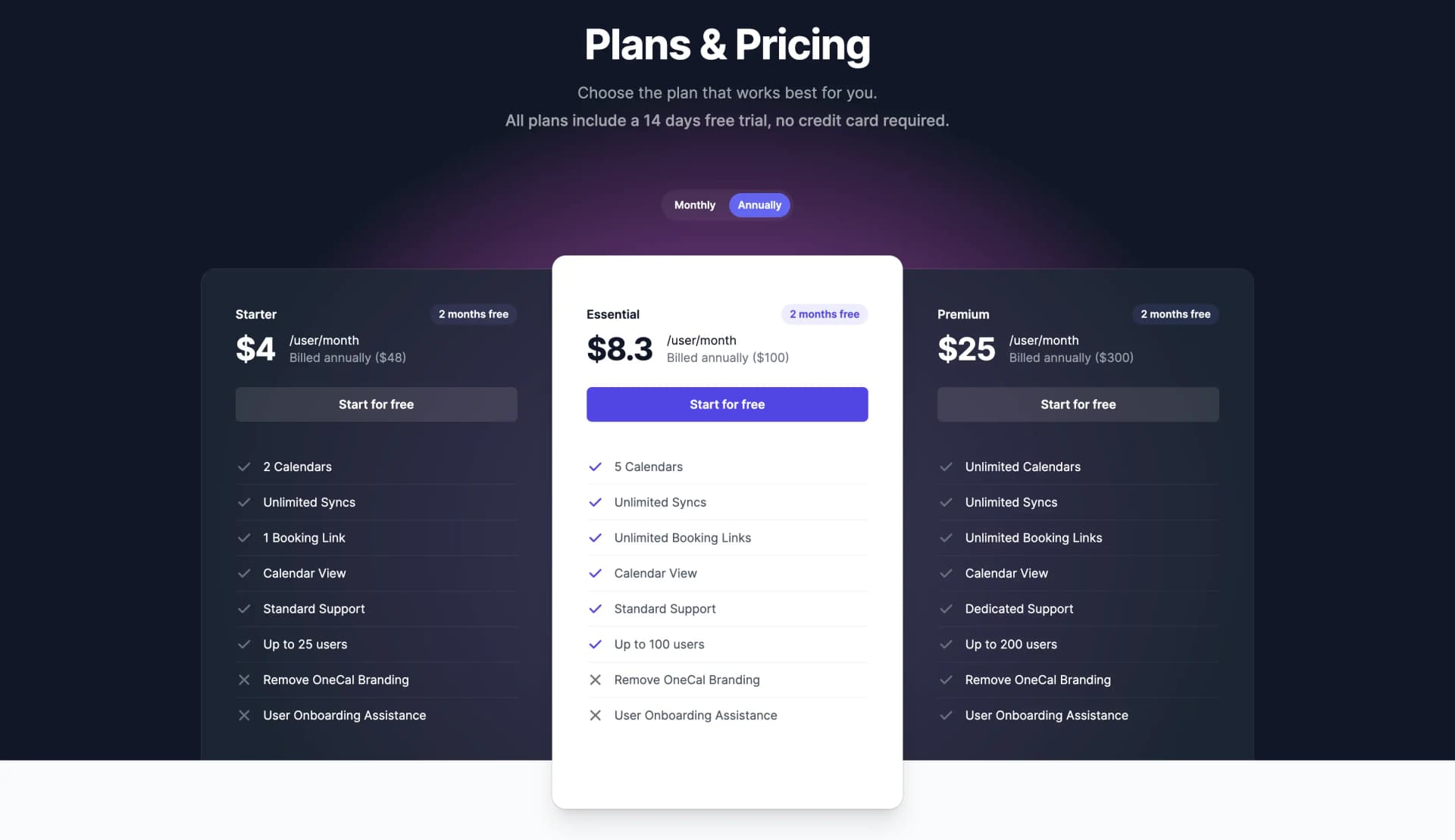 Team Plans
With OneCal, inviting and paying for your team is made effortless. There is no need for a sales call or setting up a new dashboard, it's a straightforward process.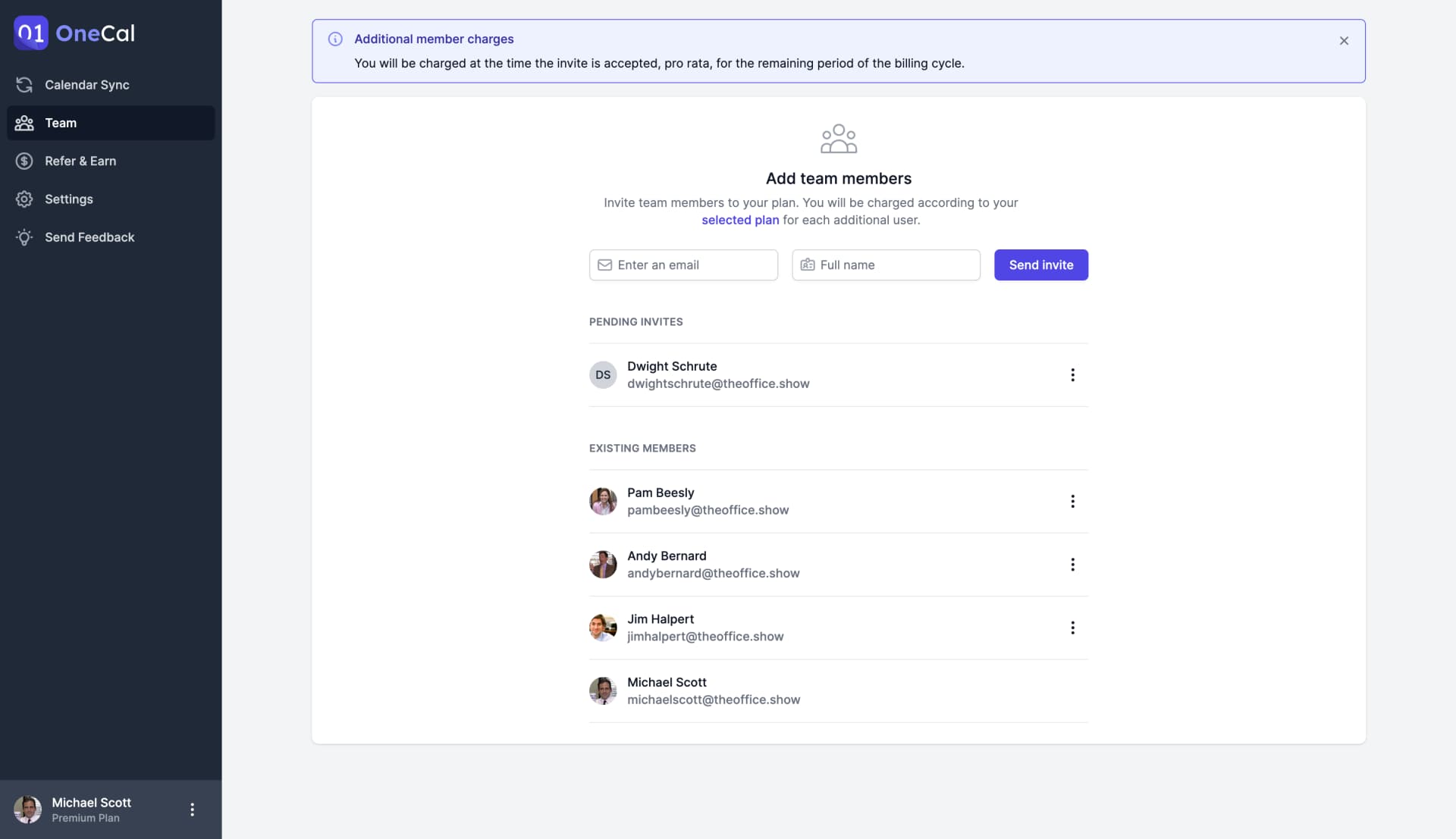 Planner
With OneCal, you don't have to juggle multiple calendars, as you can view all your calendars in one place. Furthermore, you can choose to hide clone events, so you don't view duplicate events.
With Reclaim, you can view all your calendars in one place, but you can't hide clones created by Reclaim. If you view 4 calendars, you'll see the same event 4 times.
Excluding Events from Synchronization
OneCal gives you the flexibility to exclude specific events from synchronization based on color. For instance, if you don't want a private event to appear on your work calendar, simply mark it with a designated color. In addition to color, you can also exclude events based on RSVP status (Going, Maybe, Unanswered, No).
With Reclaim, you can't exclude certain events from being synchronized to your calendars.
Switch to OneCal in minutes
Provide yourself and your team with the simplest and most configurable Calendar Synchronisation tool in the market.

Get 30% recurring discount + assistance with onboarding and migration if needed.