OneCal as a

SyncGene alternative
OneCal presents a superior SyncGene alternative with its advanced calendar synchronization software, intuitive user interface, seamless team invitation process, and more affordable and intuitive pricing options.
Get 30% recurring discount + assistance with onboarding and migration if needed.
SyncGene Alternative
Why OneCal is a
better SyncGene alternative:
A detailed comparison
Advanced Sync Settings
OneCal is fully configurable, it's up to you to choose what do you want to synchronize.
The limitations of SyncGene's calendar synchronization make it less customizable than OneCal. With SyncGene, events are duplicated exactly as they are, leaving no room for choosing what to sync, which can result in undesirable outcomes, such as having private events visible to team members.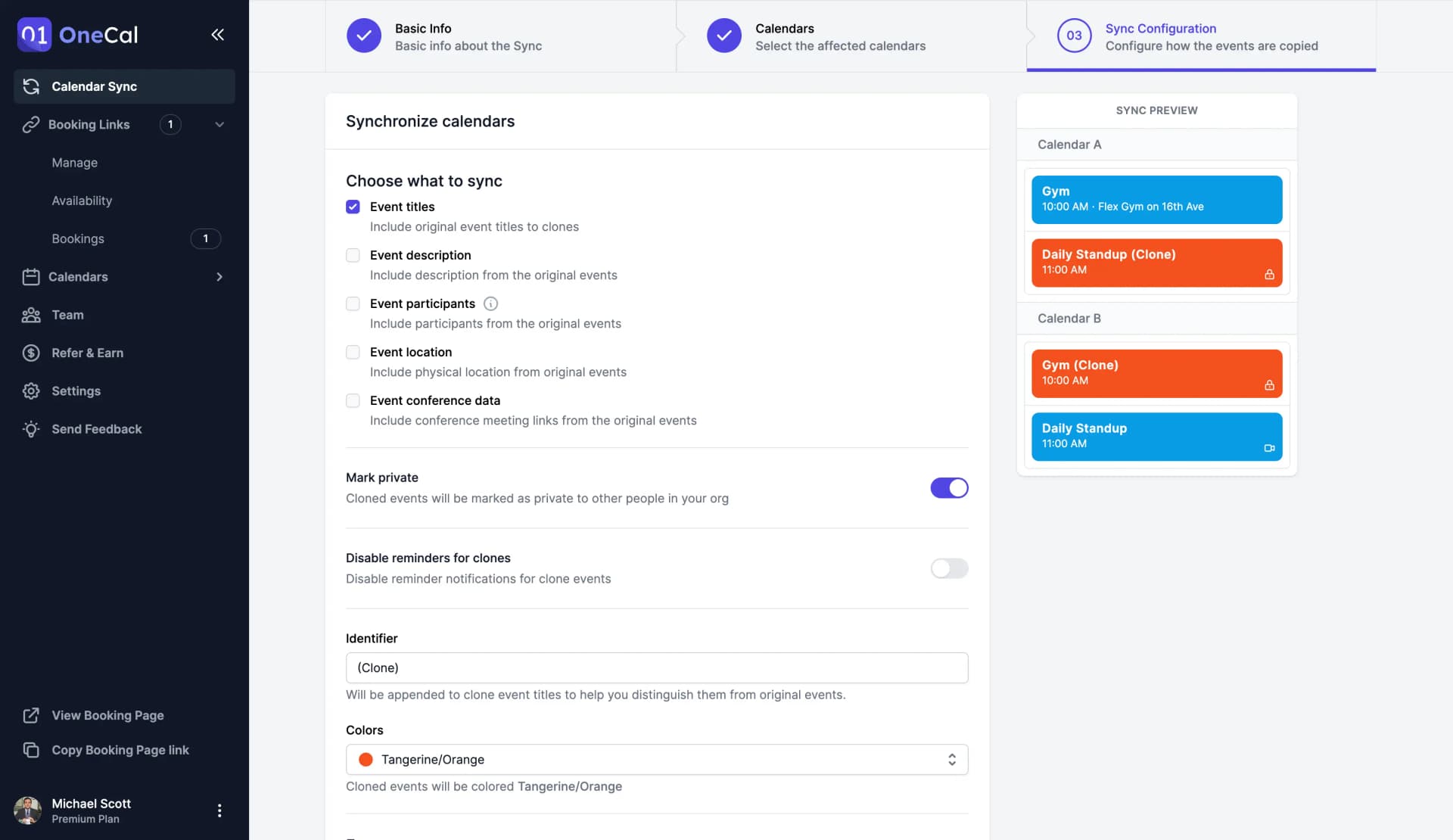 Microsoft Outlook and Google Calendar Synchronization
With OneCal, synchronizing multiple Google and Outlook calendars is as easy as it gets. You'll be able to reflect your availability, across all your calendars, in real-time.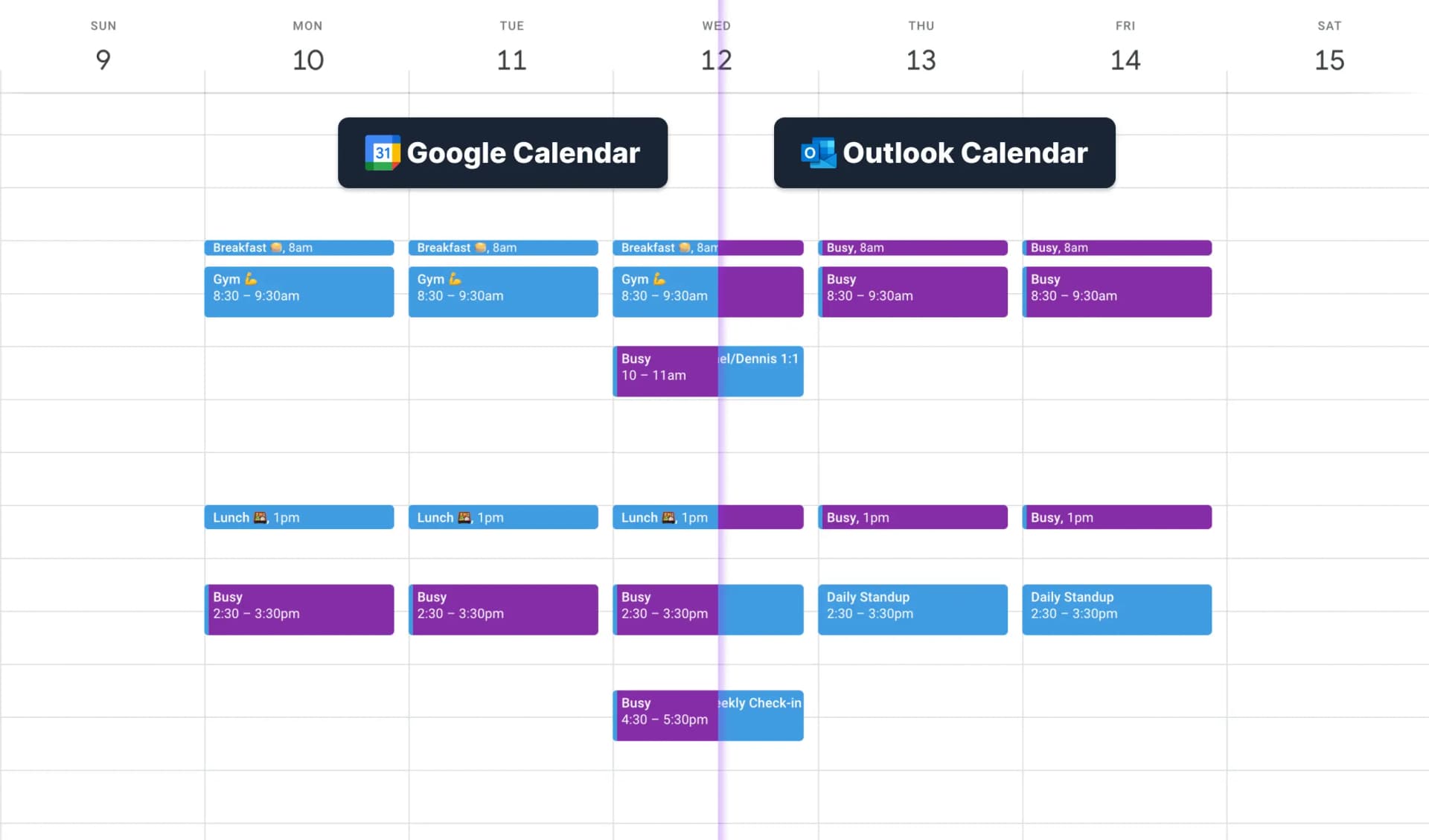 Multiple-Way or Single-Direction Synchronization
With OneCal, you can sync a single calendar to one or multiple calendars all at once, giving you limitless possibilities.
SyncGene offers only one-way or two-way synchronization, which restricts you to fewer options than what OneCal provides with its many-to-many and one-to-many calendar syncing options.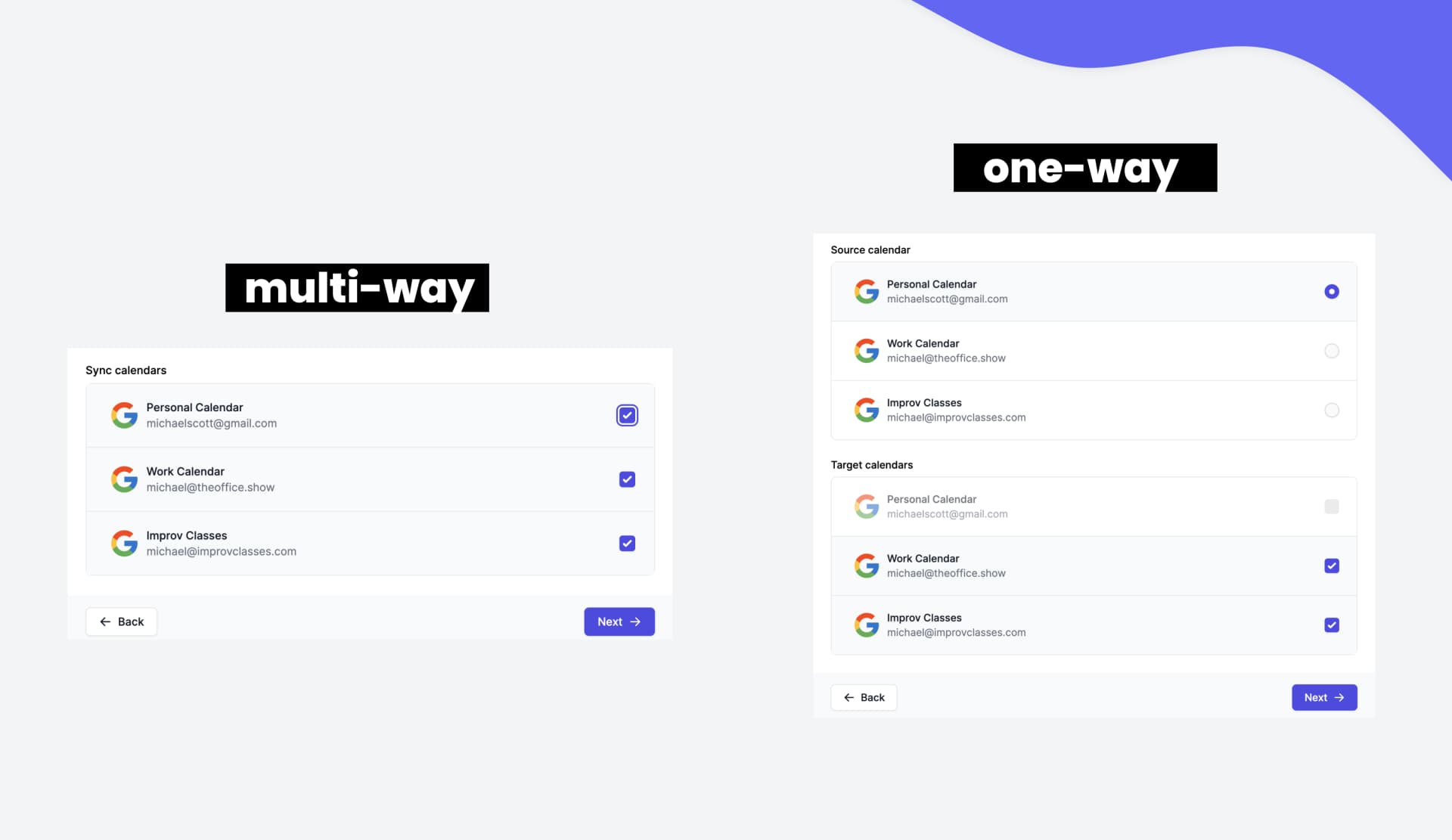 Fast, reliable syncs
We have optimized the sync process to ensure that all events are accurately synced without any errors or discrepancies. With OneCal, you can have peace of mind knowing that your calendar is always up-to-date and accurate.
Refined and User-Friendly Interface
OneCal prioritizes delivering a user-friendly and straightforward interface that requires no guides or instructions for calendar synchronization.
With SyncGene, it takes a while to get used to it, as the UX is less intuitive and often times confusing.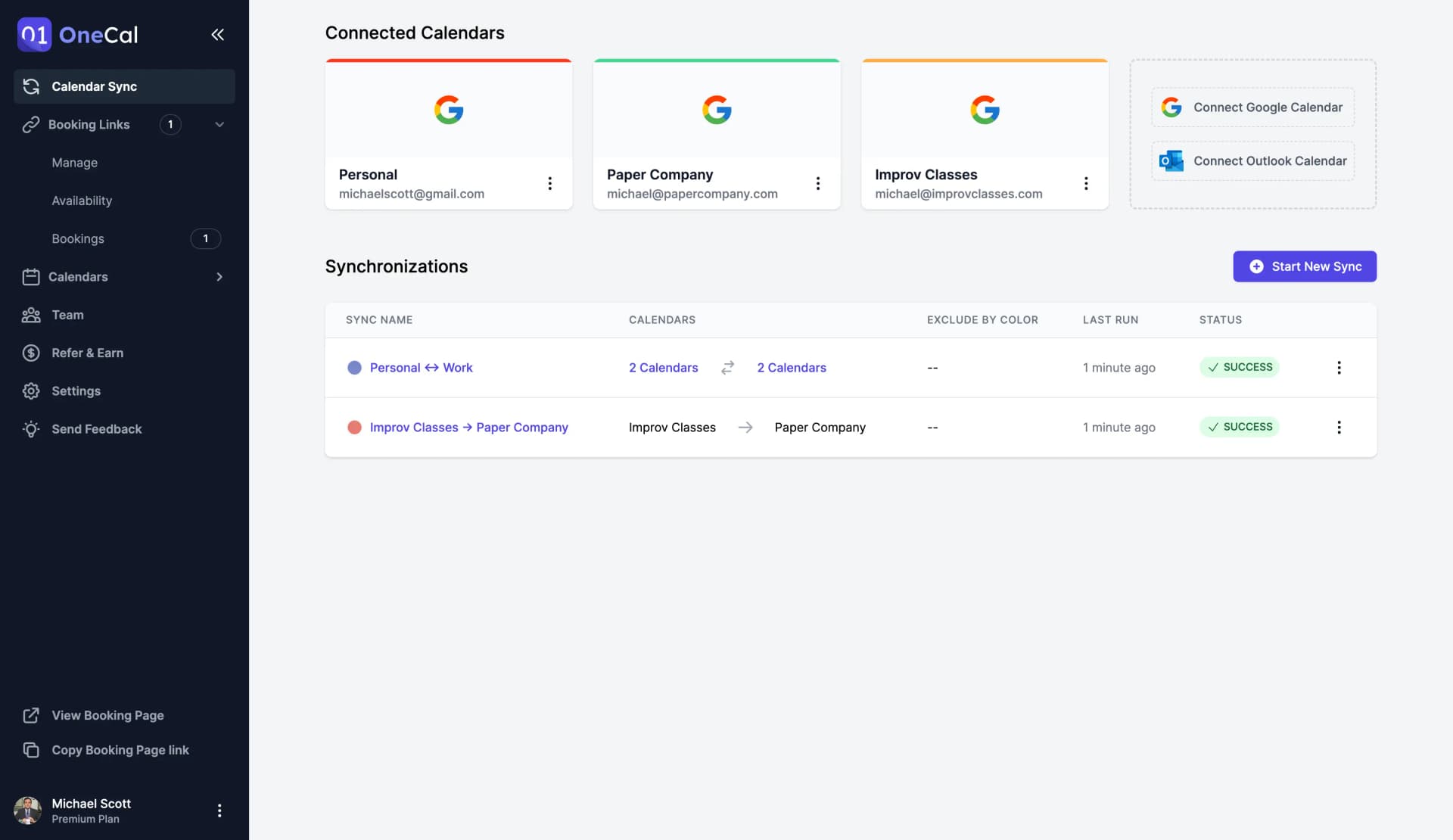 Intuitive Scheduling Links
With OneCal, organizing your appointments, meetings, and events becomes a breeze using our intuitive scheduling links. Say goodbye to tedious back-and-forth communication and confusion.
SyncGene doesn't have a scheduling links feature.

Michael Scott
Improv Class
Are you ready to unleash your inner comedian and master the art of improvisation? Look no further! Join me, Michael Scott, for an exciting journey into the world of spontaneous creativity.
| M | T | W | T | F | S | S |
| --- | --- | --- | --- | --- | --- | --- |
| | | | | | 1 | 2 |
| 3 | 4 | 5 | 6 | 7 | 8 | 9 |
| 10 | 11 | 12 | 13 | 14 | 15 | 16 |
| 17 | 18 | 19 | 20 | 21 | 22 | 23 |
| 24 | 25 | 26 | 27 | 28 | 29 | 30 |
| 31 | | | | | | |
Simple and Affordable Pricing Structure
OneCal presents a cost-effective and straightforward pricing plan, tailored to your needs based on the number of calendars you want to synchronize and the number of team members you want to cover, leaving plenty of room for customization.
SyncGene is limited by the number of calendar sources you want to synchronise. If you want to synchronise more than 5 calendars, you have to get in touch with them. For the team plans, there is a limit of 20 calendars, compared to our unlimited calendars.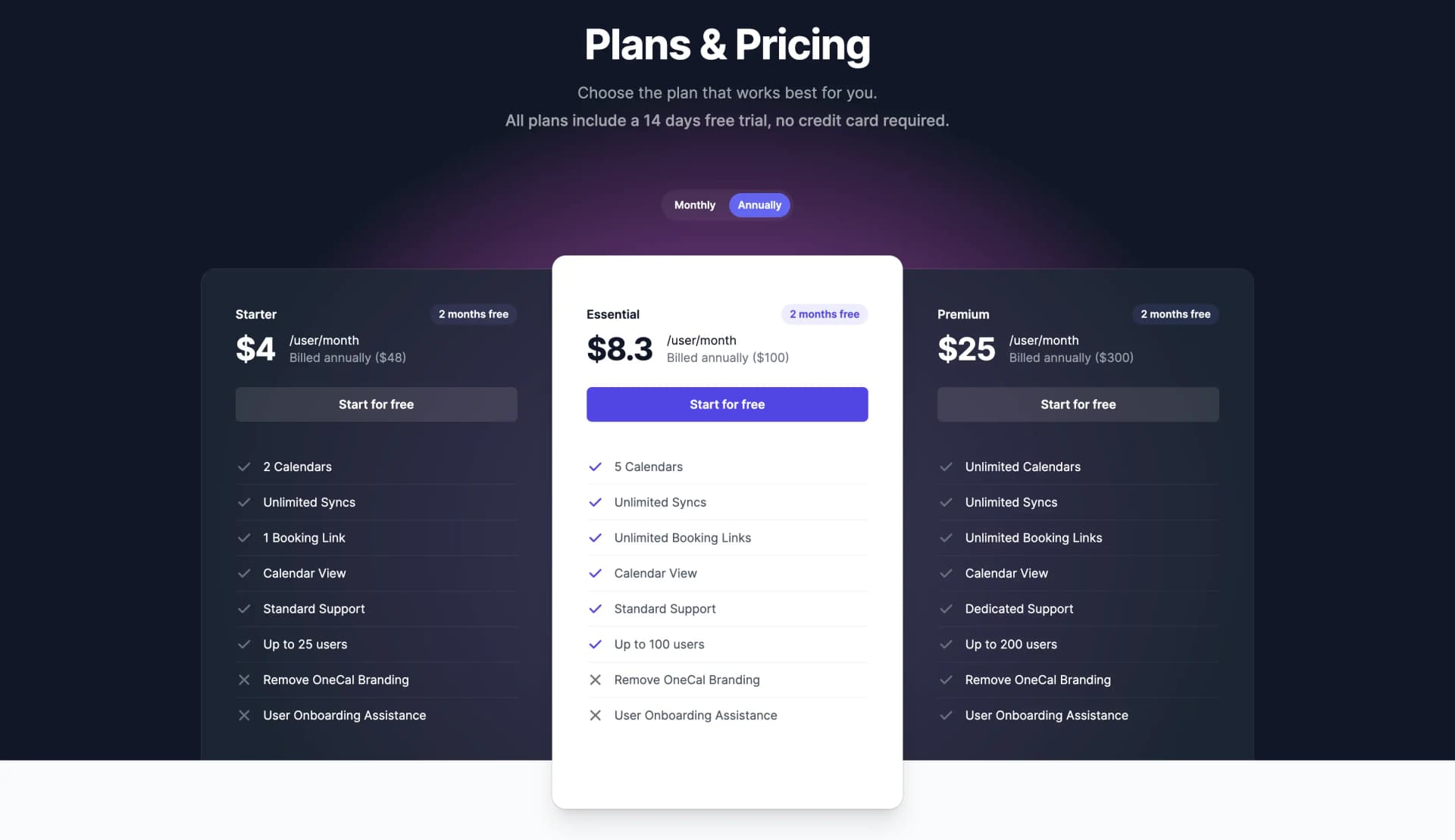 Exclude Events from Calendar Synchronization
OneCal provides a feature that enables you to exclude specific events from being synced by assigning a color or response status. If you don't want a private event to show up on your work calendar, you can exclude it by marking it with a designated color or response status (Going, Maybe, Unanswered, No).
With SyncGene, you can't exclude events from being synchronized.
Team Plans
With OneCal, inviting and paying for your team is effortless, eliminating the need for sales calls or complicated dashboards setup.
With SyncGene, paying for your organization or team members is less straightforward and requires extra steps.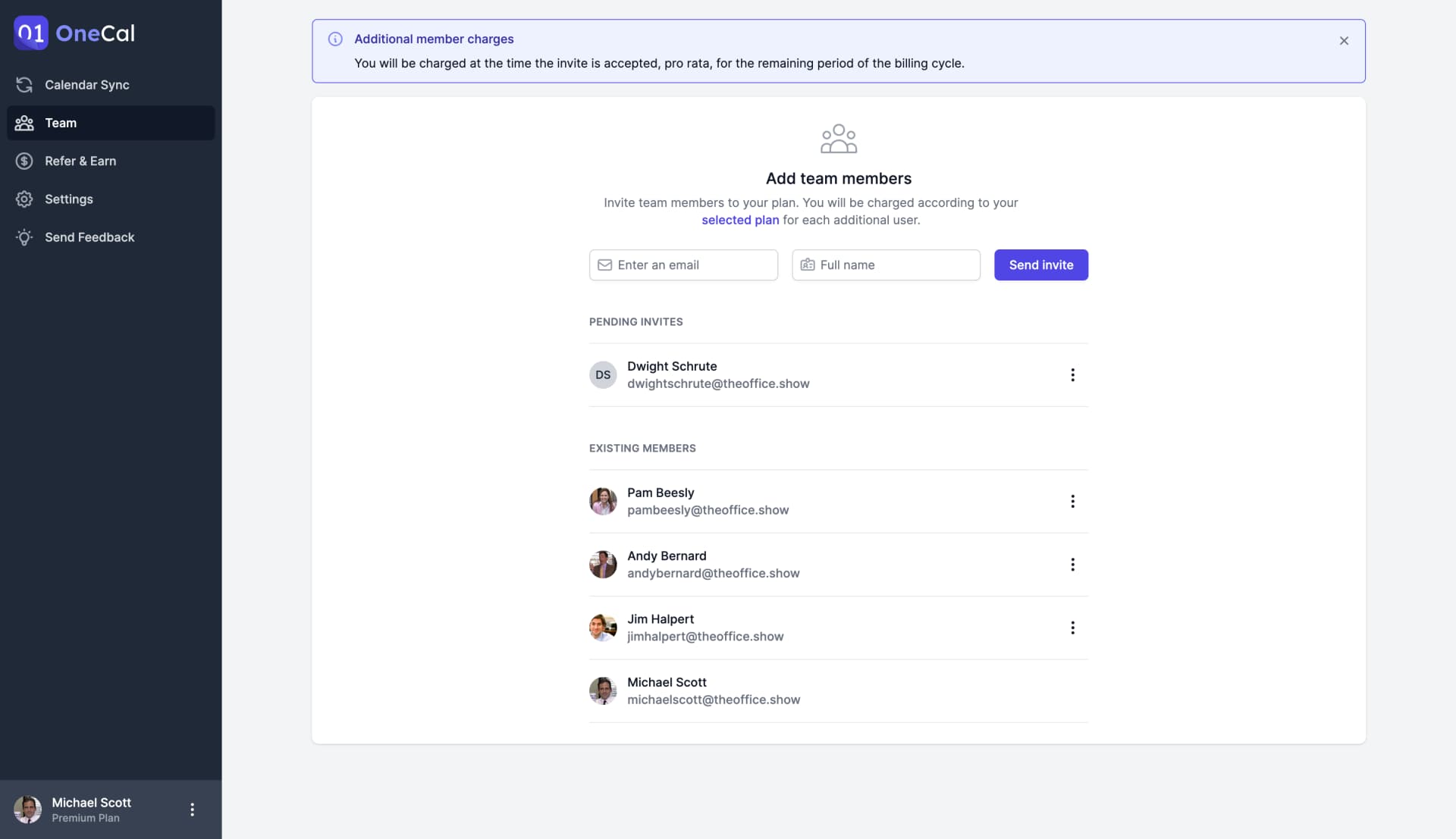 View all your Calendars in one place
With OneCal, you don't have to juggle multiple calendars, as you can view all your calendars in one place. Furthermore, you can choose to hide clone events, so you don't view duplicate events.
With SyncGene, you can't view all your calendars in one place.
Switch to OneCal in minutes
Provide yourself and your team with the simplest and most configurable Calendar Synchronisation tool in the market.

Get 30% recurring discount + assistance with onboarding and migration if needed.