Google Calendars

Real-time Sync Software
Synchronizing Google calendars has never been easier, save time, avoid meeting conflicts, and keep your personal life private.
Sync Google and Outlook, in 1 minute.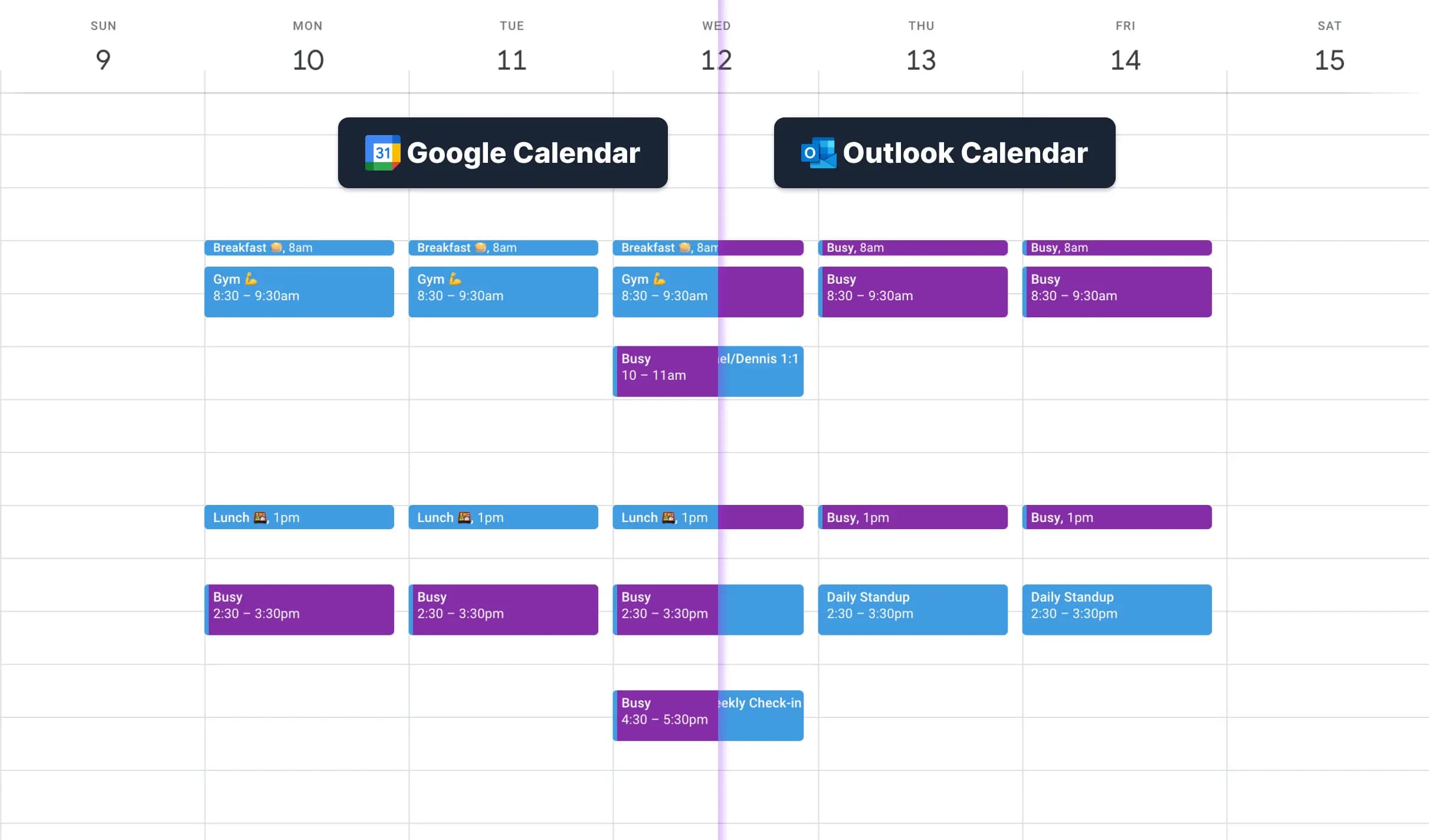 Sync multiple Google Calendars in less than one minute
With OneCal, you can sync multiple Google Calendars with each other, or multiple Google and Outlook calendars at the same time.
Sync multiple Google Calendars
Sync a Google calendar with one or more Google calendars, or sync multiple Google Calendars at the same time.
Sync Google Calendar to Outlook
Sync a Google calendar with one or more Google or Outlook calendars.
Sync Outlook to Google Calendar
Sync a Outlook calendar with one or more Google or Outlook calendars.
Sync multiple Google and Outlook Calendars
Sync multiple Google or Outlook Calendars at the same time.
Why choose OneCal to sync Google calendars?
Instant sync updates
Once your Google Calendars are linked, you can create multiple syncs. OneCal effortlessly maintains real-time synchronization of your Google Calendars, requiring only a one-time setup.
Privacy centric syncs
OneCal provides a Google Calendar synchronization setup that places a strong emphasis on safeguarding your privacy. You have the freedom to tailor how events are duplicated across all your calendars. Not interested in transferring event titles? No problem—you can display as little or as much information as you prefer.

You can choose to sync:
Event titles

Event description

Event participants

Event location

Event conference data
Easily sync multiple Google calendars in real-time
OneCal streamlines the task of syncing multiple Google Calendars by allowing you to sync them simultaneously. Instead of setting up multiple one-to-one synchronizations, you can choose the Google Calendars you wish to keep in sync, and OneCal effortlessly manages the rest.
Flexible
To ensure your scheduling remains adaptable, we've incorporated features that enable you to sync meetings according to your responses. Prefer not to synchronize meetings you haven't responded to yet? No problem!

You can:
Mark cloned events as private

Assign custom colors to cloned events

Disable reminder notifications for clone events

Sync events marked as Free
Opt to exclude events from synchronization
OneCal provides you with the choice to exclude specific events from synchronization, based on their colors. If you don't want your Job Interview to be duplicated in your Google calendar, simply mark it with a designated color to exclude it.
Exclude events from syncing by:
Color

Response (RSVP): Going, Maybe, Unanswered, No
Frequently asked questions
Ready to sync your Calendars?
Reflecting your availability across multiple calendars is tedious and time-consuming. OneCal was created with a mission to give peace of mind to calendar users.