5 Best Google Calendar Tools - More time, better productivity
Authors

Name

Twitter
Published on
Ready to Sync
Your Calendars?
Create a OneCal account to sync multiple Outlook and Google Calendars, create Booking Links, and much more.
It's quite obvious that using Google Calendar can save you tons of time and make you more productive, but what if we told you that you can get even more from it?
By using Google Calendar Tools, which are built on top of Google Calendar, you can save so much time by automating tasks that you manually do every day. Imagine not having to do 30 minutes of manual calendaring every day, that's 10 hours per month. You can spend those hours doing meaningful work, growing your company, or just having fun.
In this article, we'll explore the 5 best Google Calendar tools, that help you auto-block time on all your calendars, automatically schedule your day using AI, and much more.
What is a Google Calendar tool?
A Google Calendar tool is an app that is built on top of the Google Calendar API and enhances the functionality of Google Calendar.
The best part is that Google Calendar Tools are quite specific, each aiming to solve specific problems. Take OneCal, it's a tool that mainly focuses on automatically syncing Google Calendars. Juggling multiple calendars and facing meeting conflicts is not a problem that everyone has, but those who have that problem, know how time-consuming is to sync multiple calendars and go back and forth with colleagues to reschedule.
Let's explore the 5 best Google Calendar tools:
OneCal - Best for syncing calendars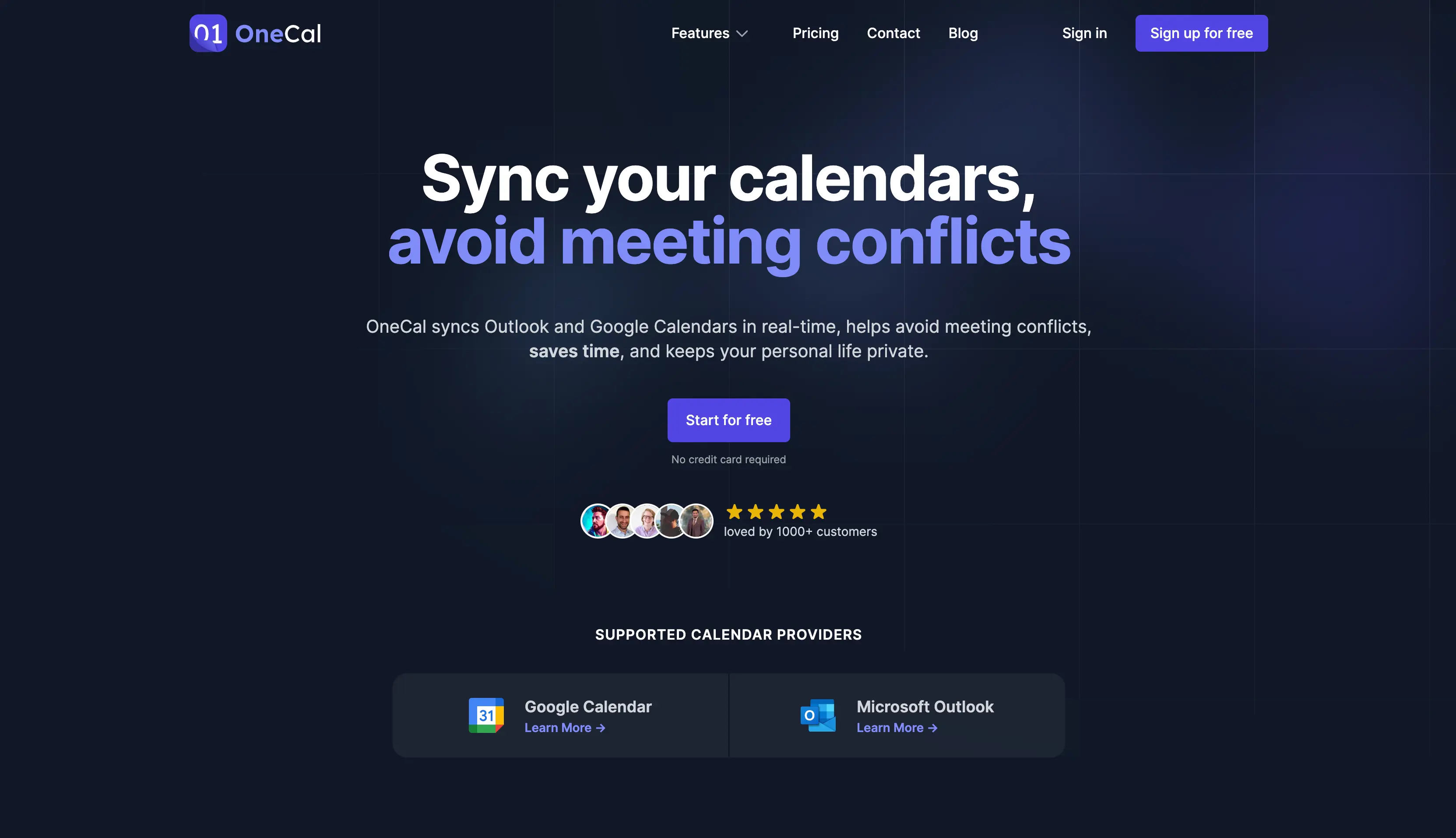 OneCal is a Calendar tool that supports Google Calendar and allows you to sync multiple calendars in real-time, share intuitive scheduling links, and view all your Google or Outlook Calendars in one place.
OneCal features
Real-time calendar sync: OneCal saves you so much time by automatically copying all your meetings to all your calendars. This makes it so you and your team members have a clear overview of your meetings and avoid scheduling conflicts.

Calendar Sync is built with privacy in mind.

Calendar information is very sensitive, so having a privacy option when syncing events from one calendar to another is important. With OneCal

Calendar Sync

, you can configure what event properties are synced across calendars. This allows you to strip over all sensitive meeting information if needed, and only syncing the meeting time to block on other calendars.

Multi-calendar availability Scheduling Links.

With

OneCal Booking Links

, you can create multi-purpose scheduling links that take availability from multiple Outlook or Google Calendars. Booking Links are quite powerful, as they have features such as:

-

Custom availability

: You can set custom availability for each day of the week, or add date exceptions when you're available for specific dates.

-

Configure buffer times, and notice periods

: You can set buffer times for before and after an event is booked, set up custom notice periods, or limit how far in the future can you be booked.

-

Booking Approvals

: You can set each booking request to require manual confirmation before a booked event is added to your calendar.

-

Redirect after booking

: Redirect the scheduler to a custom URL after a booking is completed.

-

Allow the booker to choose the duration

: You can provide multiple durations for a booking, and let the booker choose the duration.

Google Calendars view

: With

Calendar View

you can connect multiple Google Calendars or Outlook Calendars, and view them in one place. No need to spend time logging in or out, or switching providers to join meetings.

Invite and pay for your team: You can invite your team members to OneCal, so they can enjoy the same benefits as you.

Support for Google Calendar and Outlook Calendar. Using OneCal, you can connect Outlook and Google Calendars, and leverage the power or calendar automation.
OneCal Pricing
Starter: $5 per user per month

Essential: $10 per user per month

Premium: $30 per user per month

Custom/Enterprise Plans: contact for pricing
Please refer to the pricing page for more details.
You can sign up for a 14-day free trial of OneCal to sync Google Calendars, share scheduling links, and view your Google Calendars in one view. No credit card is required.
2. Cron - Best for managing Google Calendars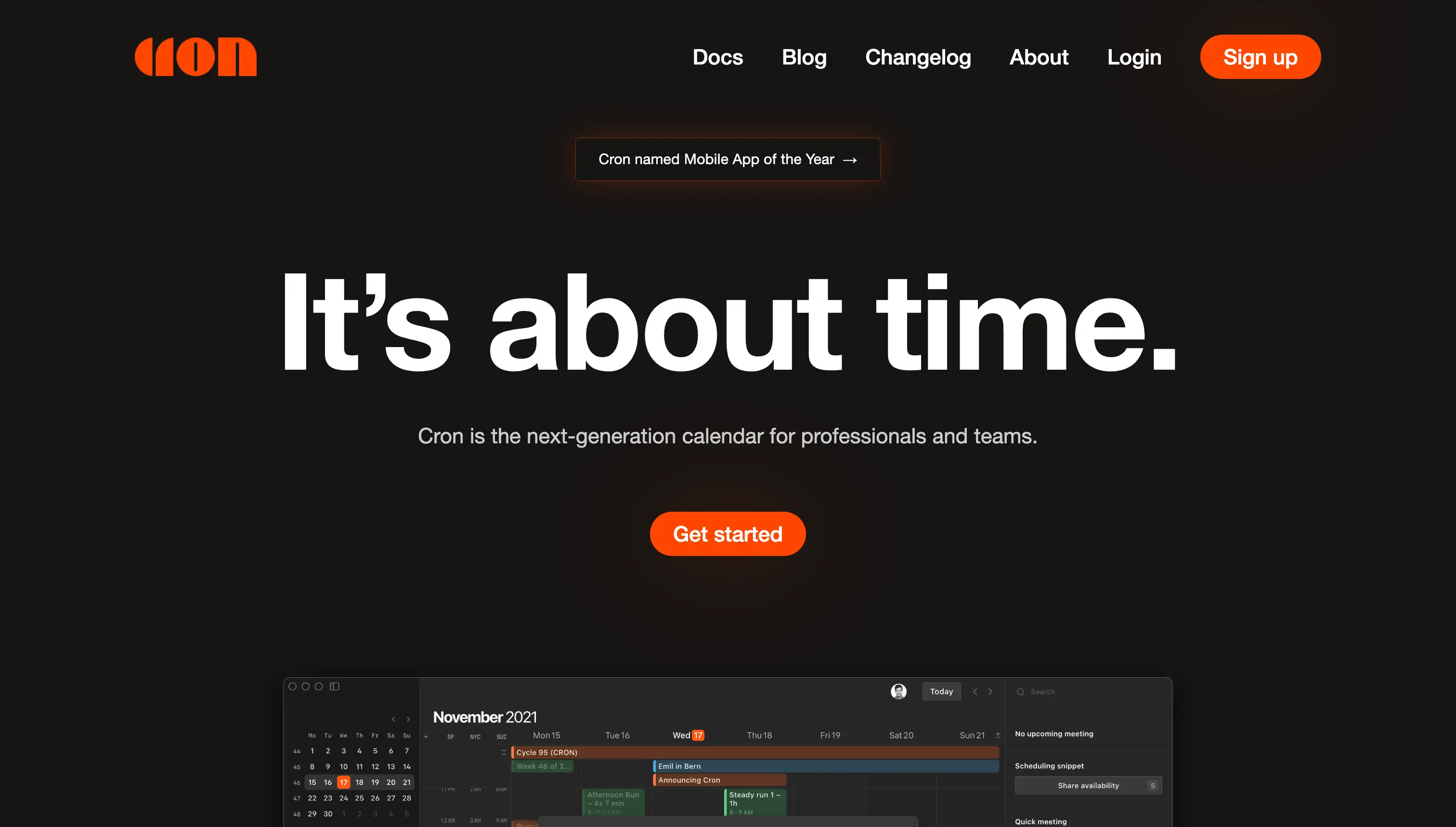 Cron is a next-gen calendar app, that allows you to manage all your Google Calendars directly. The main benefit you get from using Cron is the efficiency of managing multiple Google Calendars, through the use of a refined user experience, shortcuts, and much more.
Cron features:
Support for multiple Google Calendar accounts: You can connect multiple Google Calendar accounts and manage them from one place, no need to juggle different browsers or accounts.

Ability to share booking links: You can create and share booking links for others to meet with you.

Shortcuts, to quickly navigate the UI, create meetings, etc

Calendar overlays with your team members. Similar to the Find a Time feature on Google Calendar, you can overlay your calendar with the people you're trying to meet, so it's clearer which times are available to meet.

Support for Zoom. You can connect to Zoom and create conferencing from cron.

Ability to drag-and-drop to edit meeting time and duration.
Cron Cons
No Microsoft Outlook support: Although connecting and managing multiple Google Calendars from Cron is great, the lack of Microsoft Outlook limits it, as millions of professionals and companies use Outlook as their day-to-day digital calendar.

No support for managing tasks: It's worth noting that if tasks are your thing, you should find another tool that has support for managing tasks, as you can't do it through Cron.

Booking links are hard to manage

. Having the ability to create scheduling links from your calendar is very handy, managing them using Cron is a little bit confusing, as you have to create a scheduling link for each booking. Using OneCal Scheduling Links, you can create multi-purpose

scheduling links

, such as links to 1:1, etc.
Cron Pricing:
Cron has been free to use since their launch. Cron was acquired by Notion in 2022, so there might be a chance that they might introduce pricing at some point, given that the product will evolve and provide more value for their users.
3. Reclaim - Best for auto-blocking your schedule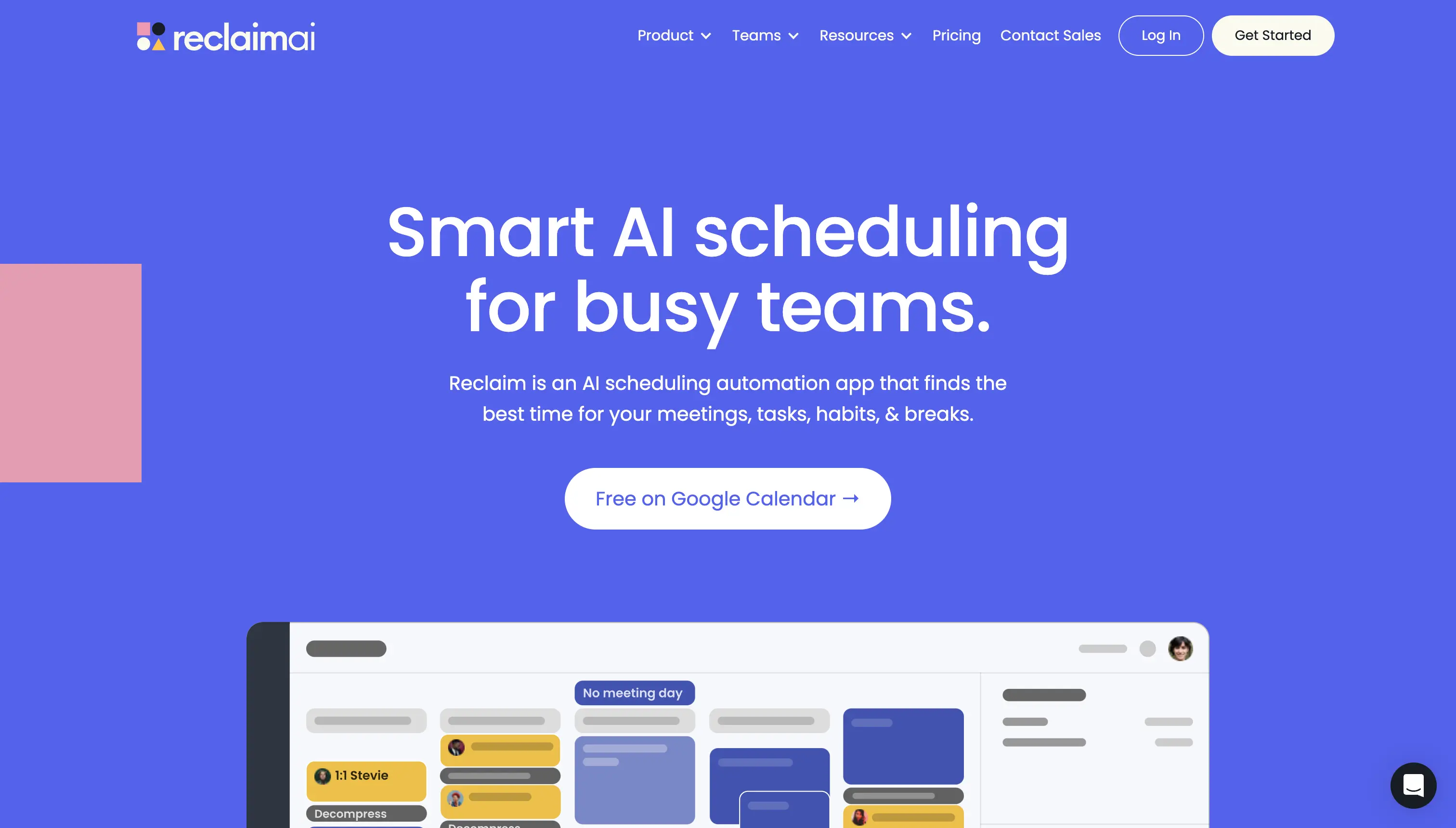 Reclaim is a Google Calendar tool that finds the best time for your meetings, tasks, habits, & breaks.
Reclaim Features:
Habits: With the Habits feature, you can communicate your regular tasks to Reclaim, provide a general timeframe for their completion, and let Reclaim find suitable slots for their execution.

Task Management: You can link your project management tools, such as Todoist, Asana, and Jira, to streamline your Reclaim task list input and initiate the allocation of time for essential projects on your calendar.

Smart 1:1: Smart 1:1 enables automated identification of optimal meeting times for one-on-one sessions with your supervisor, team members, or collaborators.

Scheduling Links:

Similar to

OneCal Scheduling Links

, allows you to send a booking link for others to book time with you.

Buffer Time: Using Buffer Time, you can incorporate flexible breaks and travel intervals into your Google Calendar, reducing the risk of meeting fatigue and burnout.
Reclaim Cons
Only Google Calendar Support: If you are an Outlook user, you'll have to find another Calendar Automation tool, for the time being, Reclaim only supports Google Calendars.

Only one-way syncs. If you want to sync more than 2 calendars, you'll have to create multiple sync configs. For example, to sync 4 calendars, you'll have to create 12 syncs.
⁠
Reclaim Pricing
Reclaim charges based on specific features and limitations that come around them. For detailed pricing, please visit their pricing page.
Free: 2 Calendars, 1 sync, 3 weeks scheduling range

Starter: $8 per user per month

Business: $12 per user per month

Enterprise: $18 per user per month
4. Any.do - Best for managing tasks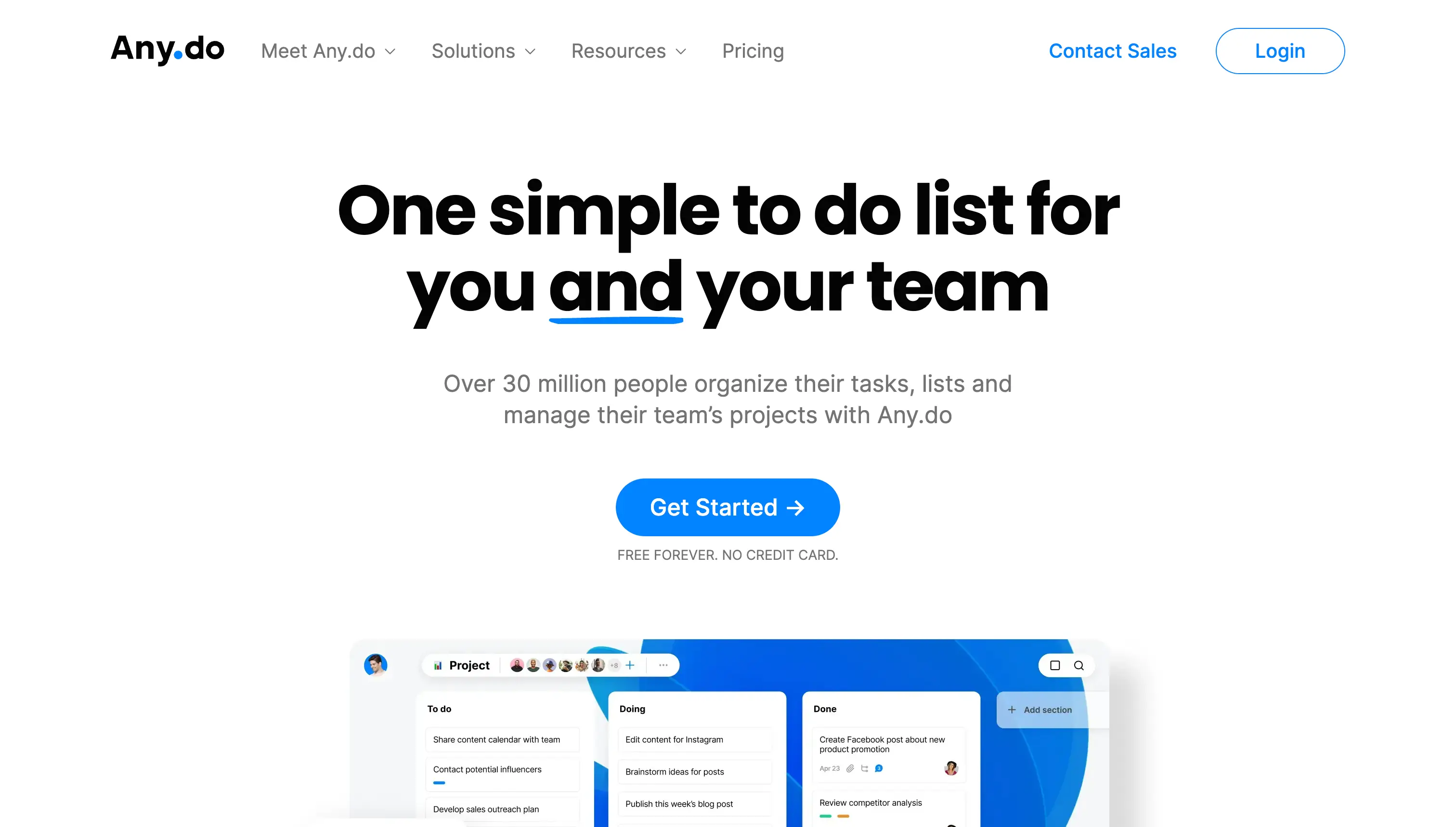 Any.do is a Google Calendar tool that primarily focuses on managing tasks, and helping you stay organized.
Any.do features:
View tasks and events in one view: Most of the calendar tools don't have support for Tasks, but with Any, you'll be able to view tasks and regular events in one view.

Smart suggestions: When creating tasks, Any will give you suggestions or autofill based on previous entries, making the process of creating tasks effortless.

Overdue tasks handling: It allows you to handle tasks when they are over-due, by rescheduling them. They also appear in the calendar view.

Voice commands: Using the mobile app. you can add todos to your lists simply by speaking.

Email tasks: You can easily email tasks without the need to copy and paste them.
Any.do cons
Not very beginner friendly: Given that Any.do has grown in features, the UI has become more complex than you'd expect if you're a new user and you're only looking to manage your tasks. The addition of project management, notes, file management, and much more, makes it harder for beginners to use.
Any.do Pricing
Free

Premium: $3 per month, billed annually

Team: $5 per user per month, billed annually
5. Clara - Best for scheduling meetings using AI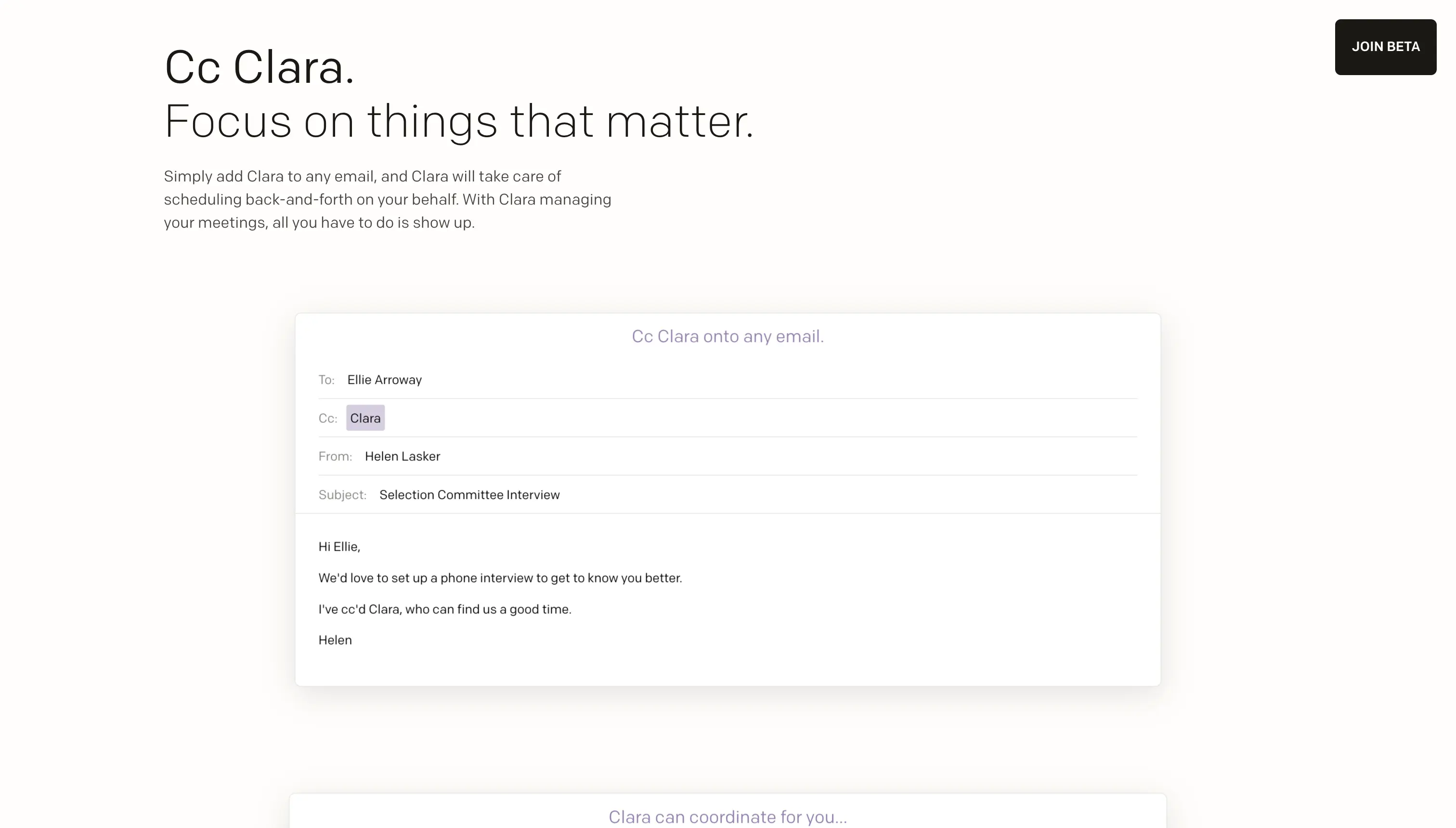 Clara is a very unique Google Calendar tool, as it leverages AI to schedule meetings. The way it achieves it, is by using human language, same as you're speaking to your assistant.
This interaction is all you need to understand how Clara works:
"Hey Clara, I want to schedule a meeting with Kleo next week, but not on Wednesday, as I'm taking a day off."
A couple of minutes later, Clara will take a look at your schedule, and reply:
Hi Eraldo,
Happy to get something on the calendar for you and Kleo.
How does 1 p.m. PDT or 2 p.m. PDT on Monday, October 2nd work for you? Also, what's the best number to reach you at?
Best, Clara
The best part of using Clara is that it's quite capable of handling back and forth, rescheduling, or canceling meetings. As long as you keep Clara in the email's CC, everything works as expected.
Clara Cons
Not for everyone: If you're used to scheduling meetings the traditional way, and don't want to write an email and CC Clara, you'll have to look for one of the alternatives we listed in this article.

No other calendar features. Unlike other tools, like OneCal which offer multiple calendar features, like Outlook and Google Calendar Sync, calendar view, and booking links, Clara only focuses on AI scheduling. If you're looking for more features, Clara might not be the best tool for you.
Clara Pricing
The previous public price was $99 per month, but it's since removed. You can only join their beta now.
Use OneCal to effortlessly manage your Google Calendar
Leveraging Google Calendar Tools is essential to improving your productivity and using the extra time to focus on what matters. At OneCal, the mission is to give you back as much time as possible and let us do the heavy lifting.
You can sign up for a 14 day free trial, no credit card required, to sync all your Google Calendars, share scheduling links, and view all your calendars in one place.