Published on
How to sync Google Calendar to Outlook
Authors

Name

Eraldo Forgoli

Twitter
Google Calendar and Outlook are two of the most popular calendars, and yet users find it hard to sync them.
If you are one of these users, we have good news. In this article, we'll explain how to sync Google Calendar to Outlook.
Prefer video? Here is our step-by-step tutorial below that walks you through the entire process.
How to manually sync Google Calendar with Outlook by importing
The less reliable and more complicated method to sync a Google Calendar with an Outlook Calendar is by importing the Google Calendar to Outlook.
To sync one Google Calendar to another Outlook Calendar, you can follow these steps:
Open Google Calendar

Hover the mouse cursor over the calendar you want to sync.

Click the three-dot menu icon.


Click Settings and Sharing on the menu.

Scroll down and copy the secret address in iCal format.


Open Outlook. After copying the secret address, the next step is to open the Outlook calendar that you want to sync with the Google calendar

Click Add Calendar.


Click Subscribe from web.


Paste the URL you copied from Google Calendar.


Click Import.

If you want to sync the Outlook Calendar with the Google Calendar, you can follow this guide.
⁠💡Pro Tip: If you're looking for a quick and easy way to sync Google and Outlook Calendars, you might want to consider OneCal. It's a reliable, privacy-focused tool that supports multi-way syncs and works with both Outlook and Google Calendar
Benefits of syncing Google Calendar with Outlook by importing.
Clarity over meetings and free/busy time. Events are imported from Google Calendar to Outlook, so you have full clarity over all your meetings. This makes it easier for co-workers to see your real availability, avoiding meeting conflicts.

The service is free (Although it has some issues, read the issues below to find out more).

Downfalls of syncing Google Calendar with Outlook by importing.
No privacy controls: You will have very little control over the privacy of imported calendars. Workspace administrators may be able to see events and details for those events from imported calendars. This is a deal-breaker for a lot of people.

Updates are delayed by 24+ hours: New changes take 24 hours or longer to update in Google Calendar. Oftentimes, new events are not synchronized, so you will have to follow the same steps as above.

Not reliable: It's not very reliable, as aside from the calendars not syncing in real-time, the sync oftentimes does not work.

Complicated and time-consuming: You can only sync one Google Calendar to another Outlook Calendar. If you want to sync more Google Calendars with Outlook Calendars, you will have to follow the same steps again.
How to sync Google Calendar with Outlook Calendar automatically?
With the use of third-party calendar apps, such as OneCal, you can sync multiple Google and Outlook Calendars, in real-time, according to your preferences. You can easily configure how events are cloned, adjust privacy settings, and enjoy many other features, all in under a minute.
Check out the demo below to see how effortlessly you can sync Google and Outlook Calendars using OneCal, completing the process in less than one minute.
How To Use OneCal to Sync Google Calendar With Outlook:
1. Connect your Google and Outlook Calendars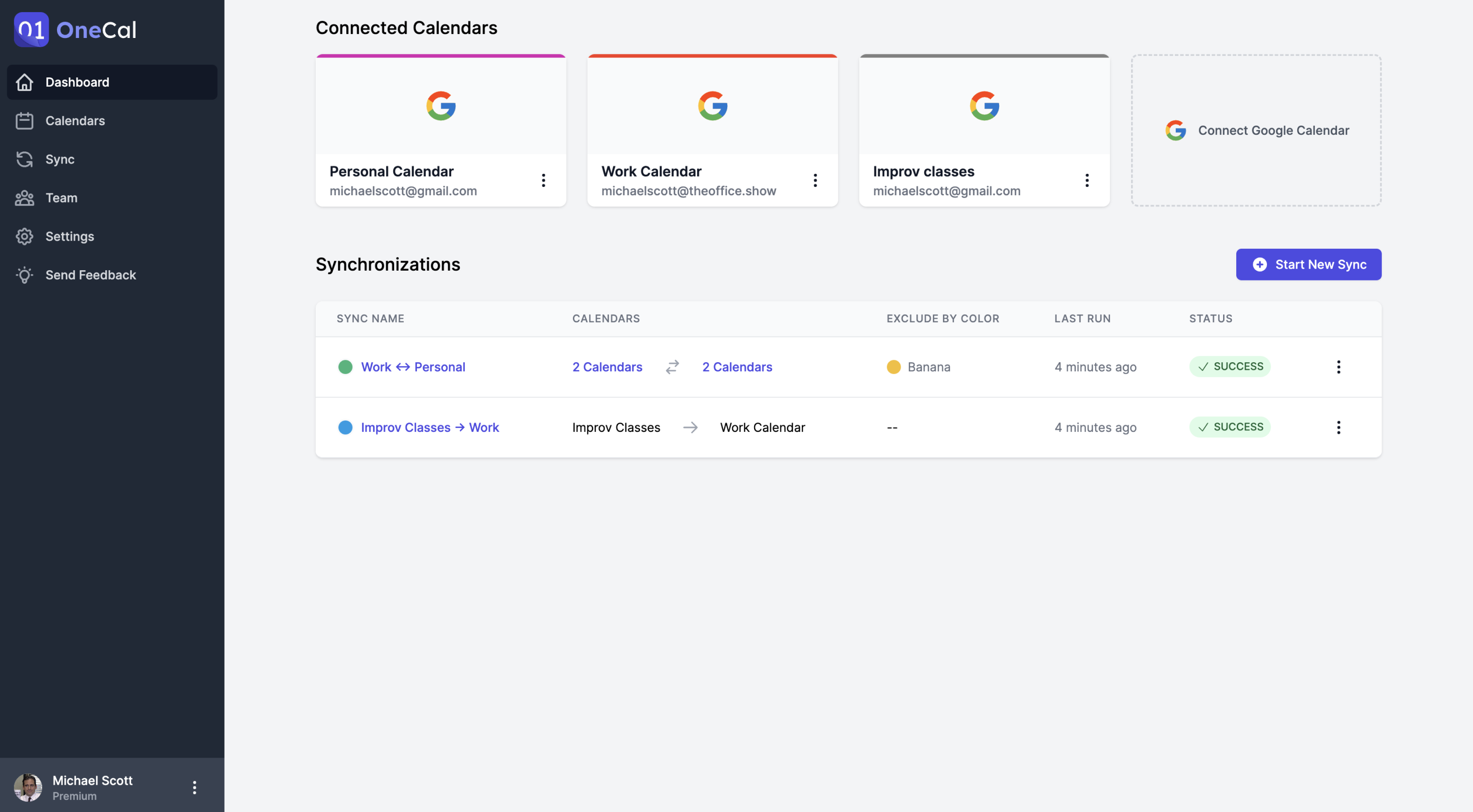 2. Choose which calendars to sync
OneCal supports both one-way and two-way syncs, allowing you to easily maintain synchronization between multiple calendars.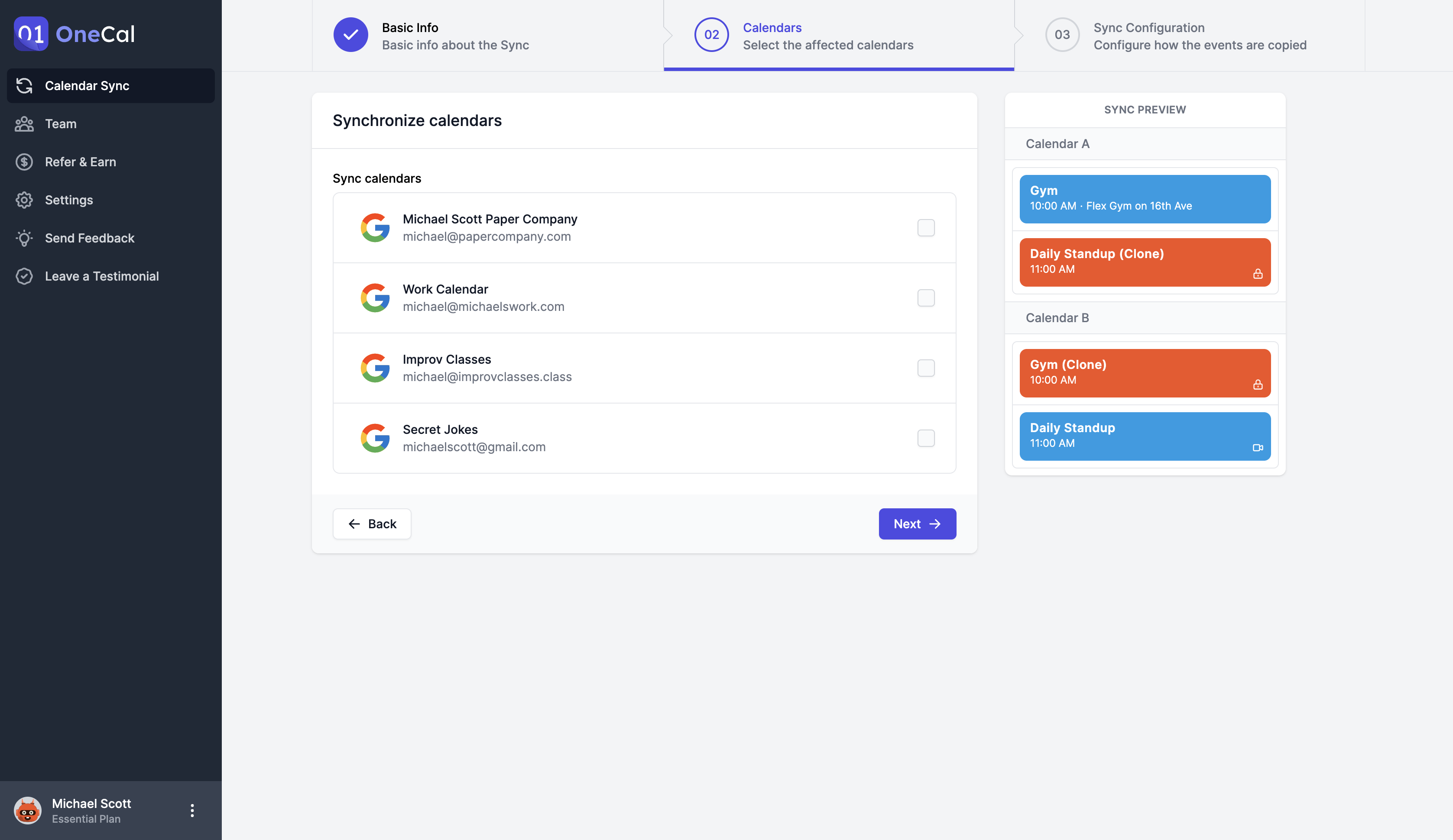 3. Configure how events are copied
Your control and preferences matter to us. That's why OneCal provides an extensive range of settings, enabling you to determine which events and information are synchronized. With these customizable options, you can configure the sync according to your specific requirements and ensure that only the desired data is included in the synchronization process.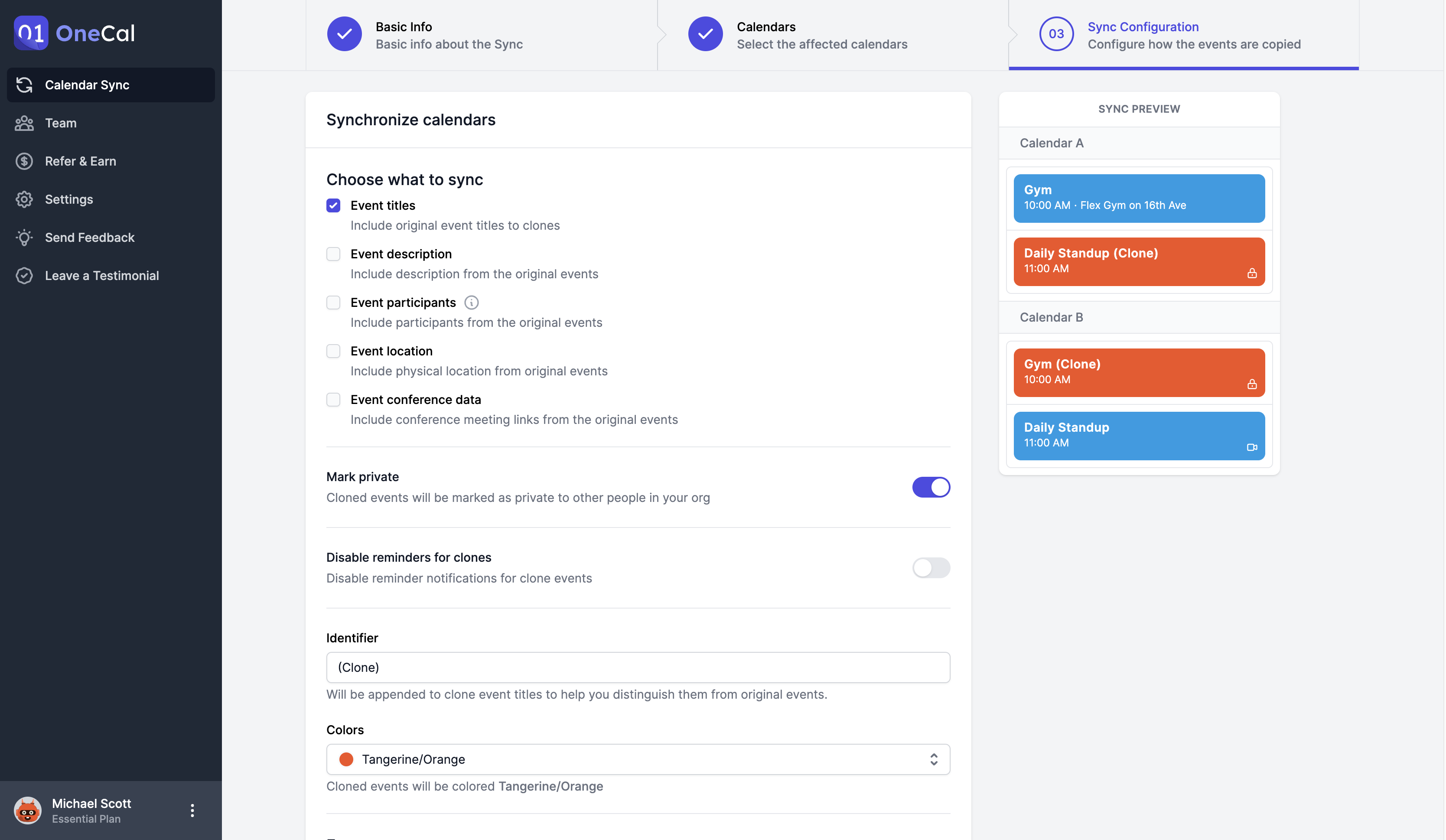 4. Your Calendars are synced!
OneCal ensures seamless synchronization by automatically updating events from your source Google calendar in your selected target Outlook calendar(s). This means that any changes made to events in your source calendar will be reflected and kept up to date in the corresponding target calendar(s) without any manual intervention required.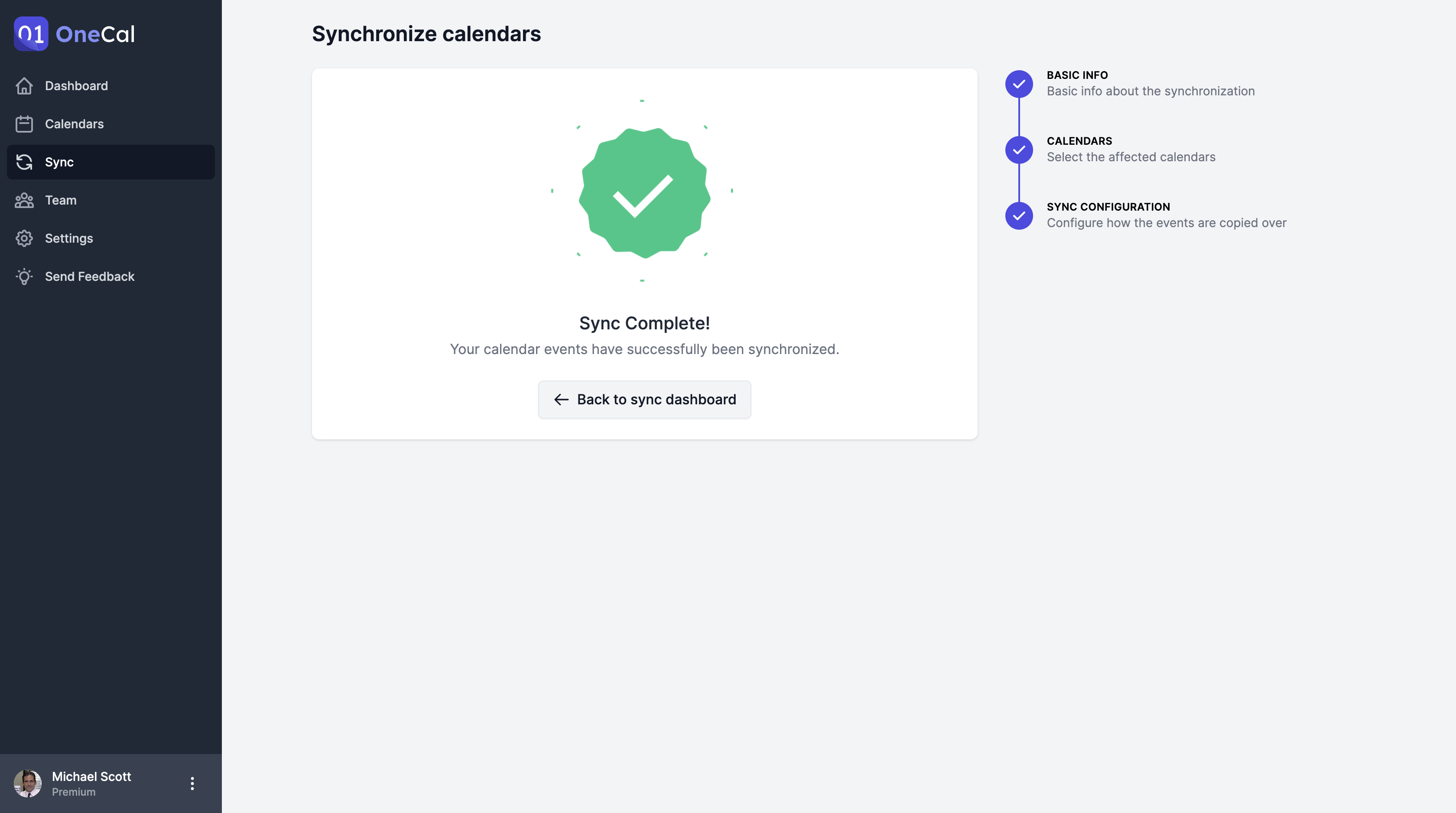 📆 Now check your Calendars!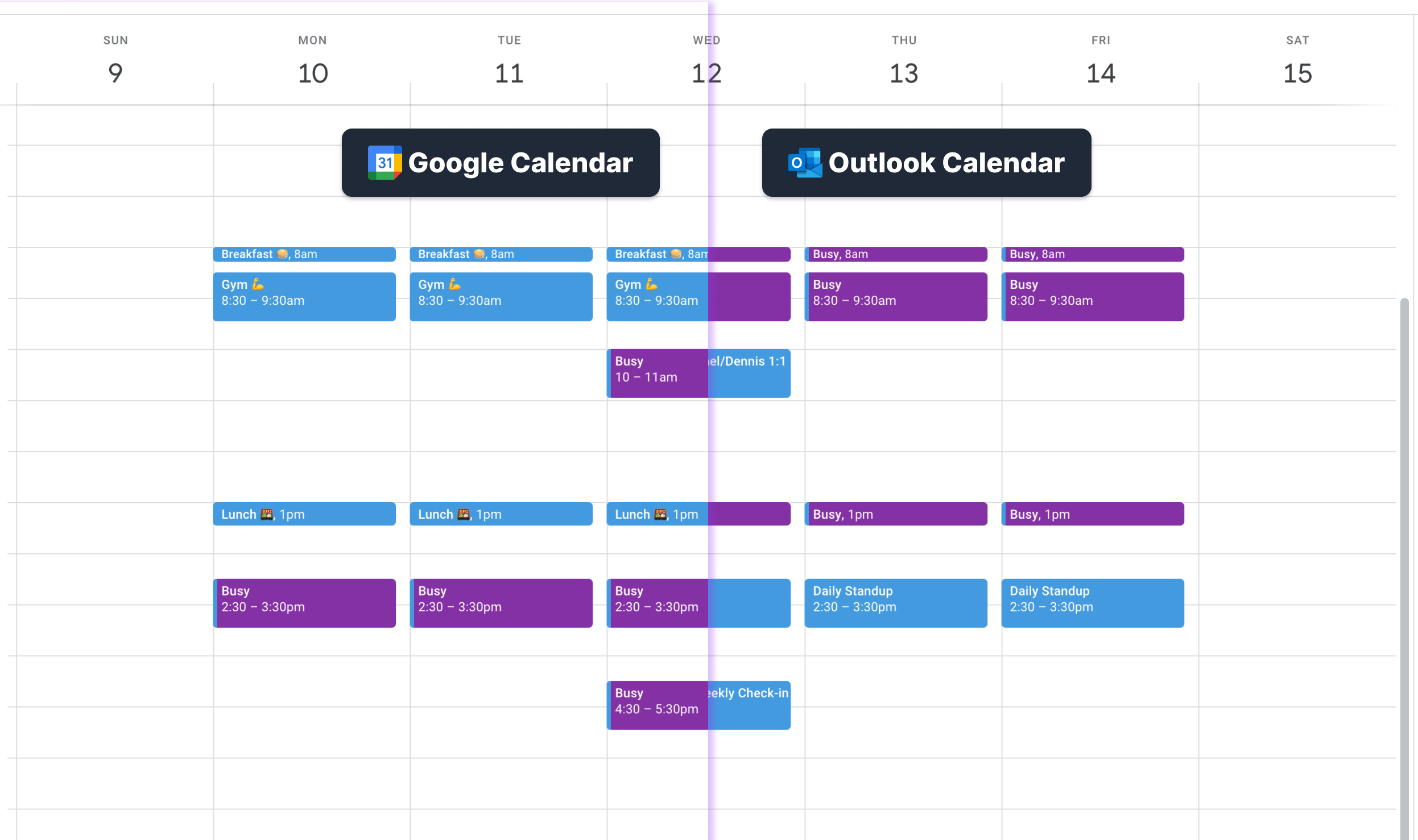 Benefits of using OneCal to sync Google Calendar and Outlook.
Real-time, automatic sync. Outlook and Google Calendar can be seamlessly synchronized in real-time. Once the sync is set up, you can rest assured that your events will consistently and reliably sync without any concerns.

You have control over your privacy. With this synchronization, you will retain complete control over the privacy of your synced calendars. Rest assured that workspace administrators won't have access to view events or details for calendars cloned by OneCal.

Effortlessly sync multiple Outlook and Google Calendars in under a minute. When manually syncing through the import method, typically involves following a cumbersome 13-step process to sync one Outlook calendar with another Google Calendar. If you need to sync your Google Calendar with your Outlook Calendar, you have to repeat the same 10 steps. Managing more than two calendars in this manner can become quite convoluted. Moreover, there's a risk that the manual sync may fail after following all these steps, resulting in wasted time that could have been better utilized elsewhere.
Automatically Sync Your Google Calendar With Outlook Using OneCal
To sync Google Calendar with Outlook, there are two methods you can use: importing one calendar into the other or utilizing a third-party application like OneCal.
If you're looking to sync only two calendars and are not concerned about extensive privacy controls or reliability, importing is a viable option. On the other hand, if you need to sync multiple calendars and prioritize both privacy and reliability, OneCal is an excellent solution.