How to use Google Calendar Appointment Schedule to Create Scheduling Links for Free
Authors

Name

Twitter
Published on
Ready to Sync
Your Calendars?
Create a OneCal account to sync multiple Outlook and Google Calendars, create Booking Links, and much more.
What is Google Calendar Appointment Schedule
Google has recently introduced a new feature called "Google Appointment Schedule", which is currently only available to Google Workspace organizations.
With Google Appointment Schedule, you can create public scheduling links directly in your calendar app. You can then share these links with others who want to book you for a meeting. This means you no longer need to use external tools like Calendly to create scheduling links.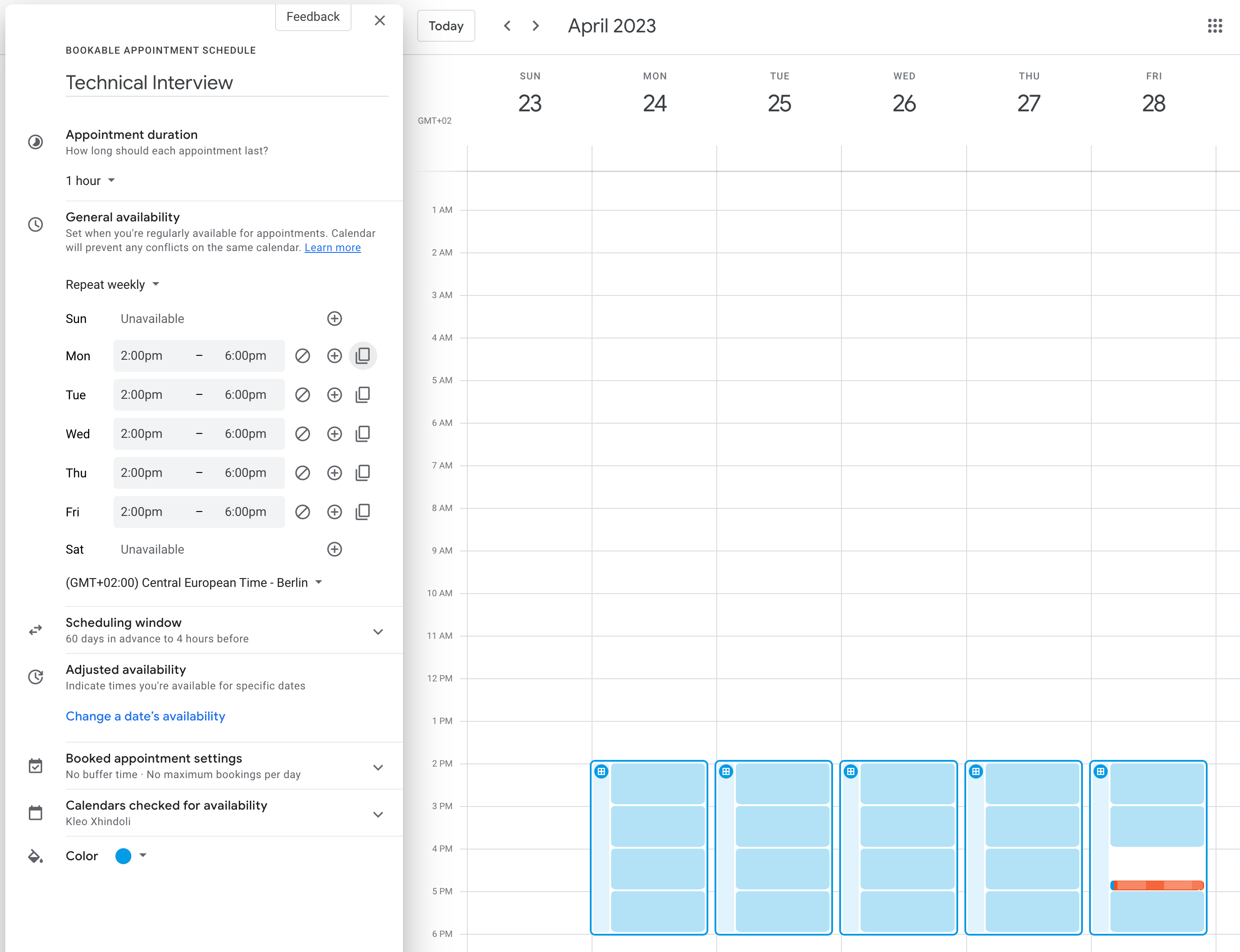 How to Create a New Appointment Schedule in Google Calendar
To create a new Appointment Schedule, log in to your organization's Google account and open Google Calendar. Under the "Create" button, you should see an "Appointment schedule" option.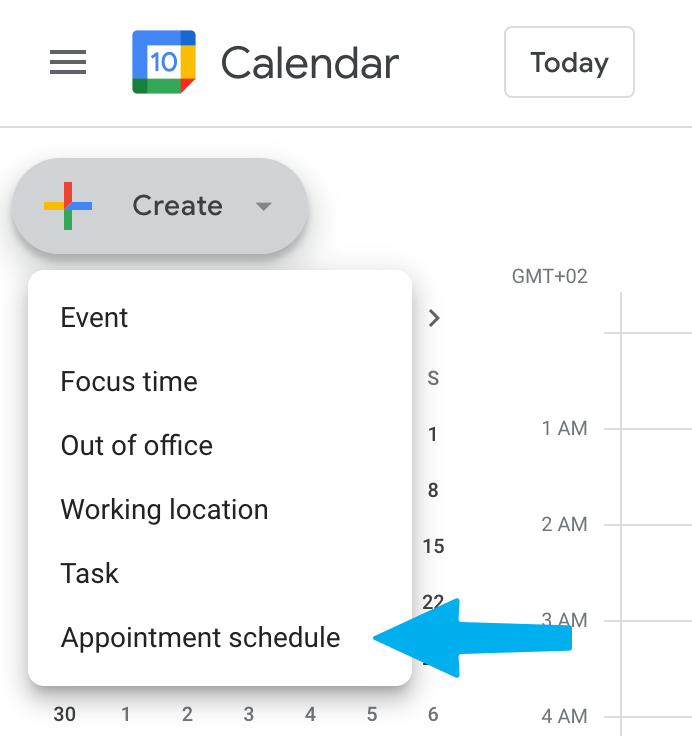 If you don't see this option, it means the feature is not yet available to you.
Step 1: Set the title of the appointment schedule and the duration of the meeting
Set a name for the appointment schedule that people who want to schedule a meeting with you will see. It will also become the name of the meeting on your calendar if they schedule it. The appointment schedule title should reflect the intention of the meeting. For example, you could use "Meeting with [your name]," "Technical Interview," or "Introduction."
Once you have set the title of your meeting, you can also adjust its duration. Keep in mind that the default duration is 1 hour, which is not generally what you want. Therefore, be sure to change the duration to the desired length.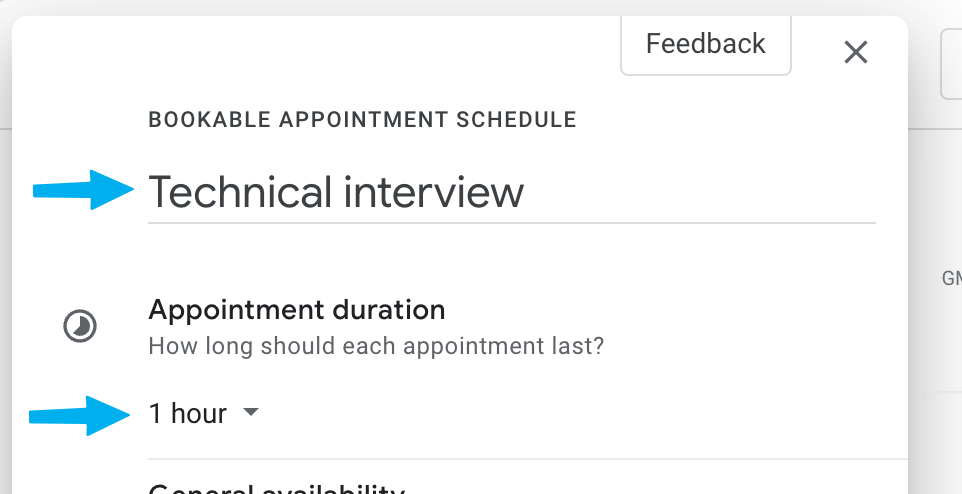 Step 2: Configure your General availability
When configuring your appointment schedule, you can define your general availability. Note that this will only impact this particular appointment schedule, and you can create multiple schedules with different availabilities.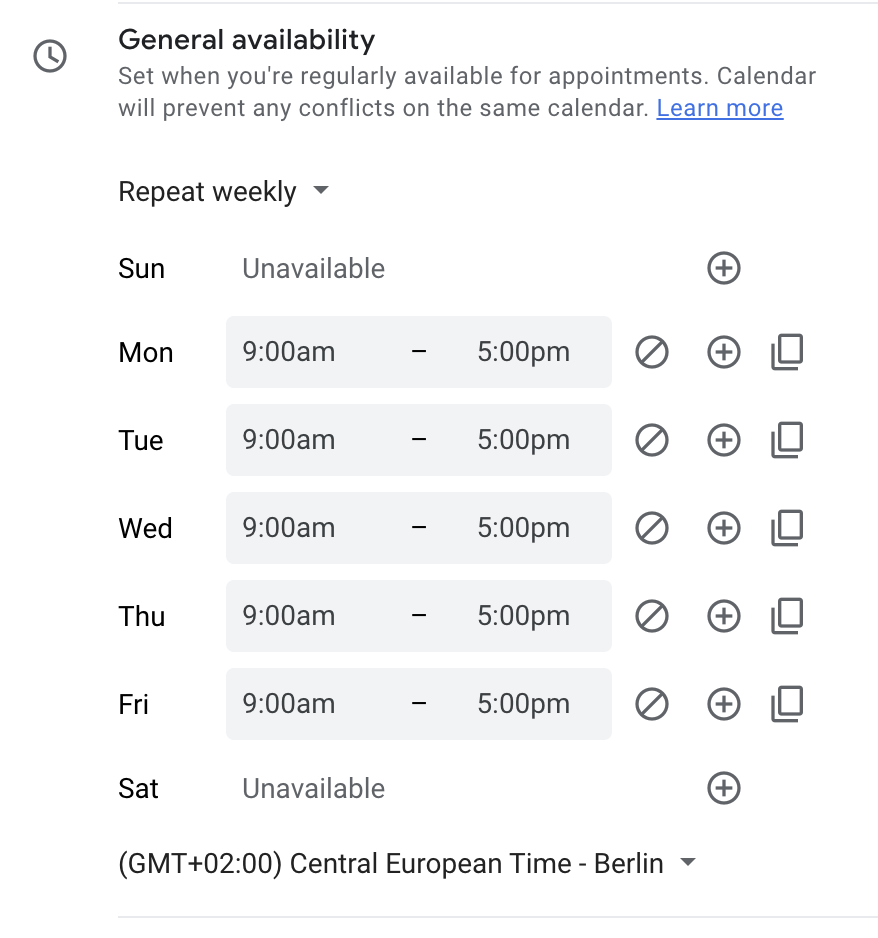 Avoid being too specific here and only provide your general availability for this meeting. If there is a particular day when you are not available, you will be able to set this later.
Step 3: Configure a Scheduling window
The scheduling window allows you to set limitations on when meetings can be booked. This feature is particularly useful if multiple people are expected to book through the same appointment schedule. It's important to verify that the settings match your expectations for bookings.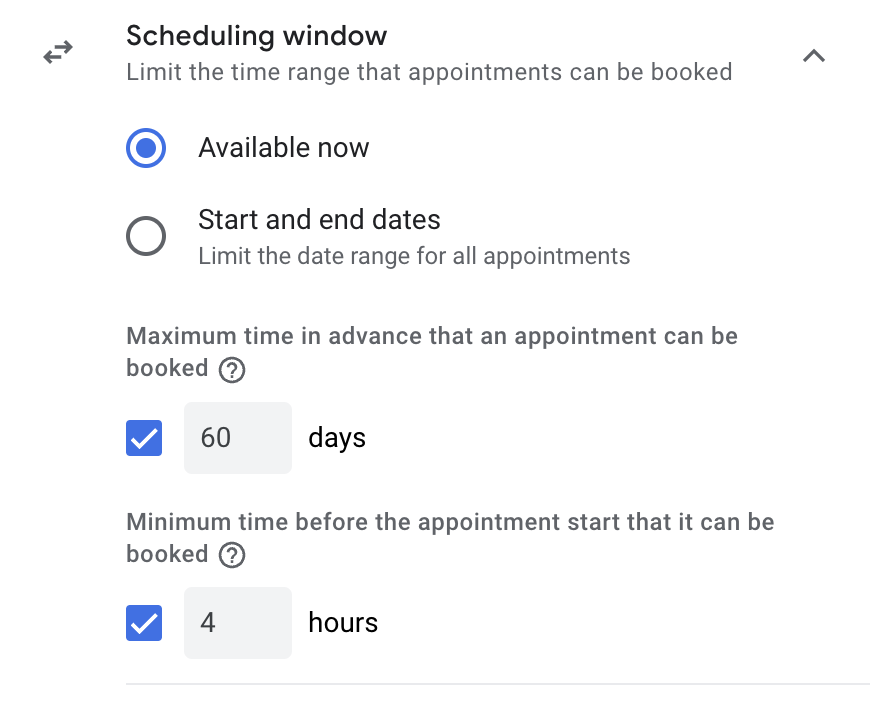 There are several settings you can adjust in the scheduling window, and we'll go over each one in detail:
"Available now" vs "Start and end dates":
"Start and end dates" will give you the option to define a start date and an end date for when your booking link will be available. This is often useful if you want the scheduling link to only be available for a certain time period. If, however, you want to the scheduling link to be available until you choose to delete it, select "Available now".

Maximum time in advance that an appointment can be booked:
This setting specifies how far in the future people can schedule meetings using the Appointment Schedule link. For instance, if this value is set to 60 days, individuals will be able to book a meeting with you up to 60 days in the future. Depending on your requirements and how frequently your schedule is updated, you may need to adjust this value.

Minimum time before the appointment start that it can be booked:
This value sets the minimum time frame before which a meeting can be booked. For example, if it is set to 4 hours, people won't be able to book meetings unless the meeting is at least 4 hours after the time they are booking it.
Step 4: Adjust availability for specific dates that deviate from your normal availability
Adjusted availability allows you to set exceptions to your general availability, as defined above. For instance, if you are setting up an appointment schedule for interviews and do not want any interviews on a particular day, you can specify it here.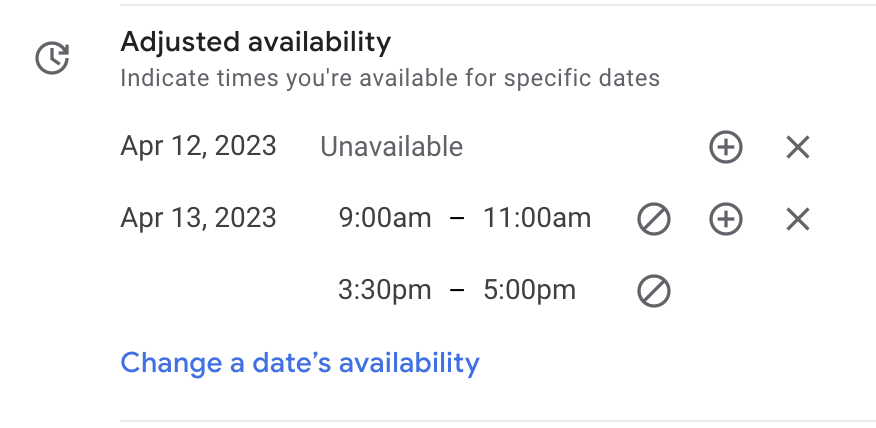 Note that if you have time blocked off in your calendar, you don't need to specify it here as well. Your calendar's current availability will always be considered when someone schedules a meeting.
Step 5: Set booked appointment settings
Under "Booked appointment settings" is where you can further customize how often and how many bookings can be made in a day.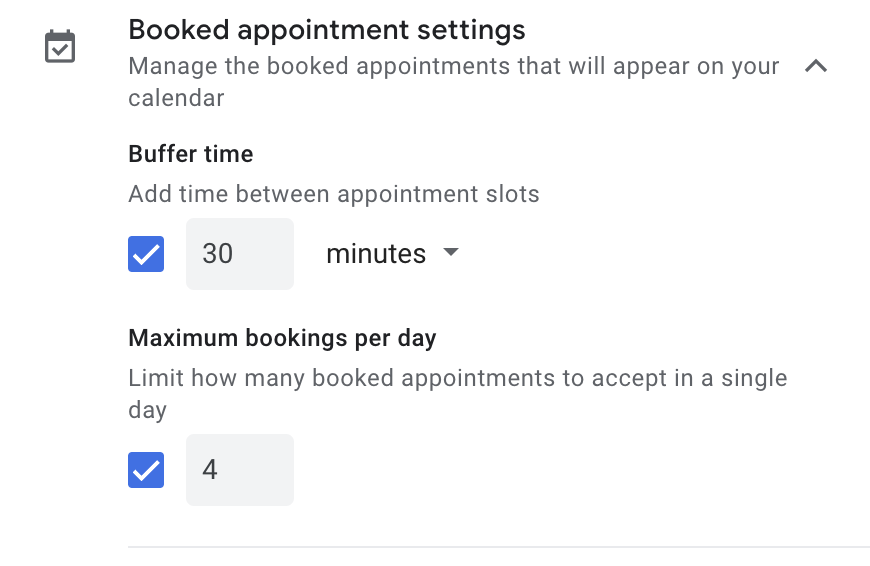 Buffer time - allows you to set a minimum buffer period between bookings. For instance, if this value is set to 15 minutes, bookings coming through this appointment schedule will have to be at least 15 minutes apart from each-other.
Maximum bookings per day - allows you to specify the maximum number of bookings you'd like to receive per day through this appointment schedule.
If these settings are not enabled, there will be no buffer time between bookings and no limitations on the number of bookings that can be made per day, provided they don't conflict with any other bookings.
Step 6: Select the Calendars checked for availability
The "Calendars checked for availability" section is where you can select which calendars will determine your availability. The availabilities from your selected calendars will be merged with the availabilities specified in "Adjusted availability" and "General availability" to determine your final availability.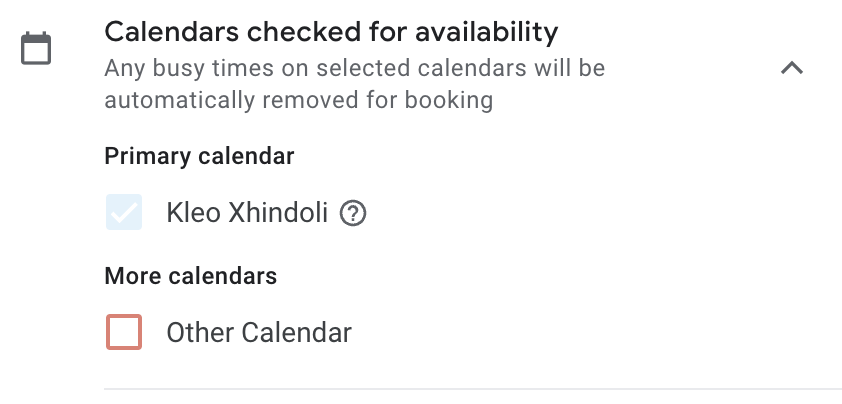 Your events will always appear on your primary calendar, and this calendar cannot be unselected. Once you're done configuring your calendars click "Next", to configure your booking page.
Step 7: Set the booking page photo and name
This is the photo and name people will see on your booking page. Currently, this cannot be changed to be different from your account's name and photo but this may change in the future.
Step 8: Location and conferencing
In this section, you can specify the details of where and how the meeting will take place. Typically, you would want this to be a conference URL, but other options are also possible. Currently, Google can generate a meeting link automatically only for Google Meet. However, more providers may be added in the near future.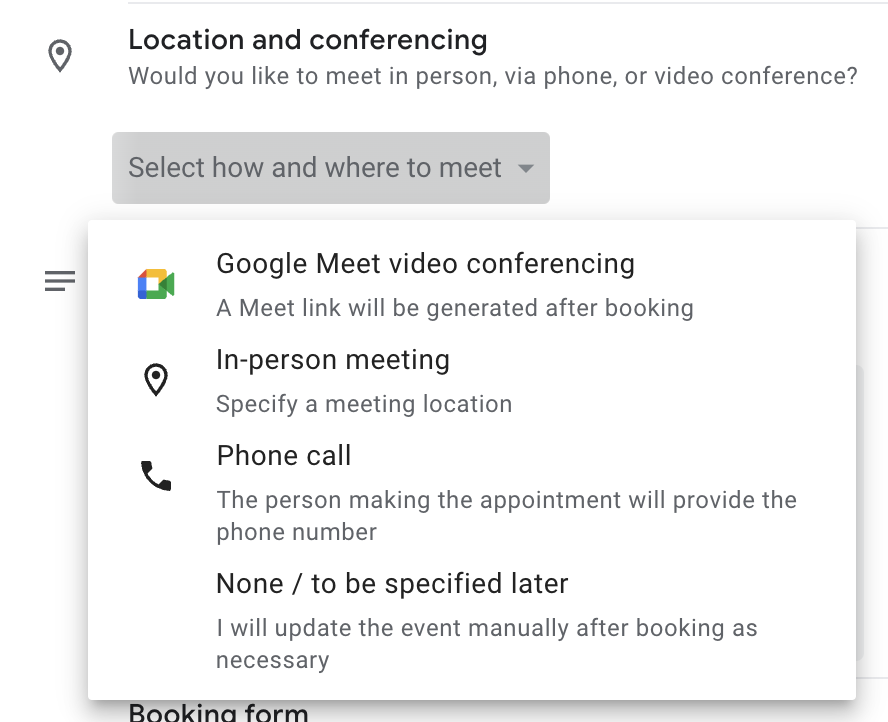 Alternatively, you can choose to specify the event location or meeting URL manually after the booking is confirmed. To do so, select "None / to be specified later."
Step 9: Provite a booking page description
Provide additional details about the meeting in this section. This information will be displayed on your booking page. Please note that you should not include any meeting links here, as they will be visible to anyone who has access to your appointment schedule link.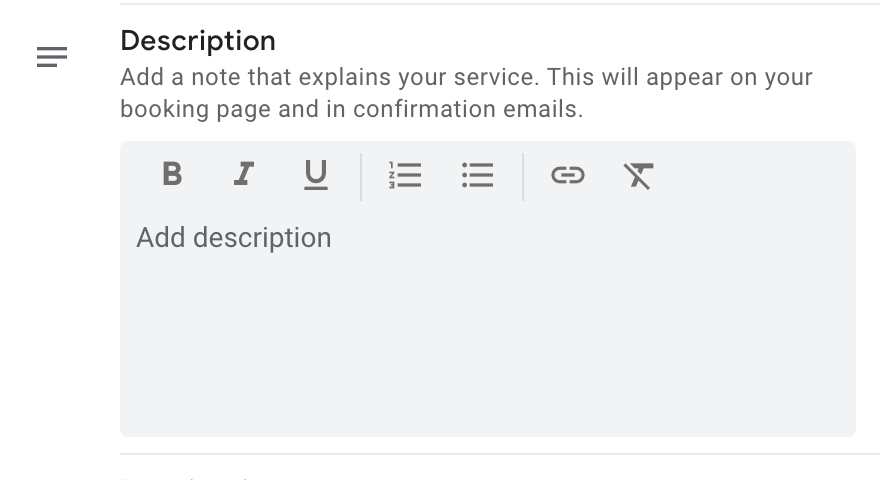 Step 10: Configure the booking form
This section explains how to specify the information you want people to provide when booking a meeting. To begin with, they will be required to provide their first name, last name, and email address.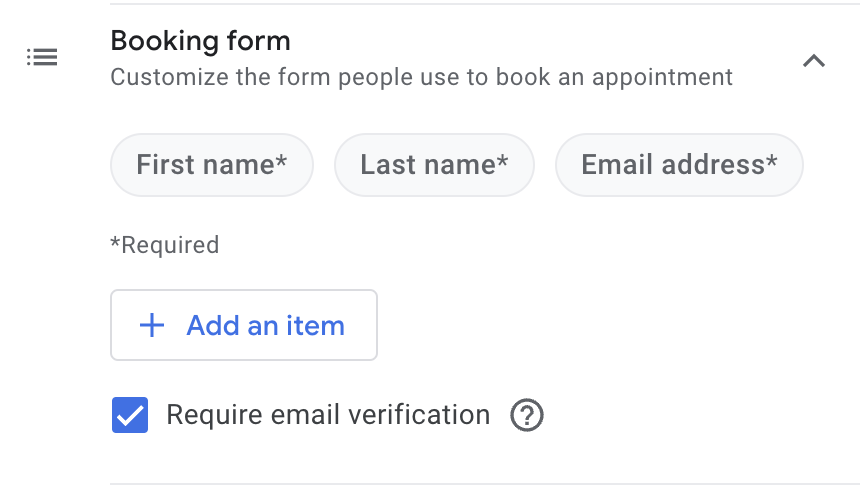 To add more fields to the booking form, select "Add new item". In the popup that appears, choose a field type and indicate whether or not it is required. Currently, the two supported field types are Phone number and Text field (Custom item). If you select Custom item, you can also specify a label for the field.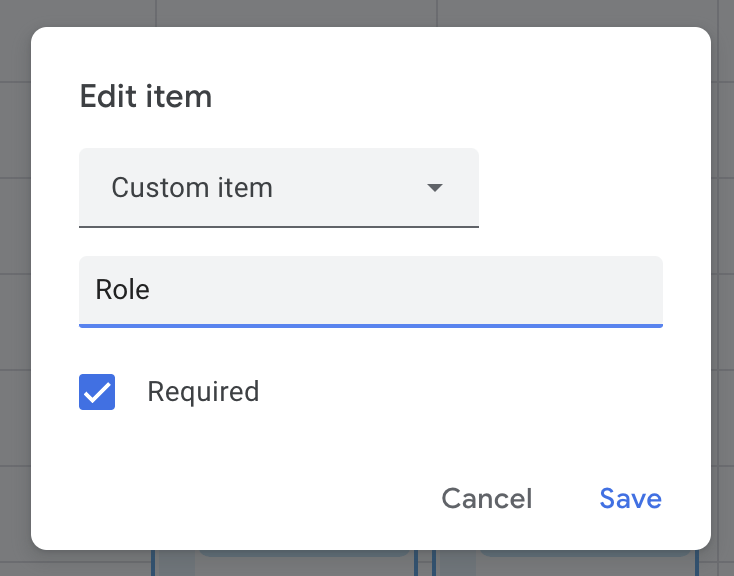 Additionally, you can require people to verify their email address by enabling the "Require email verification" option. If this option is enabled, the booking will not be confirmed until the person verifies their email by clicking a link in their inbox.
Step 11: Configure the booking confirmations and reminders
Specify how often and when you want to send reminders to people who book meetings. By default, this setting is set to "1 day before". Depending on the type of meeting, you may want to change this setting.
You can also add additional reminders by selecting "Add reminder".
Step 12: Save your Appointment Schedule
Once you have configured everything, hit "Save" on the Appointment Schedule menu. After saving the appointment schedule, some vertical lines will appear on your calendar which indicate your appointment schedule availability.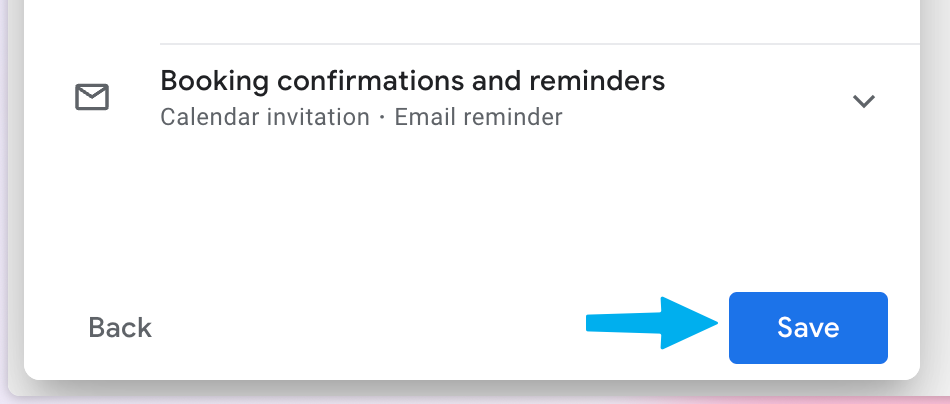 Clicking on any of those lines, or the appointment schedule title, will allow you to change the appointment schedule settings or obtain your scheduling link.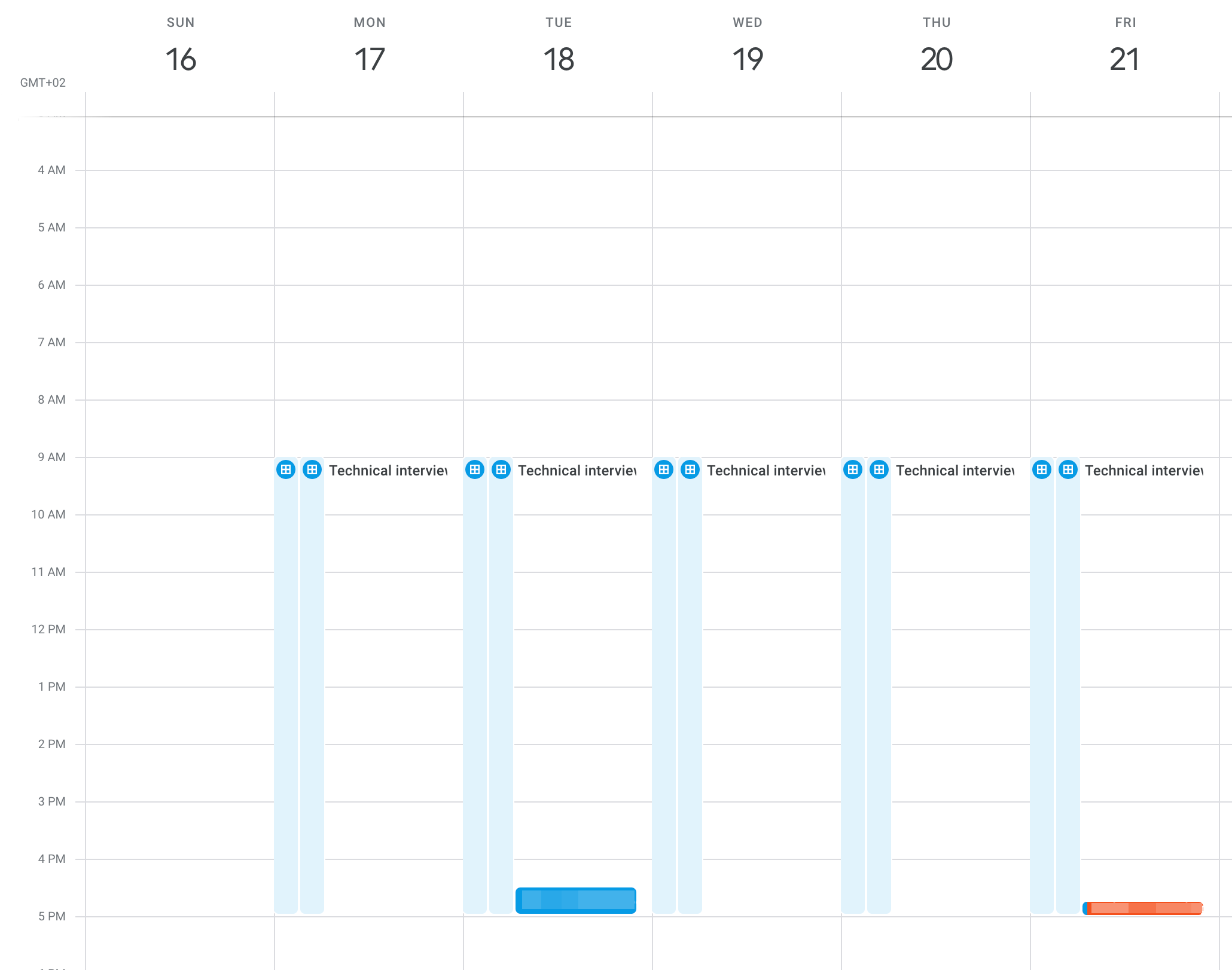 💡 Pro Top: Looking for alternative apps that allow you to share booking links? Check our article Calendly Alternatives.
How to Share Your Google Calendar Appointment Schedule link
To obtain your Appointment Schedule link, click on the name of the schedule in your calendar view or on one of the vertical bars. A pop-up will appear displaying your appointment schedule. Here, you can view further details about the appointment schedule, edit it or delete it.
To obtain your booking link, click on the "Share" button. This will open a new modal window that offers you the option of copying the link or creating an embed to place on your website.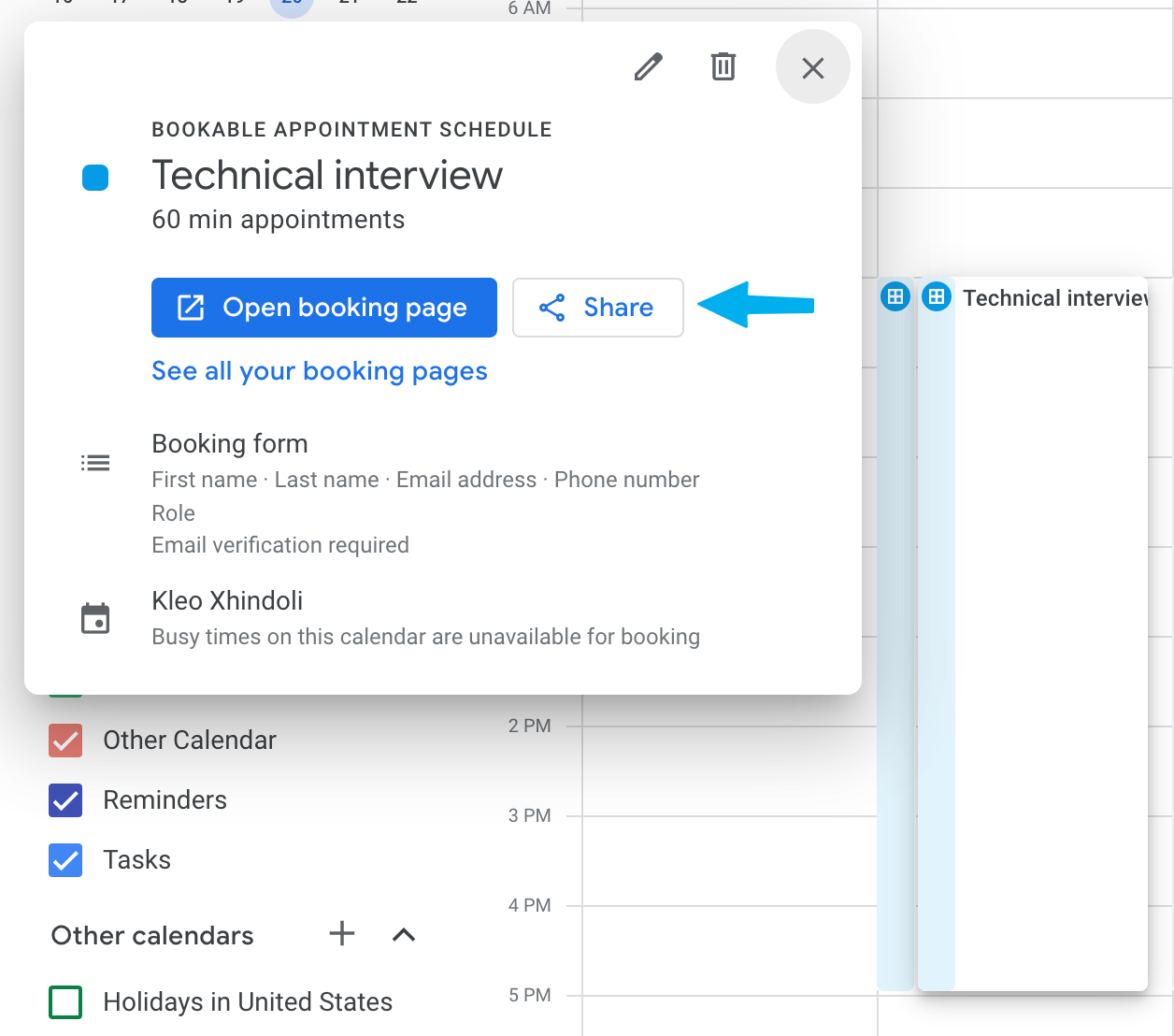 In this modal window, you can select a link for the current Appointment Schedule or alternatively, get a link for all active appointment schedules you have. If you choose the latter, the person scheduling the meeting will also be required to select the appointment schedule they wish to book for.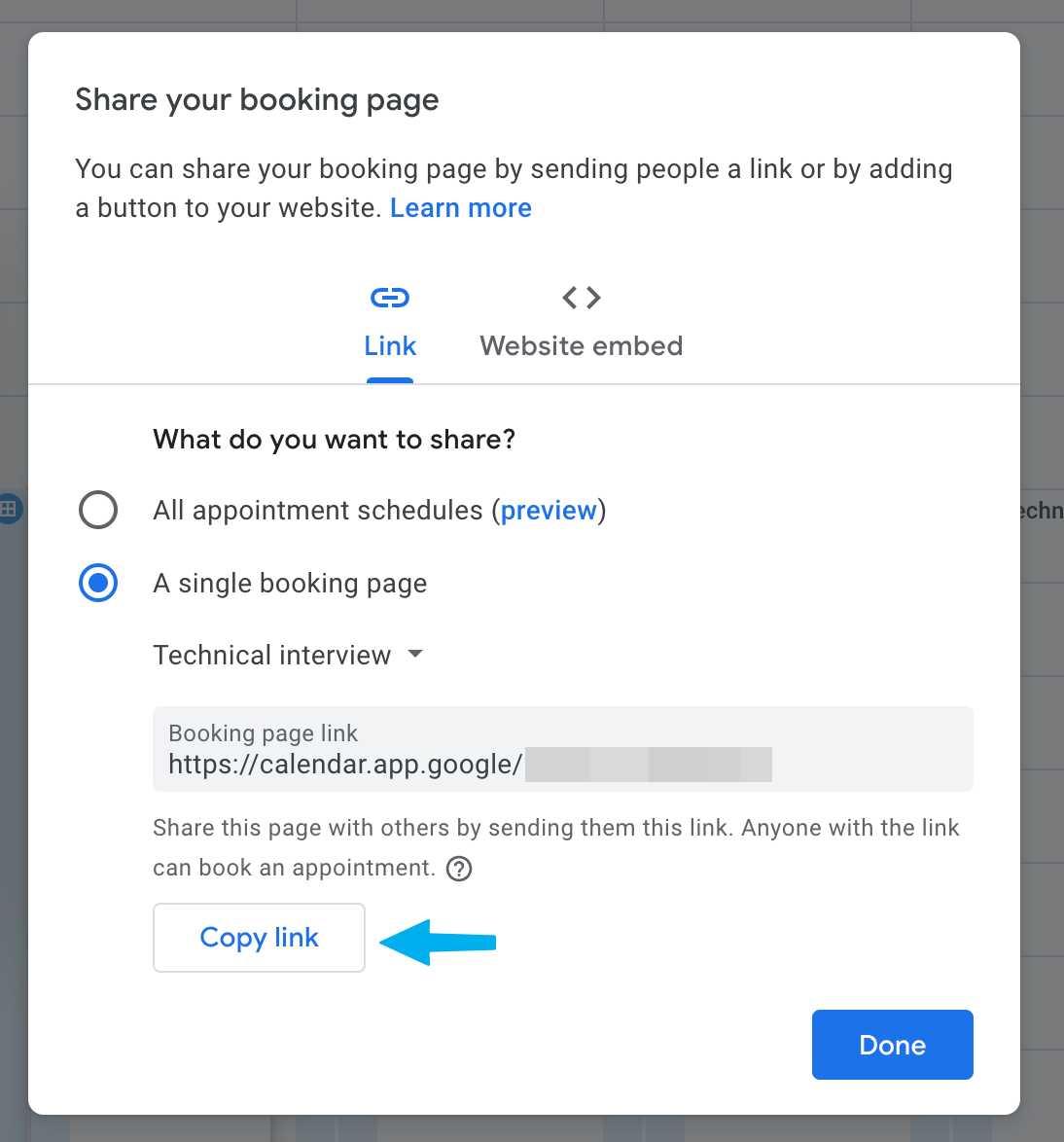 That's it! You can now share this link with other people to have them book a meeting with you.

How to add your Google Calendar booking page to your website
Click the appointment schedule.

Next to Open booking page click Share

Under "Website embed," select an option:

To create a button for your appointment schedules in a link, click All Appointment Schedules

To create a button for a specific booking link, click A single booking page

To open the Inline booking page option, click Expand

To embed the booking page directly to your website, click Copy code.

Paste the code into your website's HTML.

Click Done.
Conclusion
Google Appointment Schedule is a great alternative to existing tools like Calendly. It offers most of the tools you need to start receiving bookings directly from your calendar, and it's completely free if you already use Google Workspace. While there are still some missing features, it's worth giving it a try to see if the existing tools meet your needs.