How to Connect Multiple Calendars to Google Appointment Schedule
Authors

Name

Twitter
Published on
Ready to Sync
Your Calendars?
Create a OneCal account to sync multiple Outlook and Google Calendars, create Booking Links, and much more.
What is Google Appointment Schedule
Google has recently introduced a new feature called "Google Appointment Schedule". This feature enables you to create public scheduling links directly from your calendar app, with no external tools. If you'd like to know more about Google Appointment Schedule, please read How to Use Google Calendar Appointment Schedule.
A question people will immediately ask after seeing this is: How can I connect multiple calendars to Google Appointment Schedule?
How to connect multiple Google Calendars to Appointment Schedule
If your other calendars exist within the same Google account, you can choose to import availability from them when creating your Appointment Schedule, like shown below: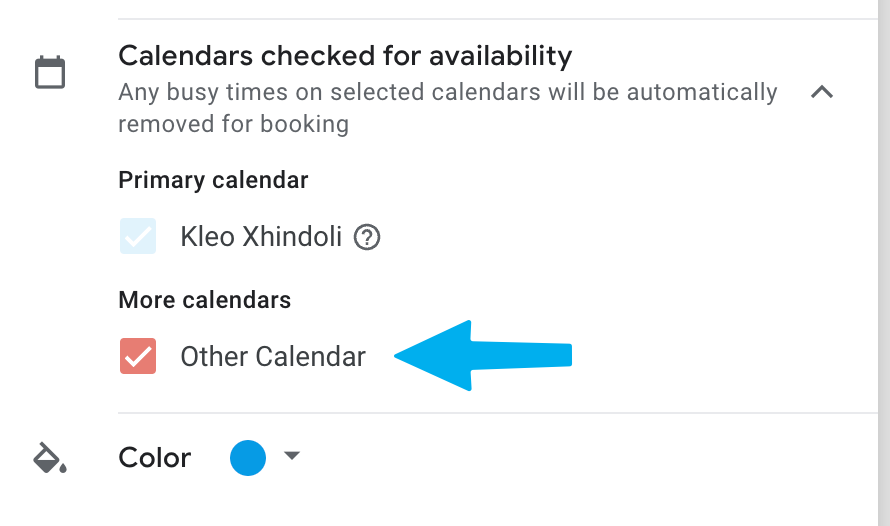 But what if your calendar exists on a separate account? If this is the case, you will need to import it to your main Google Account. For simplicity, we'll refer to the account you're creating the Appointment Schedule from as "Account A", and the other account you want to connect as "Account B".
To connect a calendar from Account B to Account A, follow these steps:
Log in to Account B

On the left, find the "My calendars" section. To expand it, click the down arrow.

On the calendar you'd like to share, click the three-dot menu button and select "Settings and sharing" in the pop-up menu.


Under the section "Share with specific people or groups", click "Add people and groups".


In the pop-up modal, enter your Account A email address.

Under "Permissions", select how you'd like to share this calendar. It's important to note that organization admins in your Account A will also be able to see the information you share here.

Click "Send".

Now log back into your Account A and open your email. You should see an email with a subject similar to: "<Email B> has shared a calendar with you".

Open the email and find the "Add this calendar" link, then click on it.

In the pop-up modal, click "Add".

You should now see your new calendar under the "Other Calendars" section.
To import additional calendars, simply repeat the steps outlined above. Once you have imported all of your calendars to Account A, you should be able to see them listed under "Calendars checked for availability" when you go to create your appointment schedule.
If you're looking for a simpler way to import multiple calendars and have more control over what you share, consider checking out OneCal. You can find more information about OneCal at https://www.onecal.io/.
How to connect Outlook Calendars to Appointment Schedule
Currently, there is no native way to reliably import an Outlook Calendar to Google. While various methods exist for doing a one-time import of your events, your availability will never update as the original events change, and these methods don't work on all Outlook clients. To learn more about doing a one-time export, check out this Microsoft article.
If you want to reliably sync your Outlook calendars with your Google calendar, I strongly recommend using a third-party tool such as OneCal. It will keep your calendars in sync at all times and takes only a few minutes to set up.
How to connect multiple Google or Outlook Calendars with OneCal in less than a minute
If you're tired of the headache of exporting and importing calendars or want more control over what data is shared between them, you're going to love OneCal!
Our easy-to-use tool allows you to sync multiple calendars all at once, whether they're from Google or Outlook. Check out our quick video tutorial or follow these steps:
Connect the Google or Outlook calendars you want to sync.


⁠Click the "Start New Sync" button on the home screen.


Name your sync (this is visible only to you) and choose your sync type:

One Way: Calendar A → Calendar B

Multi Way: Calendar A ↔ Calendar B ↔ Calendar C


Choose the calendars you want to sync.


Customize the data you want to sync, adjust how clone events look, and select which events to exclude.


You are done! Your calendars will automatically stay up to date with any changes. Now go enjoy a well-deserved coffee break with all the time you've saved!⁠

Because OneCal can sync directly to your primary Google Calendar, you don't need to import additional calendars to your Google Account. When you create an Appointment Schedule, your availability will always be up to date.
Connect Multiple Calendars to Google Appointment Schedule Using OneCal
In a nutshell, Google Appointment Schedule is an awesome tool that can help make scheduling super easy for individuals and organizations. However, it can be a bit tricky to connect multiple Google or Outlook calendars to Google Calendar Appointment Schedule.
Never to worry. Many calendar sync tools out there simplify the process and make it seamless. A good example is OneCal - the privacy-focused calendar sync software we built to make it easy to manage your schedules like a boss and never miss an appointment again.

Want to connect your calendars to Google Appointment Schedule automatically? Sign up for a 14-day free trial of OneCal to sync your calendars in less than one minute. No credit card required