6 Best Outlook Calendar Apps and Tools in 2024
Authors

Name

Twitter
Published on
Ready to Sync
Your Calendars?
Create a OneCal account to sync multiple Outlook and Google Calendars, create Booking Links, and much more.
Even though Microsoft Outlook offers a multitude of features, it can't have all the features to satisfy all the users. That's why it offers a public API that developers can use to build apps and tools on top of it, enhance functionalities, and much more.
Let's explore the top Outlook Calendar apps and tools that use the official Outlook Calendar API that will help you manage your time better, share your schedule more efficiently, avoid scheduling conflicts, and more.
What is an Outlook Calendar app?
An Outlook Calendar app is an app that uses the Outlook Official API to provide functionalities on top of Outlook. For example, OneCal uses the Outlook API to help users sync their Outlook Calendars, Fantastical enables users with a better UI for Outlook Calendars, with the ability to also manage tasks.
The best part of the third-party Outlook Calendar apps is that they build on top of Outlook Calendar, and grant you features that you might wish Outlook had.
6 Top Outlook Calendar Apps and Tools
1. OneCal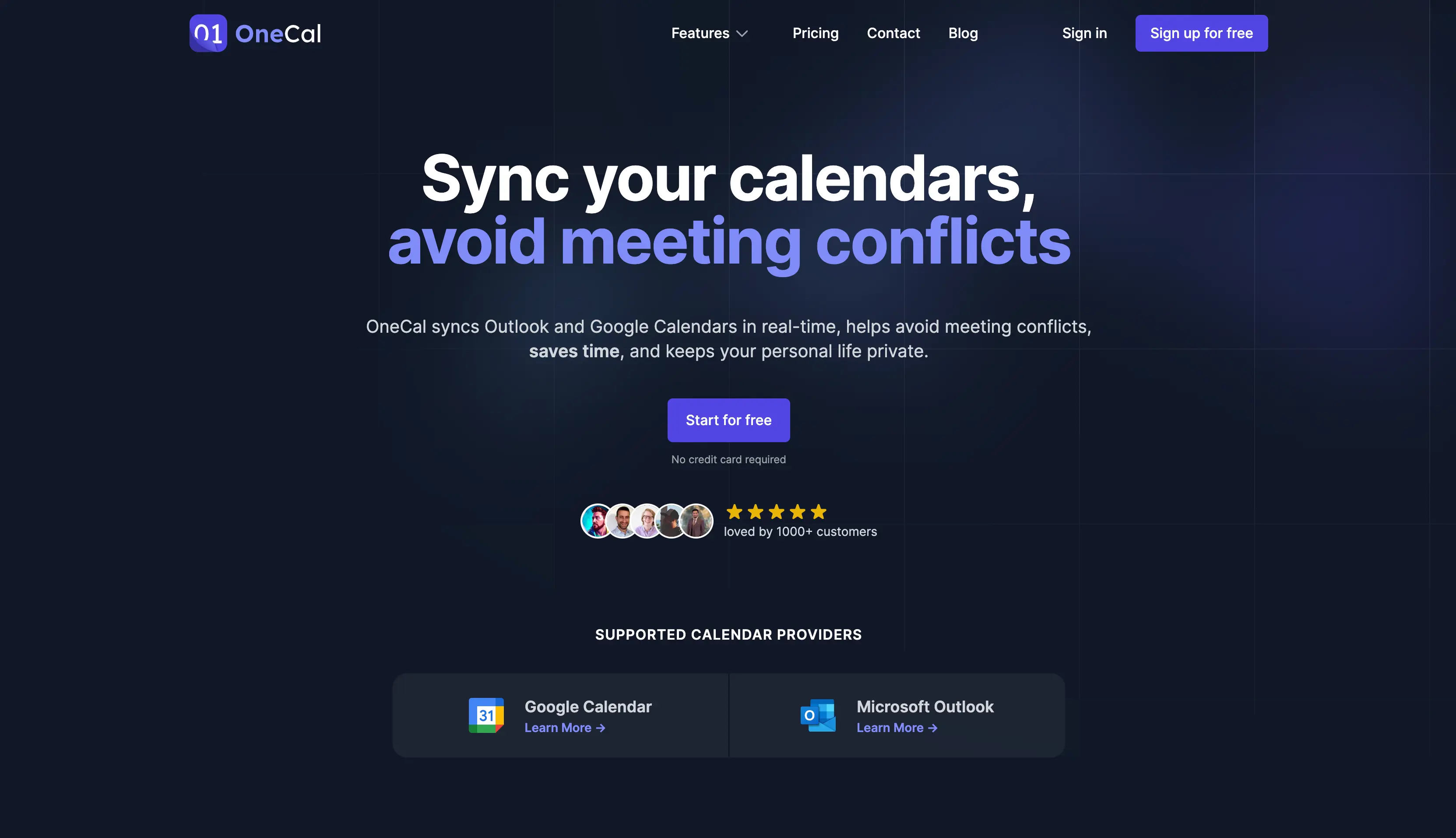 OneCal is a Calendar app that helps you avoid meeting conflicts by syncing your calendars, and allowing you to share scheduling links for others to book time with you.
Features:
Calendar Sync

: With OneCal

Calendar Sync

you can merge your availability across all your calendars. If you work with multiple calendars, if a meeting comes up on a calendar, you'll have to manually create the meeting on the other calendar. With Calendar Sync, all your meetings are auto-blocked to all your calendars. The best part is configuring which meeting properties will be cloned over. If you want to only auto-block the time, and strip out all the private details. Furthermore, OneCal also supports Google Calendar, which means you can also

sync Outlook Calendars with Google Calendar

, in real-time.

Scheduling Links

: You can create multi-calendar

scheduling links

to send to others to book time with you. The scheduling links are multipurpose and fully configurable.

Calendar View

: The

Calendar View

feature allows you to view Outlook and Google Calendars in one view. No need to open multiple calendar clients, just go to OneCal and view all your meetings in one place.

Invite Team Members: You can easily manage and pay for your team, so they all enjoy the same benefits as you.

Intuitive and easy to use: It has to be noted that OneCal is quite easy to set up and use. The team has put quite some effort into making the app top of the class when it comes to usability.

Amazing customer support: You can only appreciate products whose customer support genuinely tries to help you, and goes above and beyond to make sure that your issues and questions are resolved as fast as possible. OneCal is one of those products, as the customer support team is on top of the game, understands the product in its entirety, and makes sure each customer is treated with care.
Pricing:
Starter: $5/user/month

Essential: $10/user/month

Premium: $30 /user/month

Custom/Enterprise Plans: contact for pricing
Each plan can be used individually, or you can invite users to your Team and pay for them. Please refer to the pricing page for more details.
2. Fantastical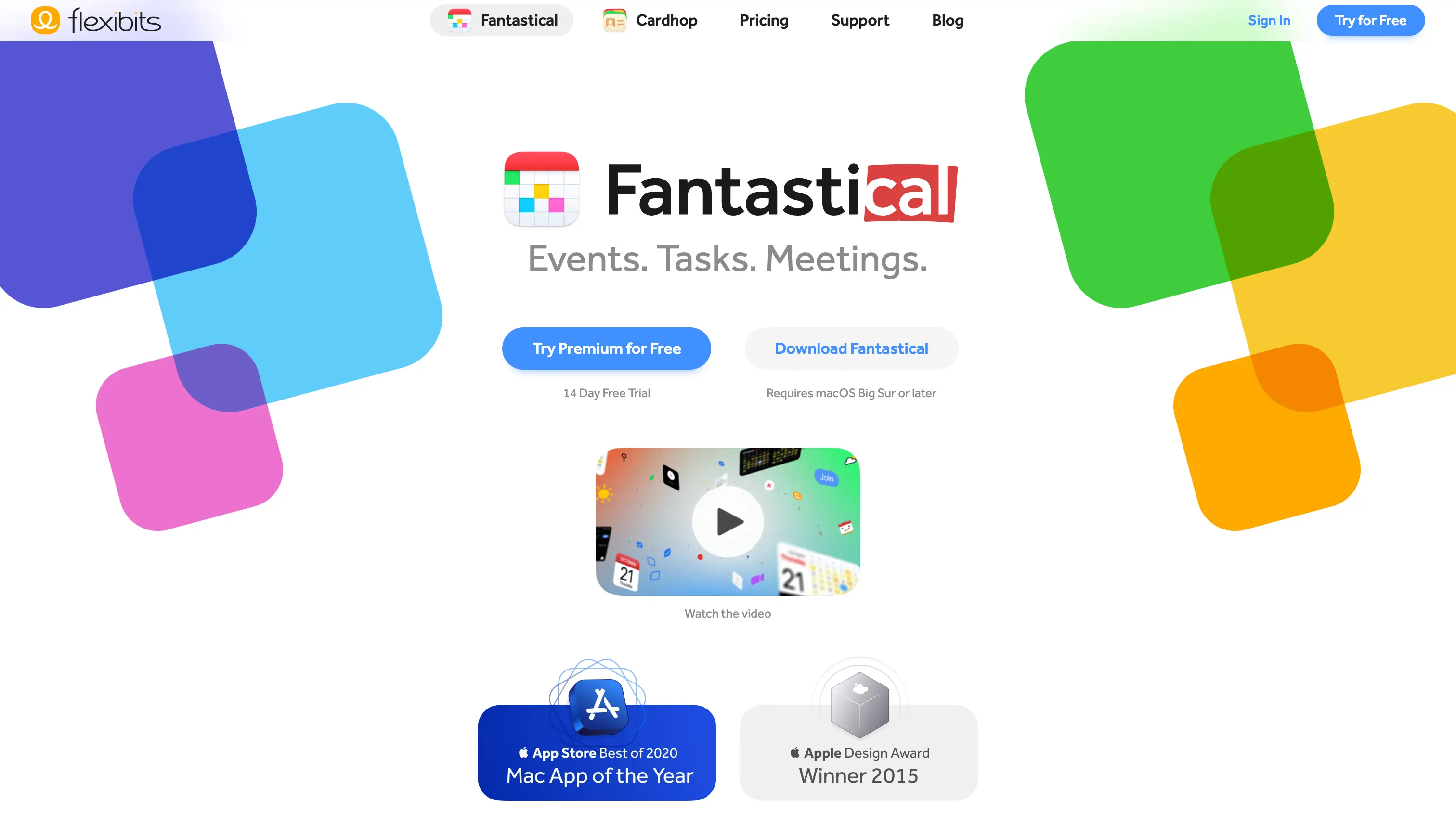 Fantastical is one of the best-designed calendar apps out there, allowing you to easily manage multiple calendars and other useful features to make your calendaring easier.
Features:
Support all major calendar providers: Even though you can download the Fantastical app if you're an Apple user (through the App Store), it has support for all major calendar providers: Google Calendar, Outlook, Yahoo, iCloud, and more.

Well thought UI and UX: It doesn't take long to notice that the team behind Fantastical took their time when building Fantastical, making sure the users get the best experience, nothing less. Kudos to the team for that.

Scheduling Links

: Fantastical does not just let you manage and

view all your calendars in one view,

but also provides additional features that help you streamline your availability. One of those features is the Scheduling Links feature, which allows you to create and share scheduling links for others to book time with you.

Create events by typing naturally: You can just type in plain English "Create a meeting with Kleol tomorrow morning, to discuss the launch of OneCal Team Scheduling Links", and Fantastical will understand what you meant, and schedule the meeting for you.
Cons:
Only available on App Store: It's unfortunate that Windows and Android users can't use Cron, as it's only available on the App Store.

Most features require a paid plan: Even though Fantastical has a free plan, in order to leverage the true power of Fantastical, you should upgrade to one of the paid plans.
Pricing:
Free

For Individuals: $4.75/month, billed annually

For Families up to 5: $7.50/month, billed annually
3. Calendly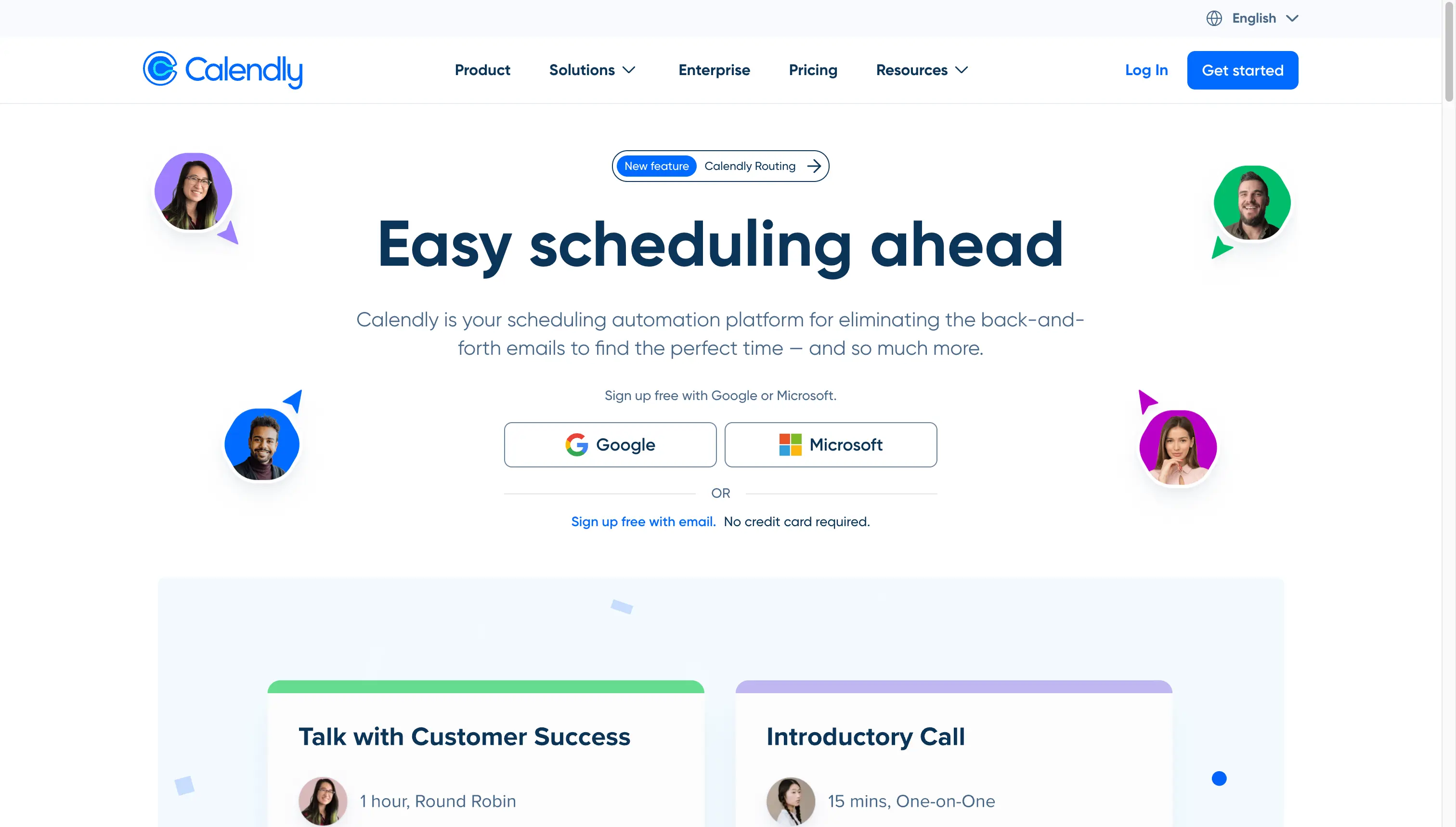 Calendly is one of the OGs of calendar scheduling, pioneered the calendar scheduling niche, and took the global market to US$298 million (estimated to become US$704 million by 2028). This is quite impressive, right?
Given that Calendly is one of the first scheduling solutions, it's a no-brainer that it has matured over the years and provides all the scheduling features most users need.
Features:
Multi-calendar, multi-use scheduling links: The booking links from Calendly can check your availability from multiple calendars, and can be used for any meeting (it's up to you).

Plenty of integrations: Given its maturity, Calendly has tens of integrations under its sleeve, so if you ever need an integration, chances are Calendly already has it. Furthermore, it has support for all major Calendar Platforms like Google Calendar, Outlook, etc.

Team booking links: Along with the individual scheduling links, you can also create multi-use scheduling links with Calendly.

Workflows: Calendly leverages its integrations so you can create workflows. For example: you can connect Calendly to your CRM, billing platform, etc, and create a workflow when something happens in Calendly (a meeting is scheduled, etc).

Plenty of customization: Calendly offers a good chunk of customization when it comes to tweaking your booking page and booking links (don't expect a lot though, nothing custom is supported).
Cons:
Not the prettiest UI, or intuitive UX

: Although UI is quite subjective, I understand that they have brand guidelines that they follow rigorously and that they can't just make the UI flashy as they've established a brand that millions of people use (If it's not broken, don't fix it),

tools like Cal.com

have leveled the game up with a more intuitive UX and beautiful UI.

This month

Calendly gave the app refresh

, so credit where credit is due in improving the weak points.
Pricing:
Free

Standard: $10 per seat, per month

Teams: $16 per seat, per month

Enterprise: Contact for pricing
4. Scheduler AI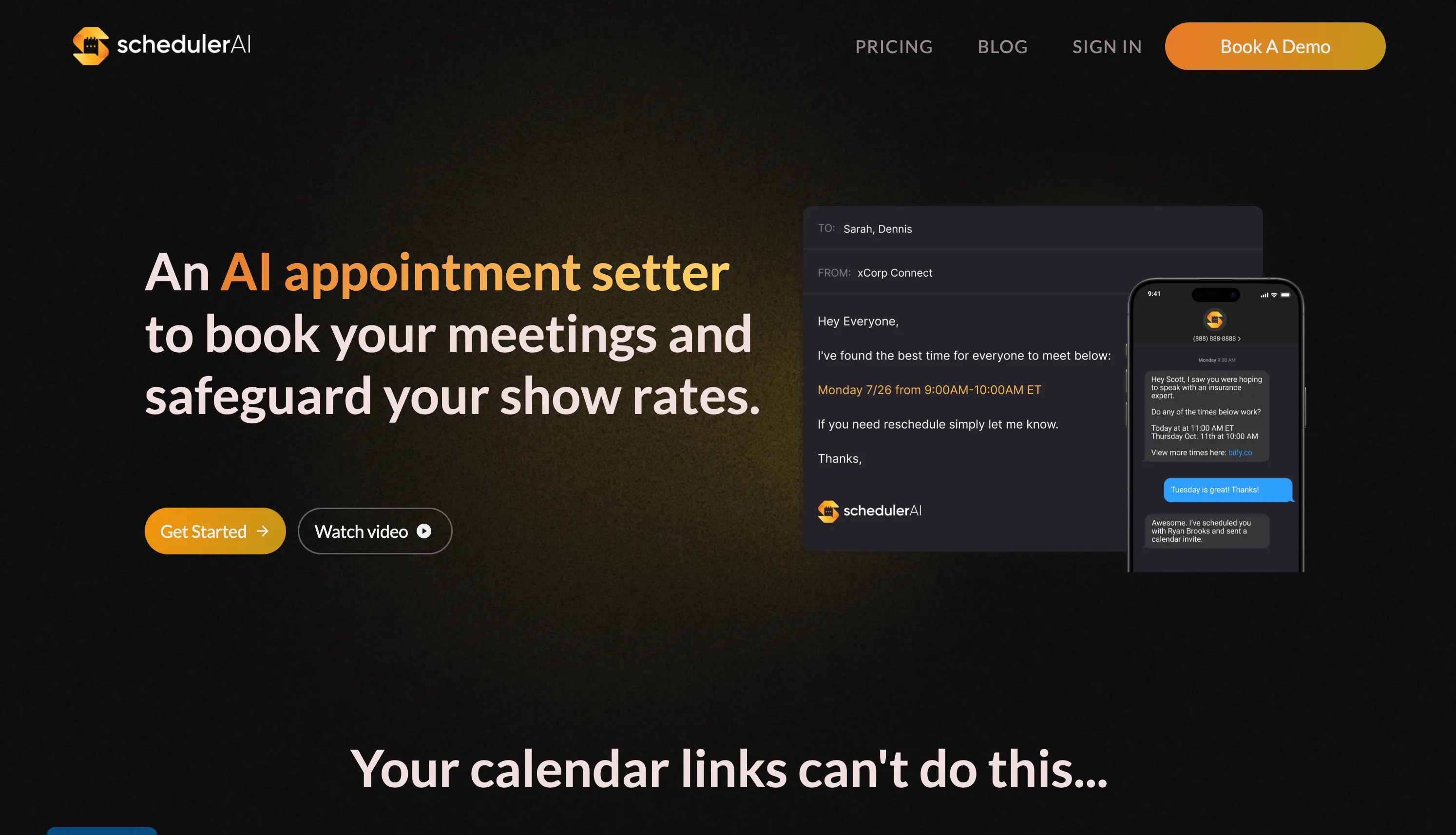 Given that we listed Calendly as the OG of scheduling links, let's bring up an alternative way of dealing with scheduling. The old way of scheduling is using scheduling apps like Calendly, where you create a booking link, and share it with other people to pick a time and meet with you. It would be cool if I could just say to someone "Hey, can you please book a meeting with the OneCal dev team to discuss the priorities for the next sprint?"
Sounds just like having a personal assistant, right? That's what Scheduler AI does. It integrates with Google Calendar and Outlook and can schedule meetings for you, just by writing in English, no need to create another scheduling link.
The special thing is that you use Scheduler AI through your email client. If you want to meet with someone or a team, you just CC scheduler@scheduler.ai, and Scheduler AI will look into your schedule (or other team members' schedule), and reply to you or other team members about the best time to meet, if you agree with the suggestions, it will schedule the meeting for you.
Features:
Quite capable: Scheduler AI is capable of handling rescheduling meetings, cancellations, and more.

Easy to use: Compared to other tools that offer tens of features and require a learning curve, to use Scheduler AI you just need to write, and have the ability to write an email.

Automatic Coordination: After you CC Scheduler AI to your email, it will automatically coordinate and communicate with other participants to schedule the best time to meet.

Integrations with Salesforce and Hubspot: Scheduler AI integrates with Salesforce and Hubspot, by allowing you to schedule meetings from any web form.
Cons:
Not for everyone: Even though the idea might seem cool, it's not meant to cover every use case. Scheduler AI mostly shines when used for scheduling internal meetings with one or multiple team members. You can also use it by just CCing Scheduler AI among external email/recipient you want, but it won't be able to read the availability of all the members, as it doesn't have access to their calendars. The best it can do is suggest times based on the availability of the owner of the primary account (the one who CCs).
Pricing:
Co-pilot: $20 per user per month

Auto-Pilot: $35 per user per month

Enterprise: Contact for prices
5. Motion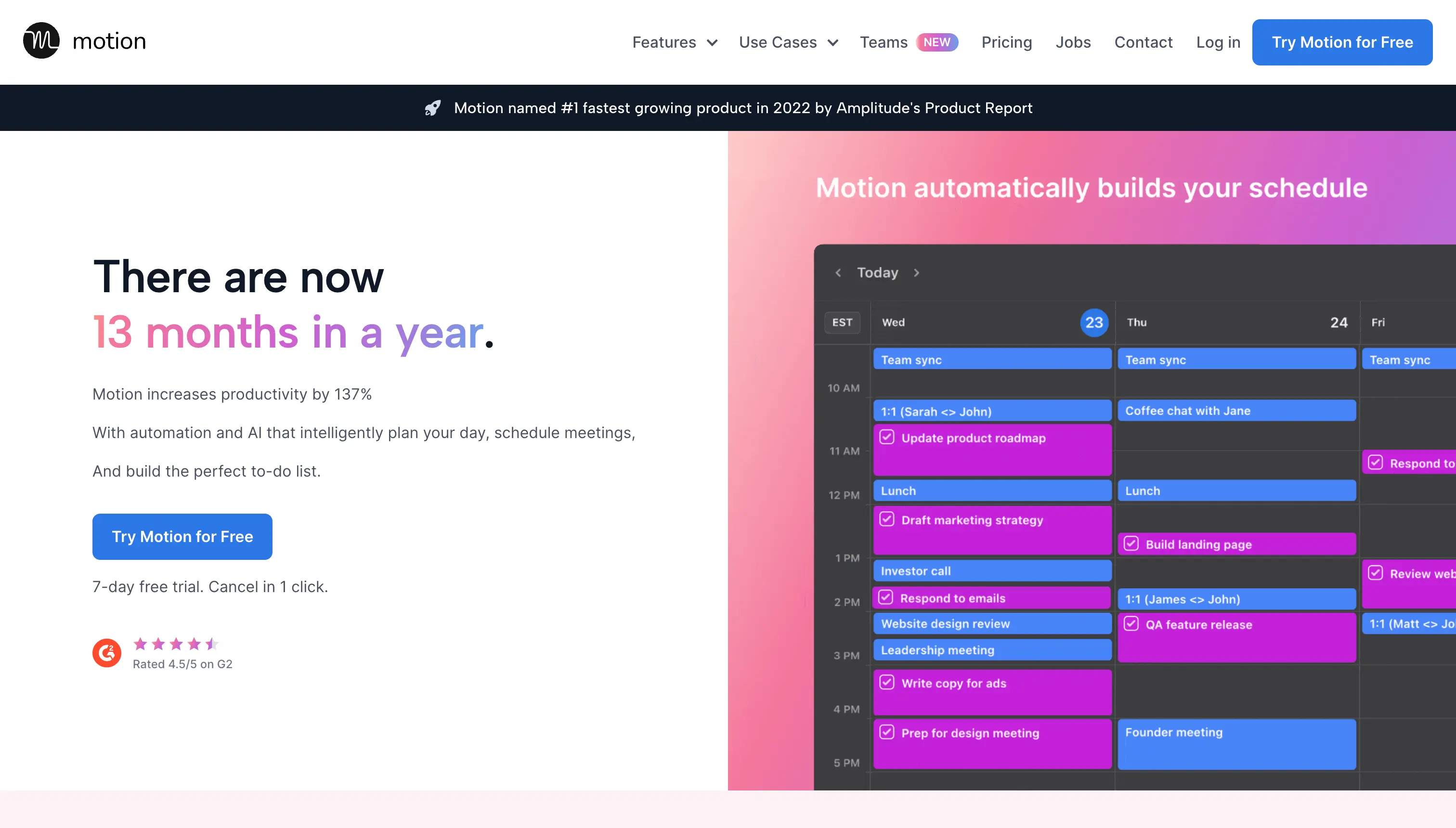 Compared to OneCal and Calendly, Motion is more complex in terms of features and what is trying to accomplish, as it gaps the limits of Calendar management with Project Management, combined with some AI. I know, it also took me a while to understand the idea behind motion. Let's explain the core features of Motion, and hopefully understand it better.
Features:
Manage Tasks: You can manage your tasks in Motion as part of your calendar schedule.

Project Management:

You can view your work-related tasks in your Team calendar.

See Team Capacity: Given that you have a Team in Motion, you can see your team's capacity and if they can complete the tasks in time.

Automates some of the project planning processes.

Calendar view: Here is where tasks, meetings, and todos merge into one view. You can also see your team's tasks using the Team Calendar.

Scheduling Links: Motion also offers a scheduling links feature for you to share, and others to book time with.
Cons:
Tries to do everything: As explained by the main features, Motion offers project management, calendar management, booking links, etc. Even though at first it might seem that the more features a product offers the better, it must be pointed out that it comes at the rest of the platform feeling bloated and hard to understand.

Expensive

: From my experience, the more features an app offers, the more expensive it gets. Having founded and run 2 startups before, I can assure you that as a product adds more features, it will become more expensive, as it takes time to develop them in the first place, then support and improve them over time. For an individual, Motion starts at $19 per month, billed annually, or $34 per month, billed monthly. It's quite expensive if you

compare it to Reclaim

and other similar tools.
Pricing:
Individual: $19 per month, billed annually, $34 billed monthly

Team: $12 per user per month, billed annually $20 per user billed monthly
6. Any.do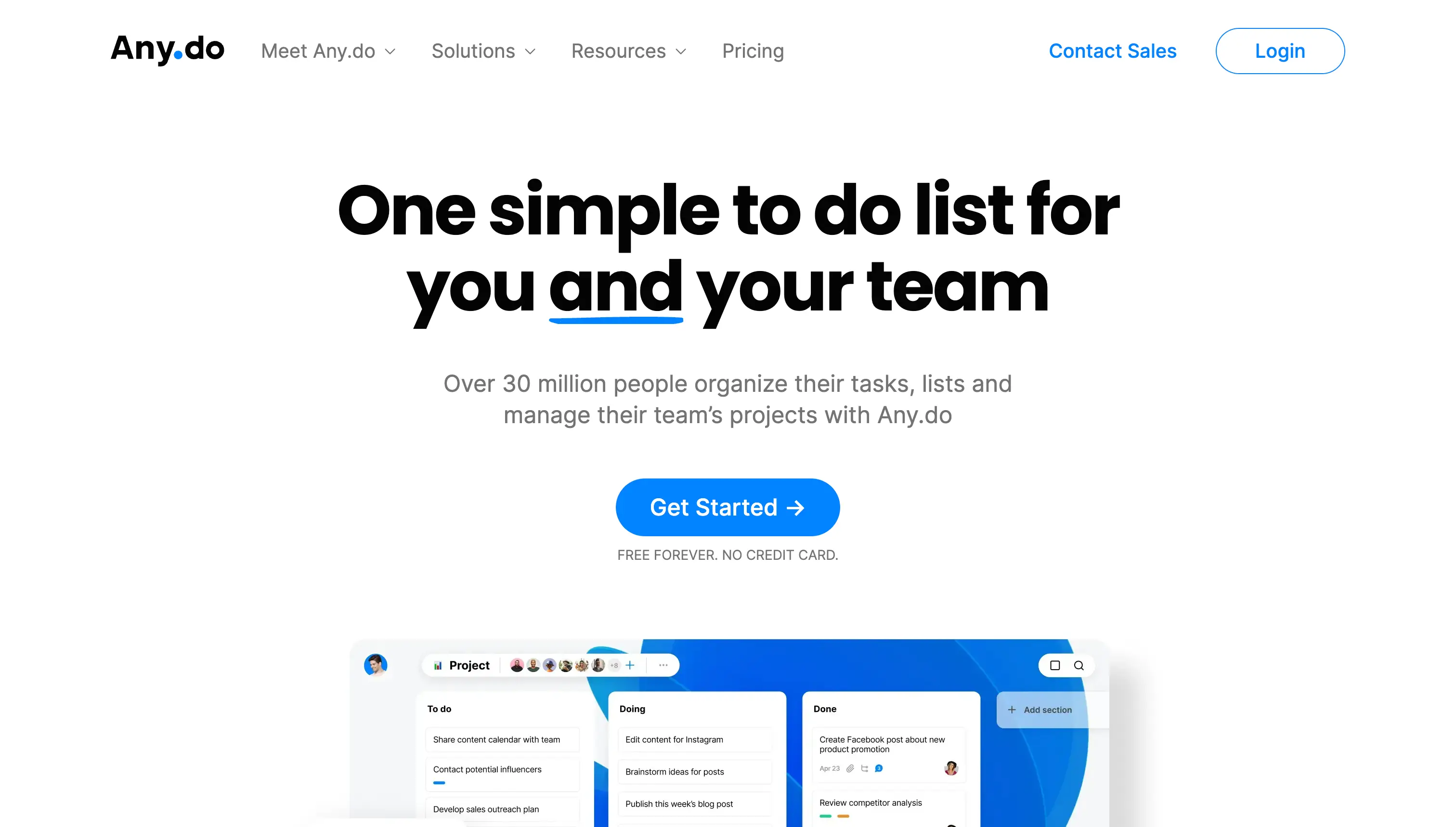 Any.do is similar to Motion, but it's not that broad in what's trying to accomplish. The premise is simple, manage your tasks and projects with your team. Certainly, the app has evolved with the addition of Smart Suggestions, voice commands, etc, but the concept and the very base of what's trying to accomplish are easy to grasp.
Features:
View all your tasks in one place: Any.do offers a tasks view, that you can use to view all your tasks in one place.

Mobile App: You can use the Any.do app on iOS and Android to quickly manage your tasks from your mobile phone.

Voice Commands: If you use Any.do mobile app, you can create tasks by speaking.

Integrations

: Any.do comes packed with integrations such as Google Calendar, Outlook, and more. If you want to add an iCloud calendar to Any.do, you should first sync the

iCloud Calendar to Google Calendar

, then connect the Google Calendar to Any.do.

Affordable: Any.do has a free plan, and paid plans that start from $3 per month if you use it as an individual, as $5 per team member, if you invite members of your team to also use Any.do.
Cons:
Very limited free plan: Even though Any.do offers a free plan, but it's quite limited. Quite frankly, if you want to properly leverage Any.do, you should upgrade to the paid plan.
Pricing:
Free

Premium: $3 per month, billed annually

Team: $5 per user per month, billed annually
Are Outlook third-party apps secure?
If the Outlook apps you're trying to connect your Calendar to are using the official Outlook API, and you're authorizing through the Microsoft OAuth, you should be safe. You should always check their security page and make sure they use the web standards for security. If you're not convinced about the app, you can remove its access from your Microsoft Access.
Some organizations have strict rules regarding third-party apps you can connect your account to, so if you get the Need Admin Approval, please read our article on how to resolve the Need Admin approval error when connecting Outlook/Office 365 to a third-party app.
Use OneCal to effortlessly manage your Google Calendar
OneCal is a simple calendar automation app that can save you so much manual labor. You can leverage the Calendar Sync feature to auto-block time on all your calendars, use the Scheduling Links to share intuitive scheduling links, and view all your calendars in one place. The team is working very hard to improve the product, and make itself the only calendar you'll ever need.
Sign up for a 14-day free trial, no credit card required, to try OneCal, with no hard attachments.