Reclaim AI vs Motion: Which is the best smart scheduling app?
Authors

Name

Twitter
Published on
Ready to Sync
Your Calendars?
Create a OneCal account to sync multiple Outlook and Google Calendars, create Booking Links, and much more.
Reclaim and Motion are the most known productivity calendar apps, that can save you tons of time by automating your calendars and schedule. If you're wondering which is the best for you, this is the article to read. In this article, we'll compare Reclaim AI and Motion, highlighting strengths, weaknesses, and pricing.
By the end of the article, you'll have a clear understanding of Reclaim and Motion, and decide which is the smart scheduling app that works best for you.
Reclaim AI vs Motion, what do they offer?
Let's get started by explaining the premise of each smart calendar app:
Motion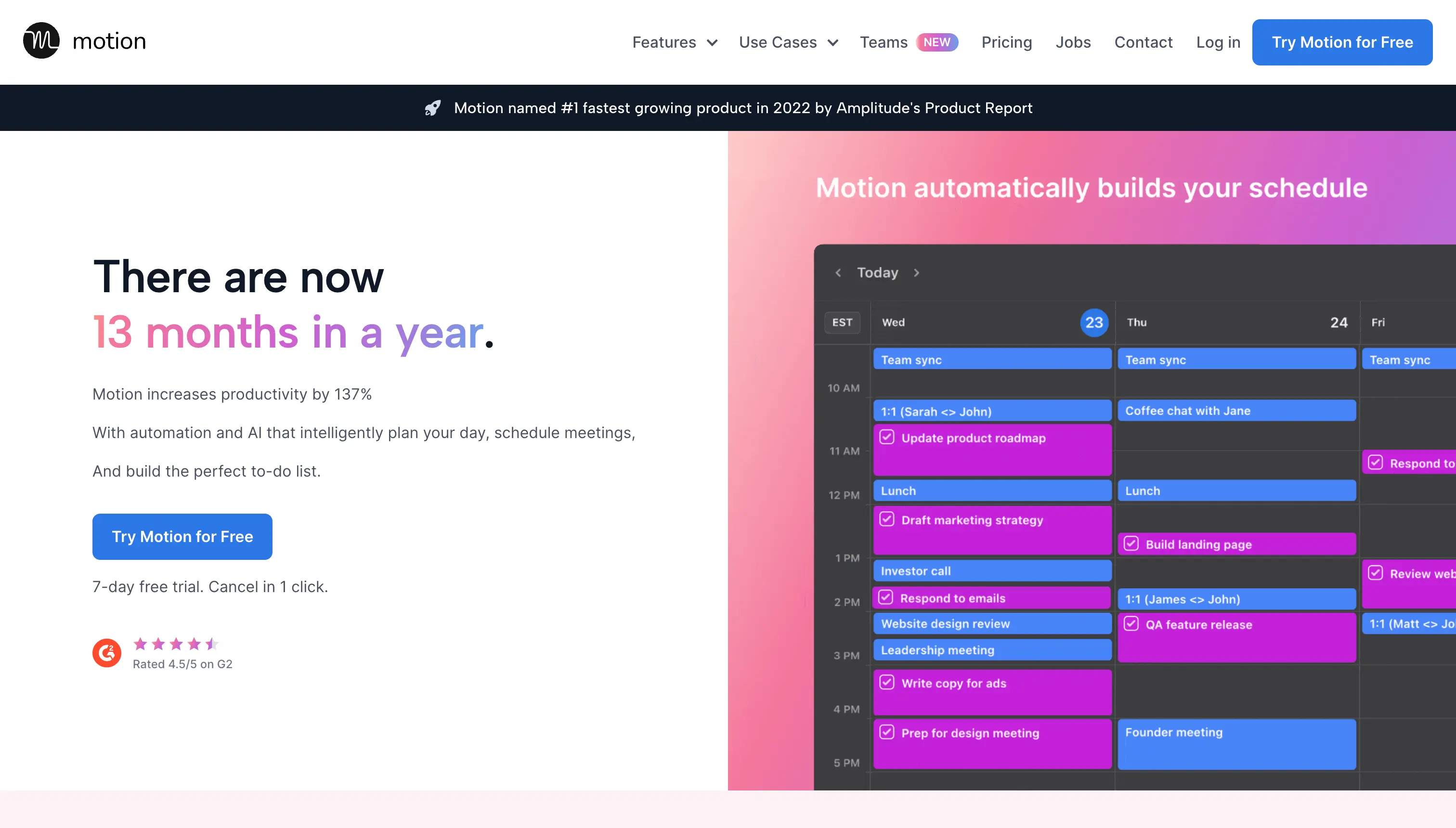 Motion is a smart calendar app that combines calendar management with project and task management. In terms of features, Motion offers more features than Reclaim, as it's not just a calendar tool.
Features:
Calendar Management: Add tasks, todos, and meetings into your calendars, so you can easily manage them and never miss a deadline.

Project Management:
- Incorporates work tasks and tickets into your calendars.
- It measures your team's capacity for task completion.
- Creates personalized schedules for each team member, focusing on priority tasks.
- Automates most of the project planning process.

Task Management: Integrates tasks into your schedule, making sure you complete tasks by the deadline.

Time Tracking: Tracks your time and the team members time to monitor productivity

Focus time: This is a feature that aims to boost your productivity by minimizing distractions and focusing on your tasks.
Reclaim AI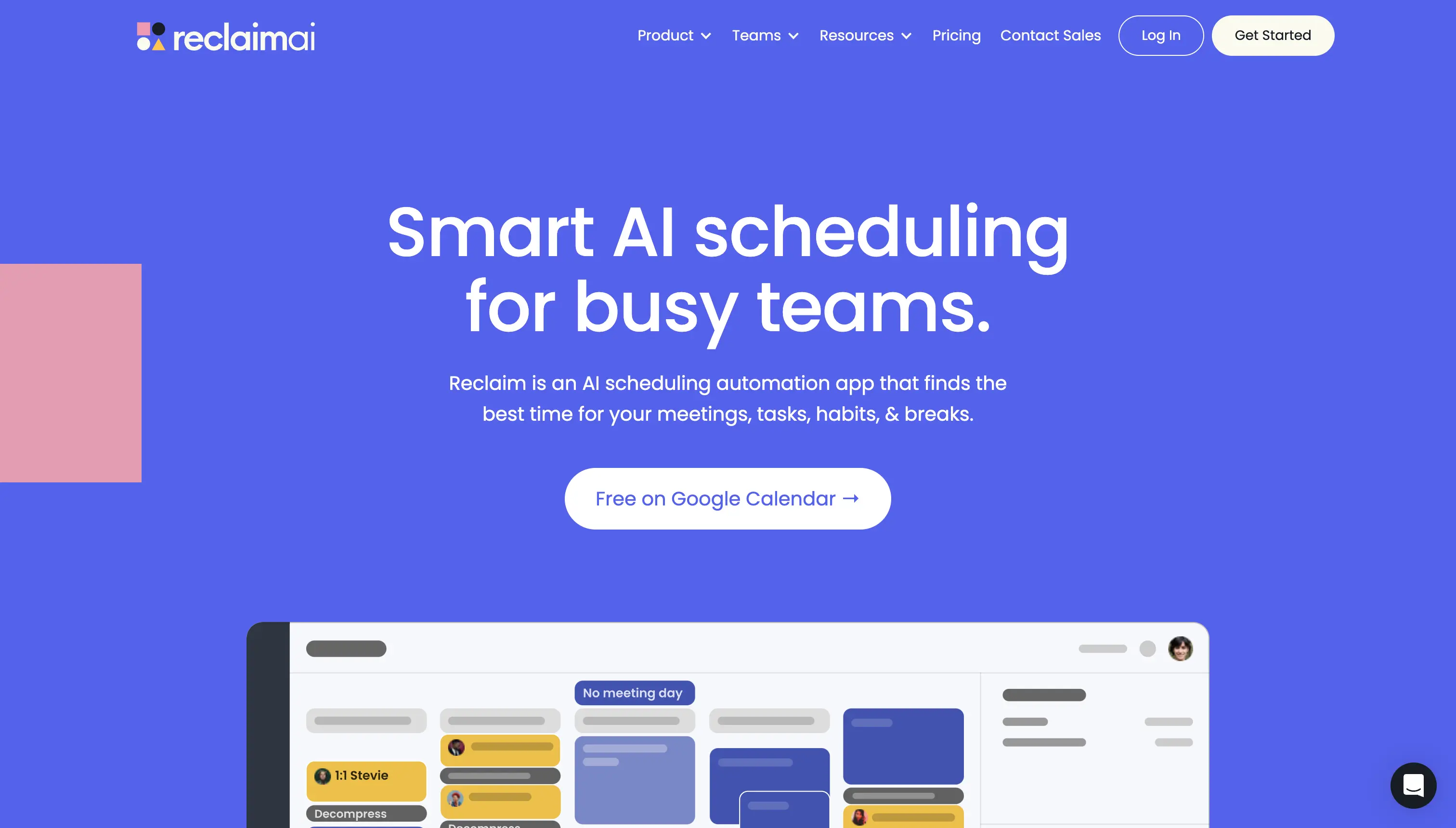 Reclaim is an AI Calendar App entirely focusing on assisting you with managing your schedule more efficiently. It only integrates with Google Calendar and ensures that your time is blocked as efficiently as possible, by learning from your preferences, and habits and automatically scheduling your calendar accordingly.
Features:
Smart 1:1: Automatically find the best time to meet with another person.

Scheduling links

: Reclaim offers

scheduling links

that you can share with others to book time with you.

Calendar Sync

: The Reclaim

Calendar Sync feature

allows you to sync one Google Calendar to another, ensuring your schedule is reflected across all your Google Calendars.

Task Management: Reclaim integrates with tools like Jira, Asana, etc, so you can pull tasks from these platforms and start making time for your work in Reclaim.

Habits: You can instruct Reclaim what you want to do on a daily basis, and Reclaim will find the time to get them done.
If you want to explore more Reclaim AI alternatives, we wrote a list of the 5 Best Reclaim Alternatives that will automate your calendars and save you time.
Who is Reclaim For?
Given that Reclaim focuses more on smart scheduling features, it's the best fit for professionals, who make sure that their schedule is intact, and they block their time efficiently. Teams can also leverage Reclaim by finding the best time to schedule recurring meetings, creating scheduling links, finding the best time for 1:1 meetings, and more.
Who is Motion for?
Motion is better suited for very busy calendar professionals, who want to also manage projects inside one platform. Motions can get tasks from multiple projects and automatically prioritize them for you. The best part is that it can also be re-prioritized accordingly. You can also automatically prioritize when each team member will do, know if assignments will be completed on time, and more.
Motion vs Reclaim: Feature comparison
Let's compare each aspect of Reclaim and Motion, starting with the pricing, and then each major feature, integration, and security aspect, to determine which is the winner.
Scheduling
Both Motion and Reclaim offer automatic scheduling features. As mentioned, Motion is also a project management tool, which means that it integrates with various platforms, making sure to automatically schedule tasks and meetings taking into account your personal preferences, and third-party tasks and meetings. Reclaim is quite efficient at automatically scheduling meetings, 1:1 calls, or group calls considering the availability of all team members.
Although Both platforms offer scheduling links, they're not as intuitive as the scheduling links offered by OneCal. We've made sure you can set up a booking link in less than one minute, providing even more options. Using OneCal you can manage your Bookings and filter past, canceled, and upcoming bookings with ease. Check our OneCal vs Reclaim and OneCal vs Motion pages for a detailed comparison of OneCal with Reclaim and Motion.
OneCal scheduling Links setup: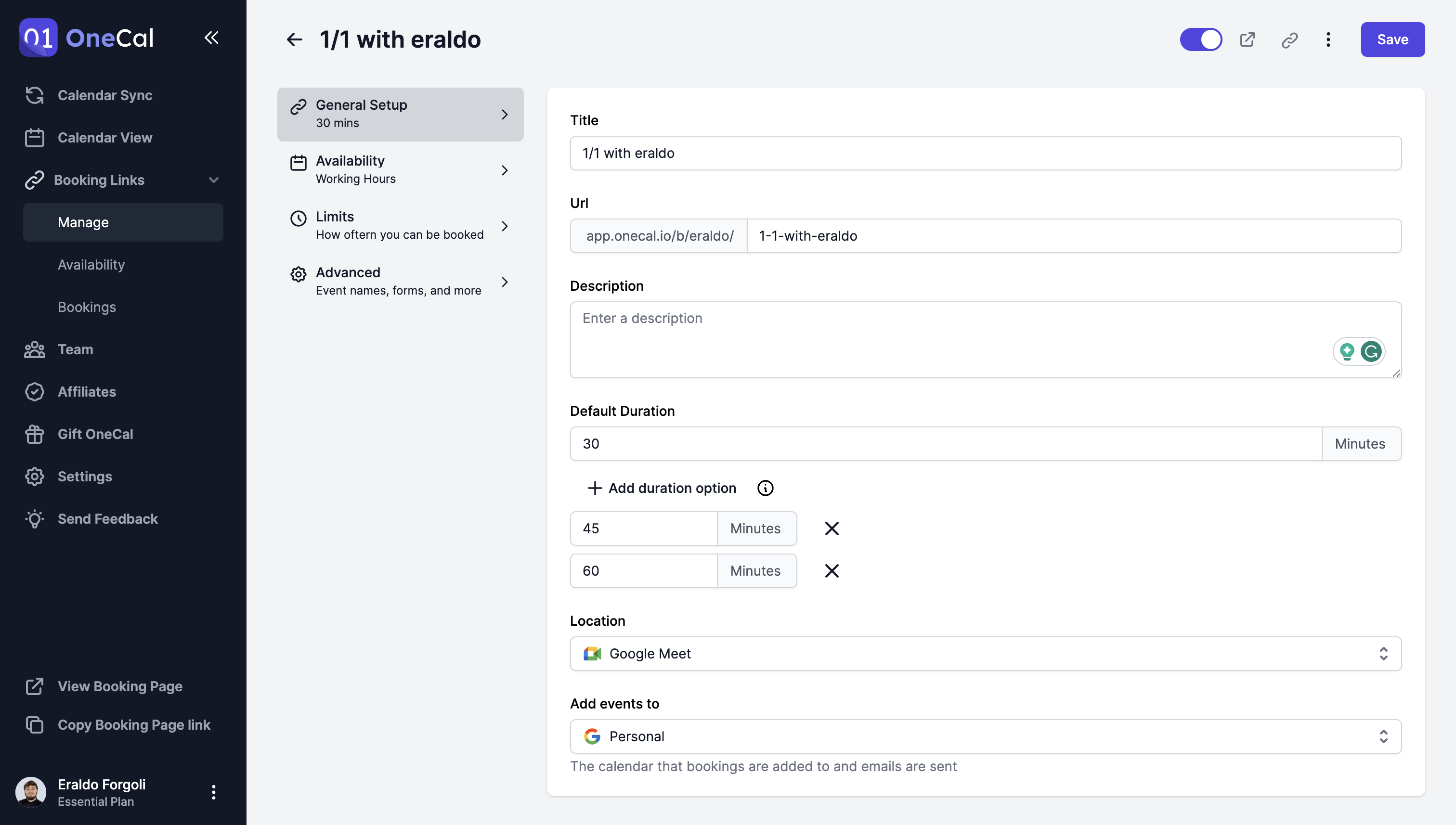 Conclusion: Both Motion and Reclaim offer smart scheduling features that are tied to their base features.
UI, UX, and general usability
Even though UI and Design in general are subjective, it's fair to say that Reclaim and Motion have great UI and the designs are quite modern. Reclaim is more vibrant, as the brand colors are brighter, while Motion is simple and minimal.
UX-wise, both Motion and Reclaim are easy to use and interact with. Motion would slightly take the edge as it feels like they've put more thought into their UX, as every menu and button is carefully placed where it belongs. Furthermore, Motion's quick actions make it so the user can complete tasks faster.
Conclusion: While both Motion and Reclaim have modern UI, usability is quite good, Motion takes the edge as the user experience feels better compared to Reclaim.
Which is more customizable, Reclaim or Motion?
Motion takes the edge here, as it has the templates feature, that allows you to get started by only clicking a pre-defined template. The templates can also be modified to your specific needs, giving you more control in less time.
Reclaim also gives you customization around scheduling links, as you can set custom availability, along with some customization of the booking page. Reclaim also offers customization around the automation features, but still not as advanced compared to Motion.
When it comes to the Calendar Sync feature, Reclaim is customizable, but it's still behind platforms like OneCal, which grants you multi-way syncs and the ability to choose which event properties to sync.
OneCal Calendar Sync Options: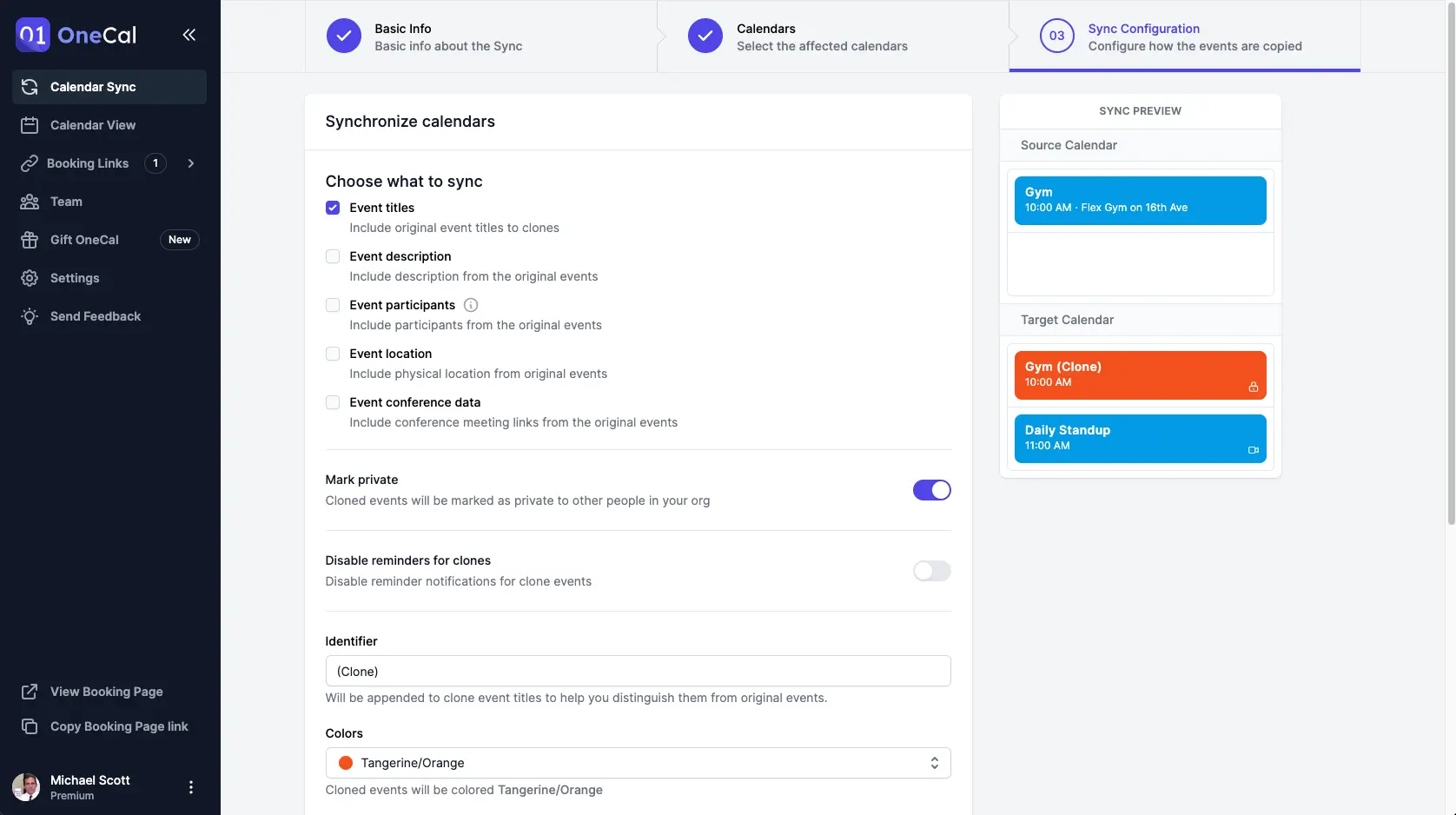 Conclusion: Motion takes the edge for overall customization, even though Reclaim is quite customizable.
Supported Platforms: Mobile, Web, Desktop?
Reclaim AI only offers a web app, so you can only use it through the browser.
Motion on the other hand has a Desktop app, a Web app, and mobile apps for iOS and Android, available on the Apple Store and Play Store.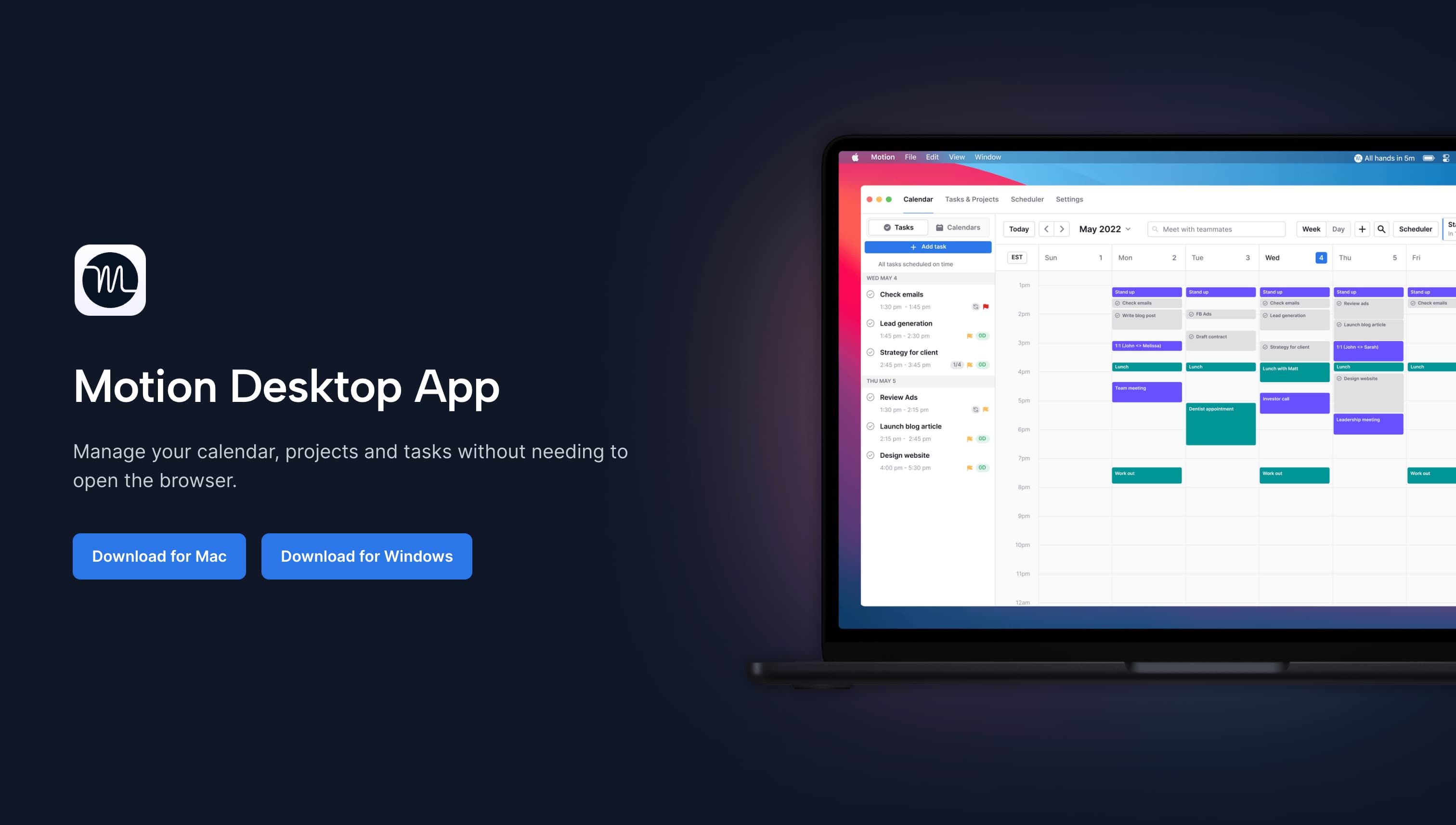 Conclusion: Motion has support for Web, Mobile, and Desktop, taking this win.
Integrations
As mentioned, Reclaim only supports Google Calendar, and this might be upsetting a lot of users, as Outlook is quite popular among enterprises and different organizations. Reclaim has integrations with:
Slack

Zoom

Todoist

Google Tasks

Asana

ClickUp

Jira

Linear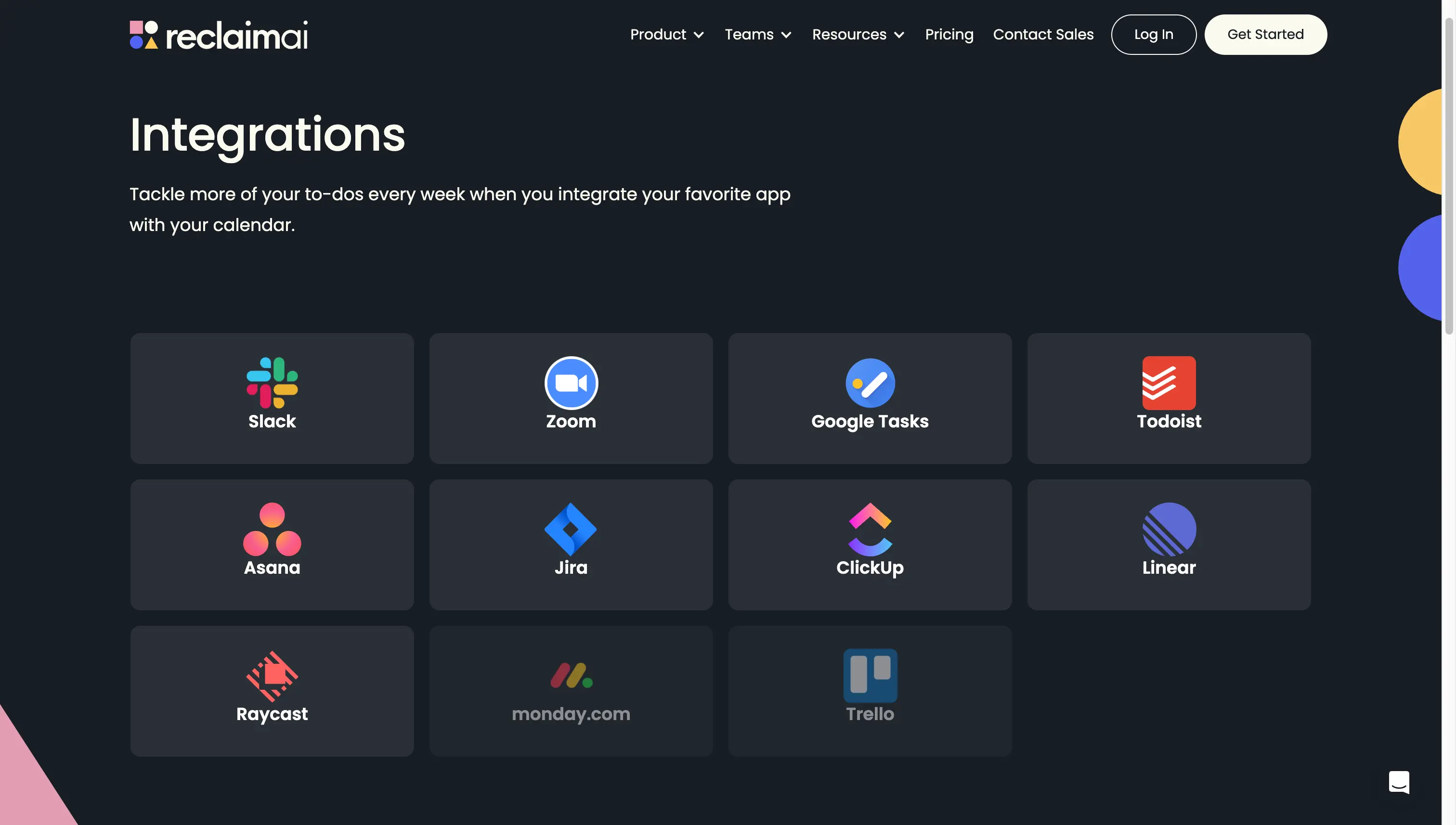 Motion on the other hand has support for Google Calendar and Outlook, appealing to more users. Motion integrates with:
Zoom

Zapier

Gmail

Google Meet

Teams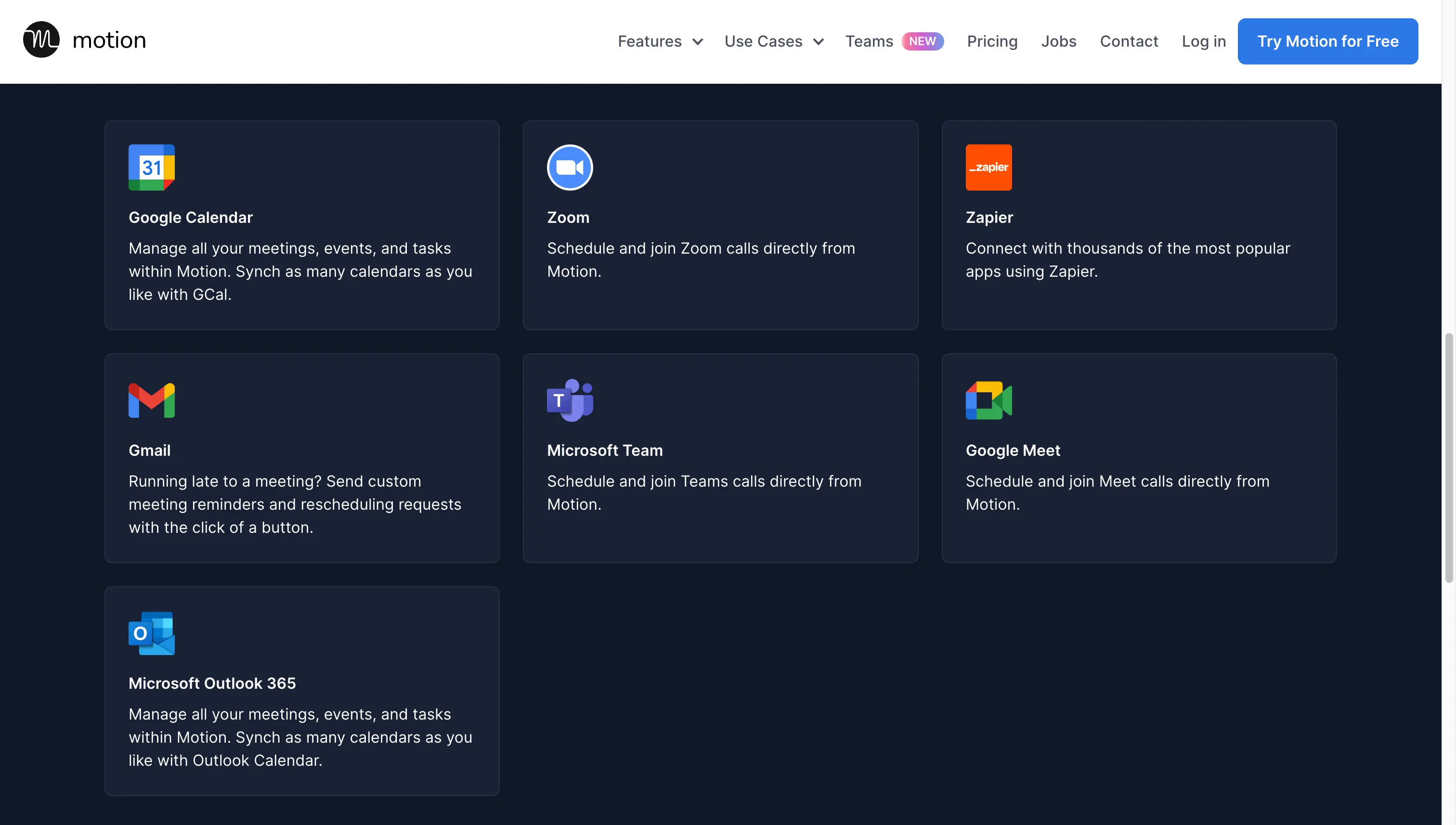 Conclusion: Motion and Reclaim integrate with plenty of platforms, but Motion has to take the edge as it integrates with Outlook, while Reclaim doesn't.
Collaboration
Both Reclaim and Motion are built with team collaboration in mind. On both platforms, you can share schedules, and see how your team is doing. Given that Motion focuses more on task and project management, it prioritizes task management features more. Nonetheless, both platforms have team features where you and your team members can collaborate.
Conclusion: It's a tie, both Motion and Reclaim have team features compatible with their specific features.
AI (or is it AI 😅)
Both Reclaim and Motion claim to leverage AI to smart-schedule your calendars. However, it's important to note that the term "AI" can be used broadly in marketing to refer to anything from simple automation rules to more complex machine learning systems. Whether they use AI or not, it's important that they at least have smart algorithms that check your schedule and make sure to block time according to your rules and not cause scheduling conflicts.
Nonetheless, both platforms offer smart scheduling solutions that defend your time and auto-schedule based on your preferences and availability, so call it AI or not, the scheduling is at least smart.
Conclusion: Both platforms leverage smart algorithms (or AI) to automatically schedule meetings, block time, etc, so it's a tie.
Security
Both Motion and Reclaim adhere to the industry standards when it comes to security. Reclaim offers multi-factor authentication, and has SOC2, GDPR, and Privacy Shield certifications.
Reclaim Security: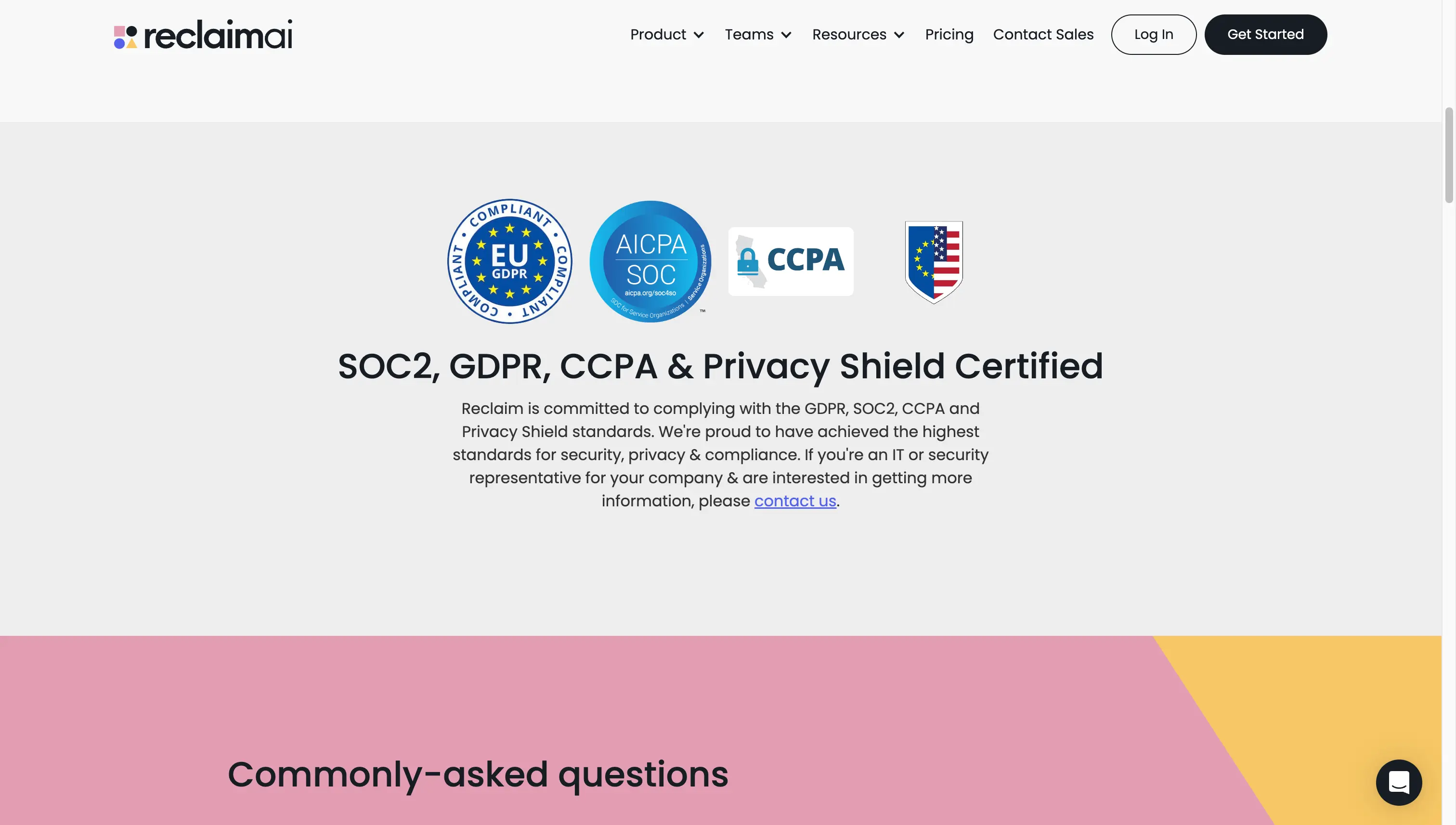 Motion is also as secure, as it has encryption at rest and in transit. They also undergo security audits making sure your data is safe.
Motion Security: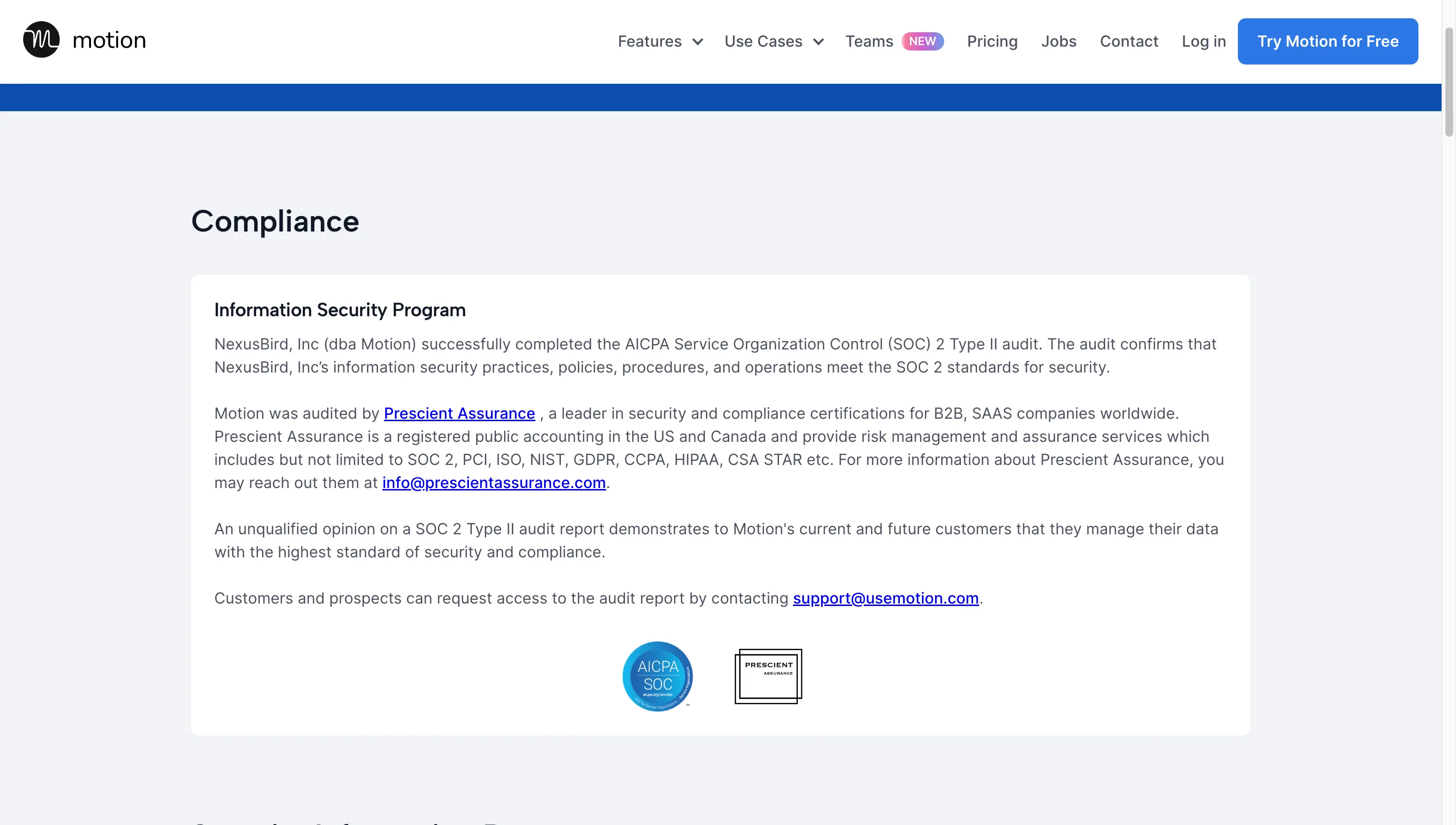 Conclusion: Both platforms are quite safe, it's a tie.
Pricing
Pricing-wise, Reclaim is more convenient, as it offers a free plan, and the paid plan starts at $10 per user per month.
Reclaim AI charges based on specific features and limitations that come around them. For detailed pricing, please visit their pricing page.
Free: 2 Calendars, 1 sync, 3 weeks scheduling range

Starter: $8 per user per month

Business: $12 per user per month

Enterprise: $18 per user per month
Motion on the other hand doesn't offer a free plan. In order to sign up and use it, you have to enter their 7 free trial but bear in mind that you have to enter your credit card in order to get started.
Individual: $19 per month, billed annually, $34 billed monthly

Team: $12 per user per month, billed annually $20 per user billed monthly
Conclusion: Pricing Wise, Reclaim is more affordable than Motion, and also offers a free plan.
Motion vs Reclaim: Comparison Overview
Now, let's have an overview of all the aspects we compared between Motion and Reclaim, and the conclusion:
| | |
| --- | --- |
| Feature | Winner |
| Scheduling | Tie |
| UI, UX, and general usability | Motion |
| Customizability | Motion |
| Supported Platforms: Mobile, Web, Desktop? | Motion |
| Integrations | Motion |
| Collaboration | Tie |
| AI | Tie |
| Security | Tie |
| Pricing | Reclaim |
Reclaim AI Vs Motion: Which Scheduling App is Better?
The major difference between Reclaim AI and Motion is that, while Reclaim is ideal for anyone looking for a balance of scheduling simplicity and integrations with other platforms, Motion on the other hand is best suited for hyper-busy professionals and teams who want integrations with major project management platforms.
If you want to work as a team, both Motion and Reclaim could be a solid alternative. All in all, it would be advised to sign up for both platforms, do some testing, and decide which is the one for you.
Use OneCal to automate your calendars
OneCal has some overlap with Reclaim and Motion, as it allows you to share intuitive scheduling links, sync Google and Outlook calendars in real-time, and consolidate all your calendars in one view.
You can Sign up for a 14-day free trial to get started, no credit card is required.