5 Best Calendar Automation Tools and Apps [Free & Paid]
Authors

Name

Twitter
Published on
Ready to Sync
Your Calendars?
Create a OneCal account to sync multiple Outlook and Google Calendars, create Booking Links, and much more.
Calendars are crucial tools in our daily lives, as most of our schedules go through them. Dealing with one calendar might be manageable, but what happens when you work with multiple calendars on a daily basis? How do you schedule meetings without fearing that you'll double book? How do you make sure the scheduler knows your availability?
In this article, we'll explore the best calendar automation tools and apps that solve all the issues described above.
What is a Calendar Automation App?
A calendar automation app is a software application designed to simplify and streamline the process of managing and organizing events, appointments, and schedules on a digital calendar. These apps have automation features and smart algorithms to help users save time and reduce manual data entry while ensuring that their calendars are up-to-date and accurate.
Key features of calendar automation apps may include:
Scheduling Assistance:

The

scheduling links feature

allows other people to book time with you. These links might be multi-use, team-scheduling links.

Calendar Syncing:

When working with different calendars, it becomes difficult to streamline your real availability. You might be busy on one calendar, and suddenly someone else schedules a meeting on another calendar. Oops, a

meeting conflict

just occurred. A

Calendar syncing feature

makes it possible for all your busy time slots to be reflected on all calendars.

Integrations: They often integrate with other productivity tools, email clients, and project management tools to automatically add events or tasks from emails or messages to your calendar.

Reminders and Alerts: Calendar automation apps can send notifications and reminders for upcoming events, ensuring you don't miss important appointments.

Resource Management: Some apps can manage shared resources like meeting rooms, equipment, or team availability, making it easier to schedule group events.

Task Lists: They may include task management features, allowing you to link tasks and to-do lists with your calendar events.

Analytics and Insights: Advanced automation apps can provide insights into your time usage, helping you identify patterns and improve your time management.
What are the best Calendar Automation Tools and Apps?
1. OneCal
OneCal is a Calendar Automation App that offers easy-to-use and configurable Booking Links, Calendar Syncing, the ability to view multiple calendars in one view, and more.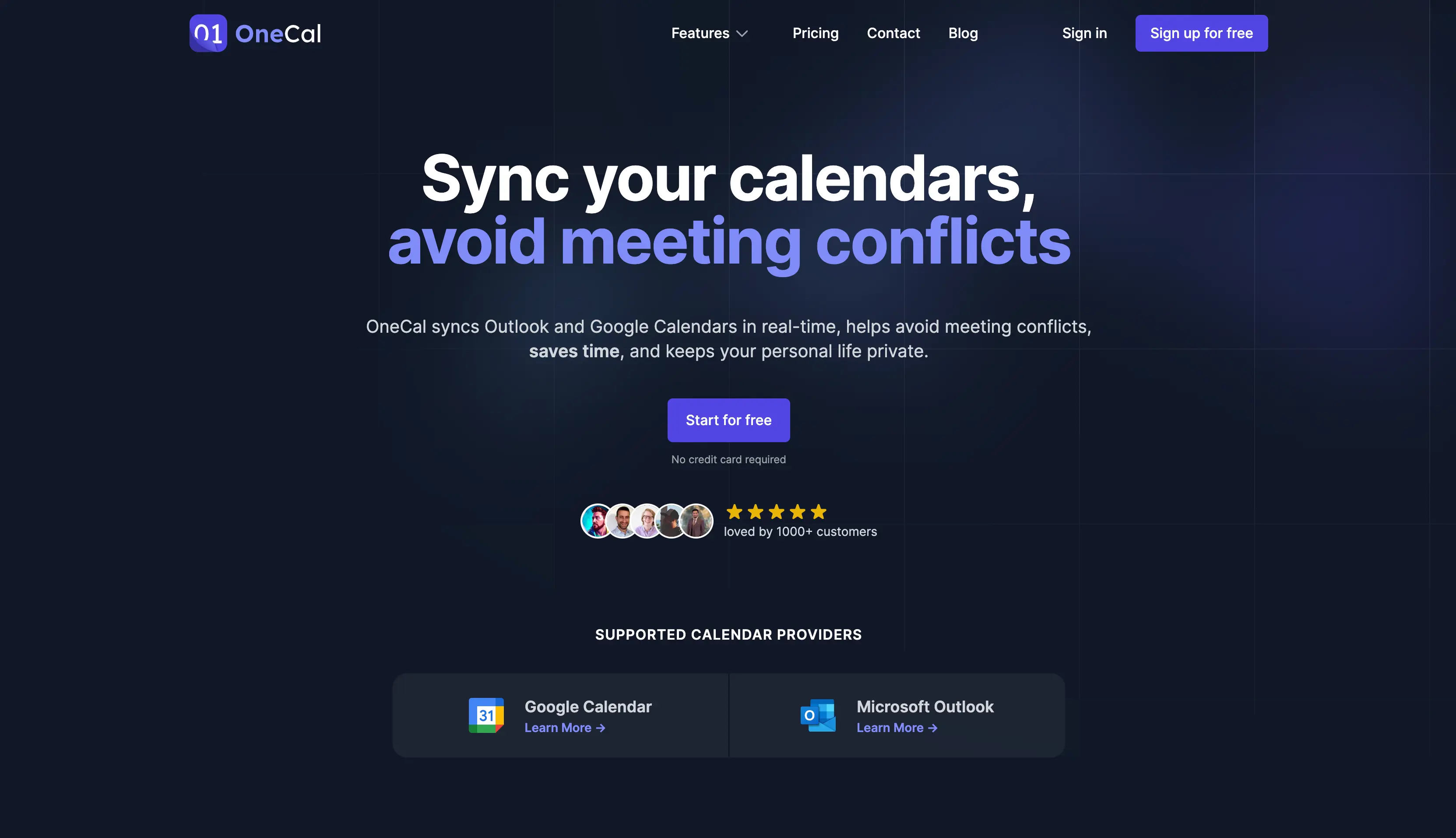 OneCal Features
Multi-direction Calendar Sync:

OneCal solves one of the major pain points of managing multiple calendars: syncing them to

avoid double bookings

. Traditional automation such as Zapier allows you to send meetings from one calendar to another, but

that's not syncing

. Furthermore, you can't sync 2 or more calendars. OneCal's power comes in it's multi-direction calendar sync feature, which allows you to sync multiple calendars, in one go. No need to create tens of Zapier workflows to streamline your availability.

Reliable Calendar Sync. OneCal handles even the rarest edge cases, and makes sure that the calendars stay in sync and no scheduling conflicts happen.
Furthermore, our monitoring system is in place that notifies us every time a calendar sync fails, handling errors or red flags on the fly.

Calendar Sync is built with privacy in mind. Calendar information is very sensitive, so having a privacy option when syncing events from one calendar to another is important. With OneCal Calendar Sync, you can configure what event properties are synced across calendars. This allows you to strip over all sensitive meeting information if needed, and only syncing the meeting time to block on other calendars.

⚡️ Fast, Automatic, real-time syncs. When it comes to sync performance, OneCal is at least 5 times faster than the competition. Other tools take up to 20 minutes to sync heavy calendars, and OneCal does it in less than 3 minutes.

Outlook and Google Calendar support.

Having

Outlook

and

Google Calendars

support is quite rare in the industry. With OneCal, you can sync multiple Outlook and Google Calendars, in less than one minute, or create Scheduling Links that take your availability from multiple Google or Outlook Calendars.

Multi-calendar availability Scheduling Links.

With

OneCal Booking Links

, you can create multi-purpose scheduling links that take availability from multiple Outlook or Google Calendars. Booking Links are quite powerful, as they have features such as:

-

Custom availability

: You can set custom availability for each day of the week, or add date exceptions when you're available for specific dates.

-

Configure buffer times, and notice periods

: You can set buffer times for before and after an event is booked, set up custom notice periods, or limit how far in the future can you be booked.

-

Booking Approvals

: You can set each booking request to require manual confirmation before a booked event is added to your calendar.

-

Redirect after booking

: Redirect the scheduler to a custom URL after a booking is completed.

-

Allow the booker to choose the duration

: You can provide multiple durations for a booking, and let the booker choose the duration.
View all your calendars in one place.

With OneCal, you don't need to juggle between Outlook and Google Calendars to navigate through meetings. By using the Calendar View feature, that allows you to

view all your calendars in one place

. You can view all your meetings, join conference calls, and much more.
OneCal Pricing
Starter: $5 per user per month

Essential: $10 per user per month

Premium: $30 per user per month

Custom/Enterprise Plans: contact for pricing
Please refer to the pricing page for more details.
2. Calendly
Calendly is one of the earliest Calendar Automation tools and has established itself as a leader in the online scheduling arena, thanks to its intuitive interface and robust set of features.
Calendly mainly focuses on scheduling links, so let's dive into the main Calendly features.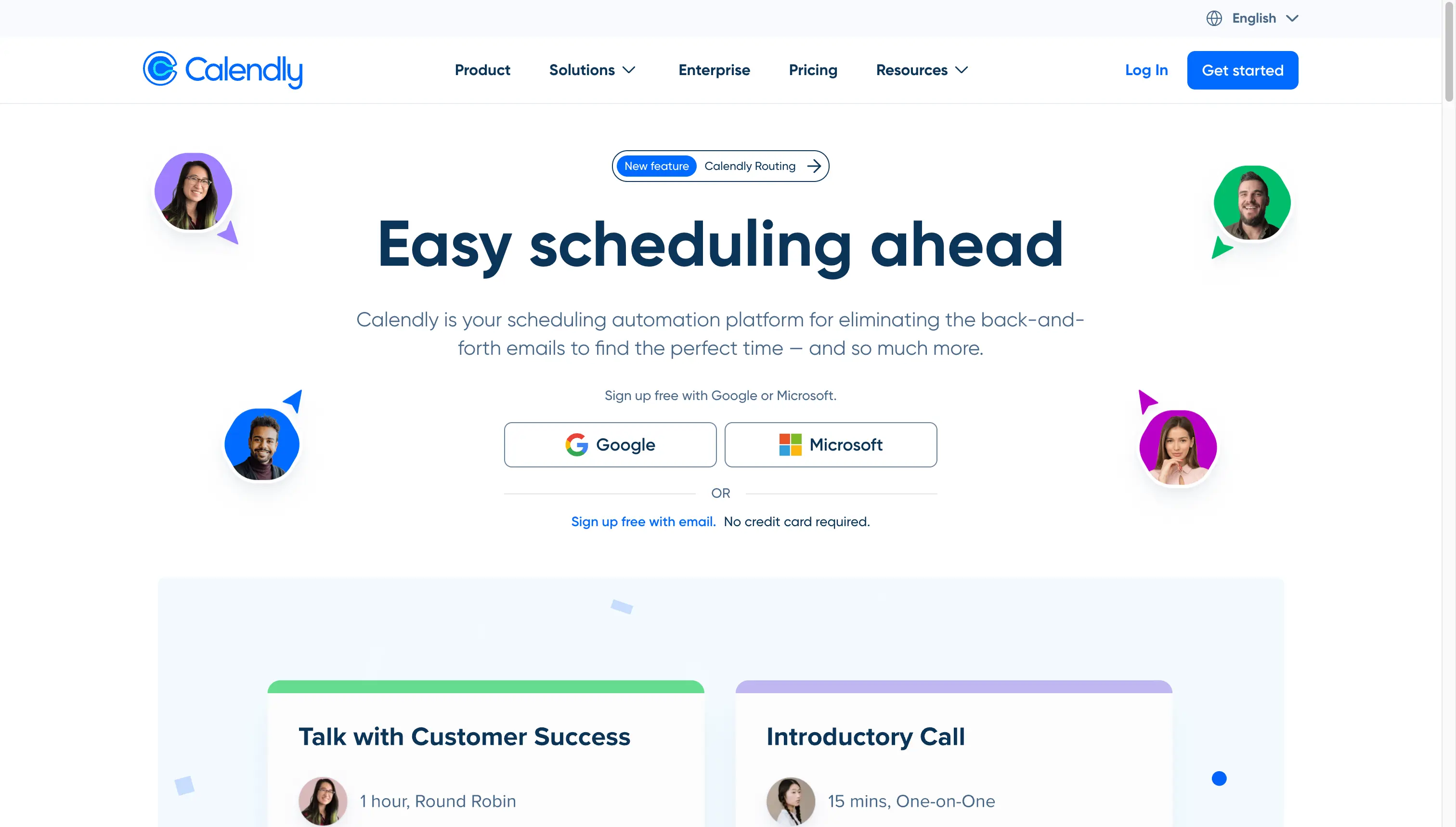 Calendly Features
Advanced Availability Preferences: With Calendly you can customize how and when you're booked, by setting buffers and scheduling rules.

Team scheduling: It allows you to get the availability of all your team members, and schedule meetings with multiple people.

Multi-calendar availability: The scheduling links can get the availability from multiple calendars, including Google, Outlook, and iCloud.

Workflows: You can create different workflows, such as sending personalized emails to bookers before or after your meetings.

Routing Forms: With Routing Forms, you can route the bookers based on their response or other information they provide.

Meeting Polls: Allow you to create a meeting poll link, and share it with your team. Based on the result of the poll that your team filled, you get booked.

Analytics: Given that you can invite your team to Calendly, you can monitor which team member needs more training or can get more efficient using Calendly.

Embeds: You can embed the scheduling links to your website, so people can book time with you without the need to go to Calendly to book time with you.
Calendly Cons
Only Scheduling Links features: If you're only interested in sharing booking links, Calendly is a proven solution, so it will probably be a great choice. Otherwise, it lacks other features that other solutions might offer, such as managing tasks, syncing calendars or viewing your calendars in one place.
Calendly Pricing
Basic: Free

Essential: $8 per user per month

Professional: $12 per user per month

Availability Preferences: $16 per user per month
3. Reclaim AI
Reclaim is an AI scheduling automation app that finds the best time for your meetings, tasks, habits, & breaks.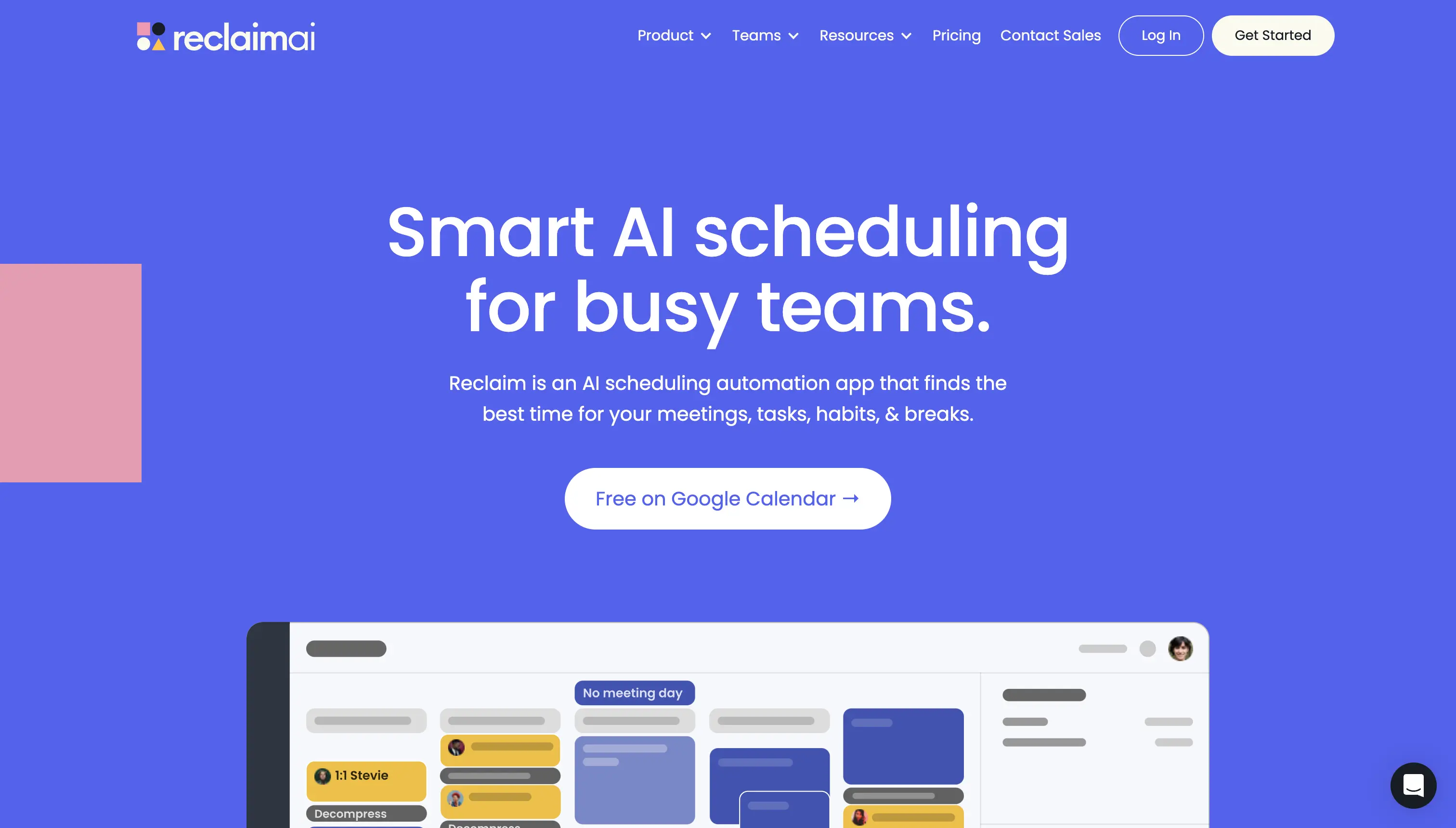 Reclaim Features:
Habits: With the Habits feature, you can communicate your regular tasks to Reclaim, provide a general timeframe for their completion, and let Reclaim find suitable slots for their execution.

Task Management: You can link your project management tools, such as Todoist, Asana, and Jira, to streamline your Reclaim task list input and initiate the allocation of time for essential projects on your calendar.

Smart 1:1: Smart 1:1 enables automated identification of optimal meeting times for one-on-one sessions with your supervisor, team members, or collaborators.

Scheduling Links:

Similar to

OneCal Scheduling Links

, allows you to send a booking link for others to book time with you.

Buffer Time: Using Buffer Time, you can incorporate flexible breaks and travel intervals into your Google Calendar, reducing the risk of meeting fatigue and burnout.
Reclaim Cons
Only Google Calendar Support: If you are an Outlook user, you'll have to find another Calendar Automation tool, for the time being, Reclaim only supports Google Calendars.

Only one-way syncs. If you want to sync more than 2 calendars, you'll have to create multiple sync configs. For example, to sync 4 calendars, you'll have to create 12 syncs.
Reclaim Pricing
Reclaim charges based on specific features and limitations that come around them. For detailed pricing, please visit their pricing page.
Free: 2 Calendars, 1 sync, 3 weeks scheduling range

Starter: $8 per user per month

Business: $12 per user per month

Enterprise: $18 per user per month
4. Clockwise
Clockwise is a time management calendar powered by AI, which helps you optimize your schedule and create more time in your day. Clockwise does this by understanding how you like to work and when you are most productive. It then uses this information to create schedules that help you do your best work.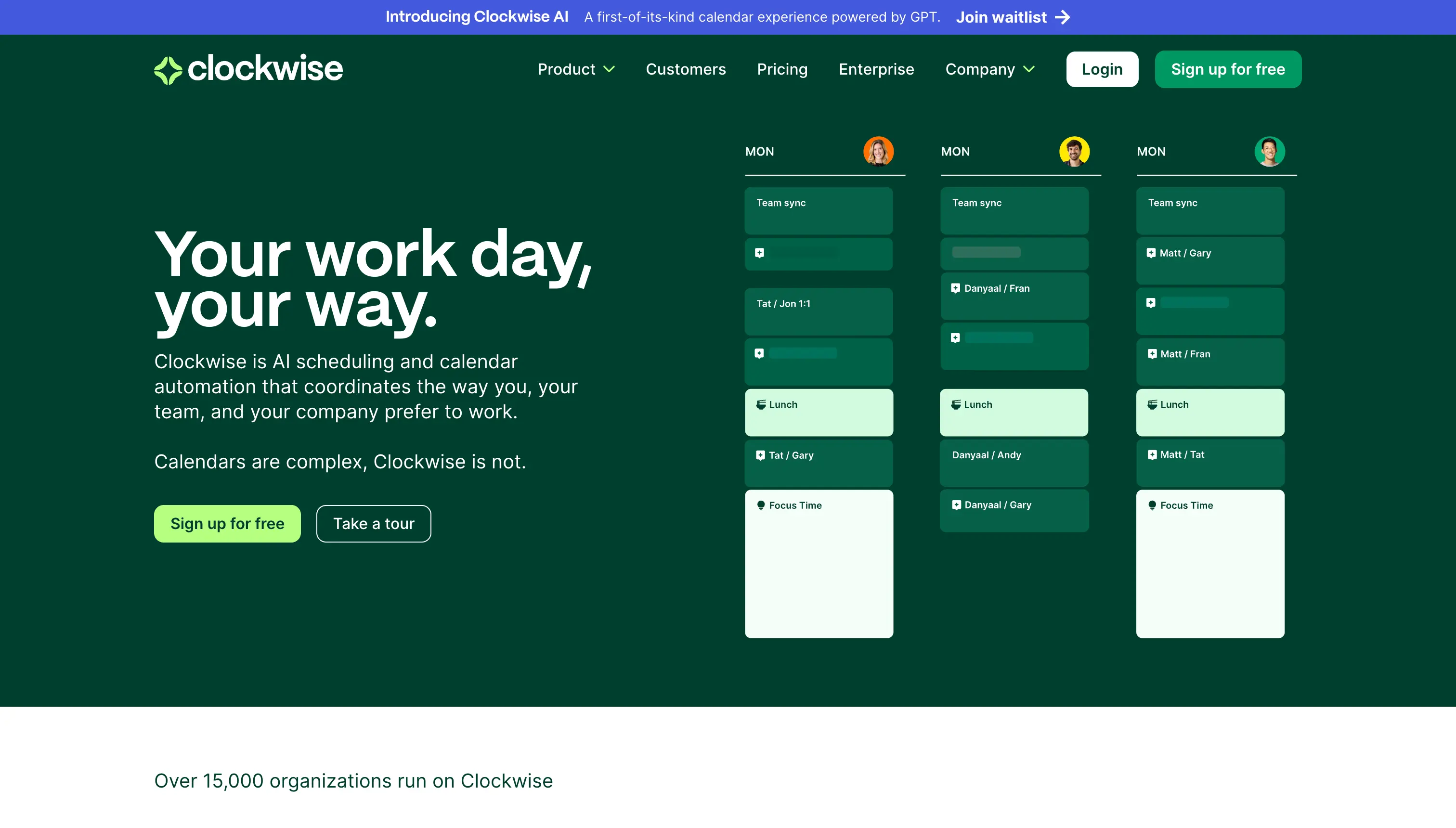 Clockwise Features:
Focus Time: Focus Time is defined as at least 1 hour of uninterrupted time on your calendar. With Focus Time, Clockwise is able to learn from your schedule and find the best slots for your focus time.

Flexible Holds: Clockwise optimizes your schedule to free up blocks of uninterrupted time, so you can focus on what matters.

Flexible Meetings: Flexible Meetings are brief, recurring internal meetings that offer flexibility in terms of timing. While they are regular occurrences, they don't require a fixed schedule. Clockwise, at 4 pm daily, automatically fine-tunes these meetings to achieve the following objectives:
- Resolve scheduling conflicts
- Preserve Focus Time for you and your team member.
- Align with the preferences of all meeting participants

Scheduling Links: You can create Scheduling Links and share them for other people to book meetings with you.
Clockwise Cons
Limited integrations: Clockwise only integrates with Slack and Asana. If you're looking for more integrations, you'll have to check one of the other AI calendar tools mentioned in this article.
Clockwise Pricing
Free

Teams: $6.75/month per user paid annually

Business: $11.50/month per user paid annually

Enterprise: Contact for pricing
5. Motion
Motion is an AI calendar that has features that automatically plan your day for you. Unlike Reclaim and Clockwise, Motion is not only an AI Calendar Tool, but also a management tool, a project manager, and a meeting scheduling app.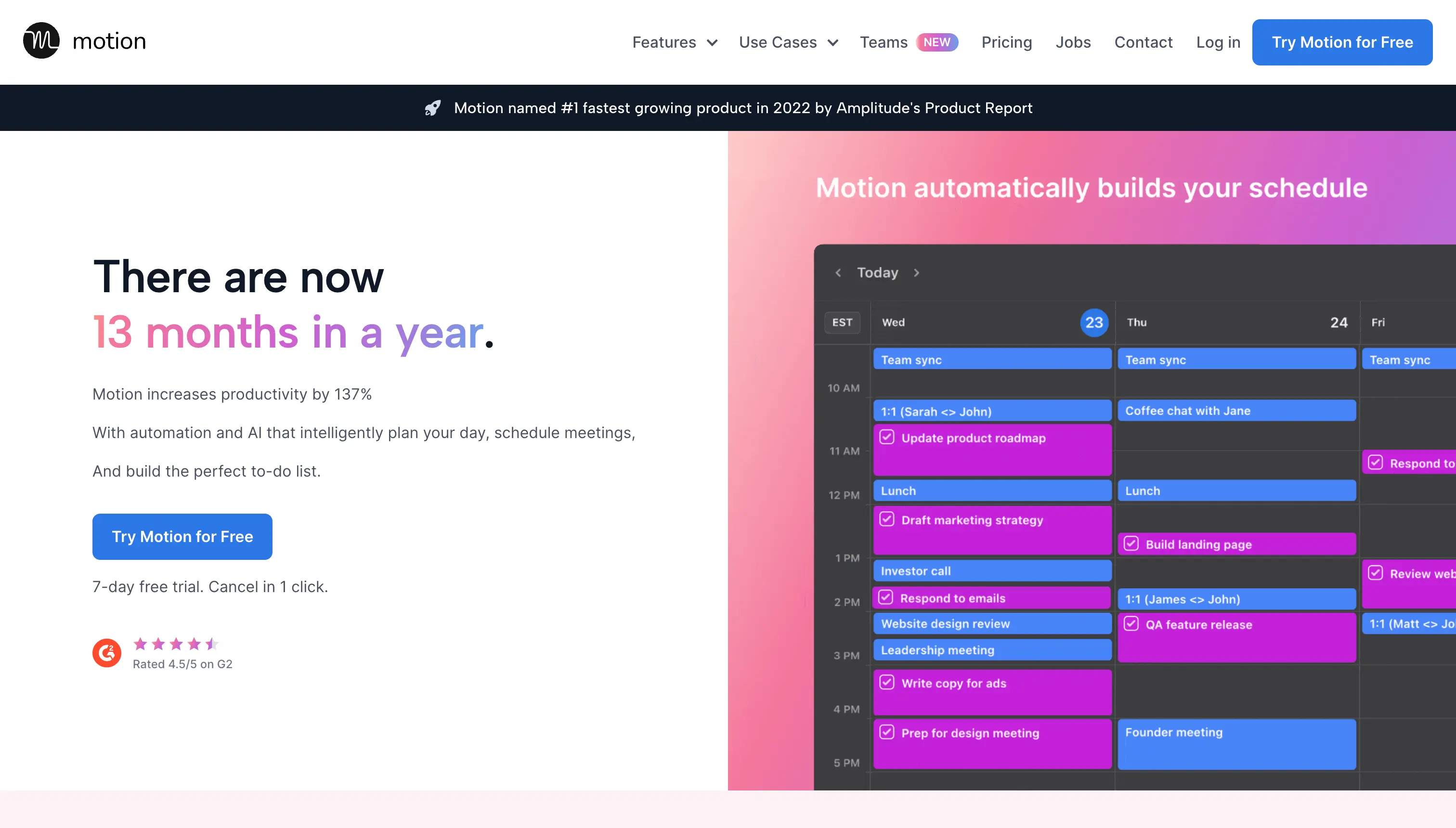 Motion Features
Task Management: It places a focus on task prioritization and integrates tasks into your schedule, ensuring you complete all tasks by the deadline.

Calendar: Motion's Intelligent Calendar incorporates your meetings, assigned tasks, and to-do lists, crafting an efficient schedule to tackle them all.

Project Management:

It incorporates project-related work into your team's calendars.

It measures your team's capacity for task completion.

It tailors personalized schedules for each team member, emphasizing priority tasks.

It streamlines and automates up to 90% of project planning processes.
Motion Cons
To complex if you're looking for a basic Calendar Automation app: If you're only looking for a Calendar Automation, Motion might get a little bit overwhelming, as it has shifted focus to Project Management.
Motion Pricing
Individual: $19 per month, billed annually, $34 billed monthly

Team: $12 per user per month, billed annually $20 per user billed monthly
Which Calendar Automation App is the best?
Well, it's not as simple as giving a single answer, as each of the calendar automation apps mentioned in this article has its distinct features targeting a specific set of users.
If you want to sync multiple calendars, share booking links, and view all your calendars in one place, OneCal is the calendar automation tool to use.
If you want to manage tasks and habits efficiently, Reclaim is a solid choice.
If you want to manage your calendars along with projects and tasks, Motion is the tool for you.
If you want to share booking links for others to book time with you or your team, Calendly with its proven and advanced scheduling links features is the way to go.