5 Best Reclaim Alternatives [Free & Paid]
Authors

Name

Twitter
Published on
Ready to Sync
Your Calendars?
Create a OneCal account to sync multiple Outlook and Google Calendars, create Booking Links, and much more.
Reclaim AI is a smart scheduling tool that helps calendar jugglers share booking links, sync Google Calendars, and find the best time for meetings, habits, etc.
If you're a Reclaim AI user, or just looking for similar apps to Reclaim, this is the article to visit. In this article, we'll detail the best Reclaim Alternatives, their features, downsides, and pricing. Let's get started!
5 Best Reclaim AI Alternatives You Should Consider
1. OneCal
OneCal is a Calendar Automation Tool that allows users to sync multiple calendars in real-time, share scheduling links, view all their calendars in one view, and more.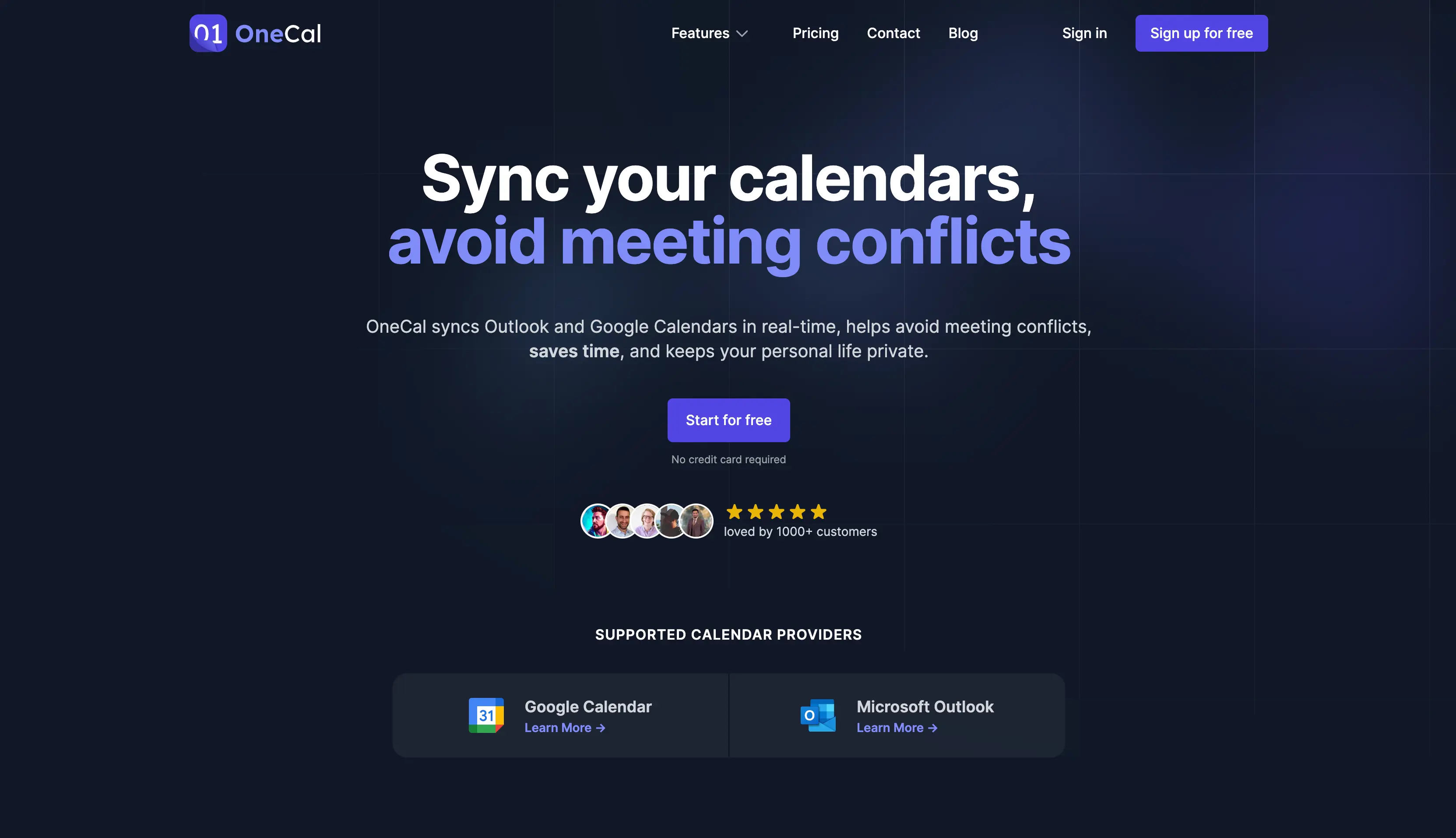 What differentiates OneCal from Reclaim?
Both OneCal and Reclaim offer multi-calendar booking links that allow you to create multi-use scheduling links for others to book time with you. However, they have distinct features and functionalities that set them apart. Here are some key differentiators between OneCal and Reclaim AI:
Outlook and Google Calendar Support:
- OneCal supports both Outlook and Google Calendars, thus allowing you to synchronize multiple Outlook and Google Calendars in one go, get availability from Outlook, etc.

⁠- Reclaim doesn't have support for Outlook, meaning that only be able to connect your Google Calendars. This limits users who deal with both Outlook and Google Calendar on a daily basis

Multi-way calendar sync:
⁠- With OneCal you can simply select multiple calendars and sync them in one go, without having to create separate one-way calendar syncs. If you have 5 calendars, with OneCal, you can sync them in one sync configuration.



-Reclaim doesn't support multi-way syncs, meaning that if you have multiple calendars, you'll have to create multiple one-way sync configurations. Syncing 5 calendars means that you have to create 20 one-way sync configurations.

Calendar View:


-

OneCal

has a

Calendar View feature

that allows you to view Outlook and Google Calendars in one place. This is extremely handy for calendar jugglers who work with Outlook and Google Calendar. Furthermore, when using the Calendar Sync feature, if you even open multiple calendars in one view, you'll notice duplicate events. OneCal solves this by hiding clone events created by the OneCal calendar view.



- Reclaim has a different approach to the Calendar View, as it calls it Planner, and it's the main way of creating Tasks and leveraging their smart calendar features. You can only connect to Google Calendars, and easily join meetings from there.


Scheduling Links:
- OneCal offers multi-use, multi-calendar scheduling links for you to share. The scheduling links are easy to create and use and are great for one-on-one meetings. However, it might not offer the same level of team scheduling that Reclaim offers, with the Team scheduling links.



- Reclaim has a scheduling links feature, along with the ability to create group scheduling links.
OneCal Pricing vs Reclaim Pricing
Unlike Reclaim, We don't offer a free plan. It offers a 14-day free trial, but after your trial finishes, you'll automatically get placed in one of the paid plans. Their subscriptions are:
Starter ($4/user/month), which accommodates up to 25 users

Essential ($8.3/user/month), which accommodates up to 100 users

Premium ($25/user/month), which accommodates up to 200 users

Custom/Enterprise Plans
You can sign up for a 14-day free trial of OneCal to schedule meetings and sync your calendars in less than one minute. No credit card is required.
2. Clockwise
Clockwise is one of the top Reclaim competitors, helping users optimize their schedules and create more free time during the day.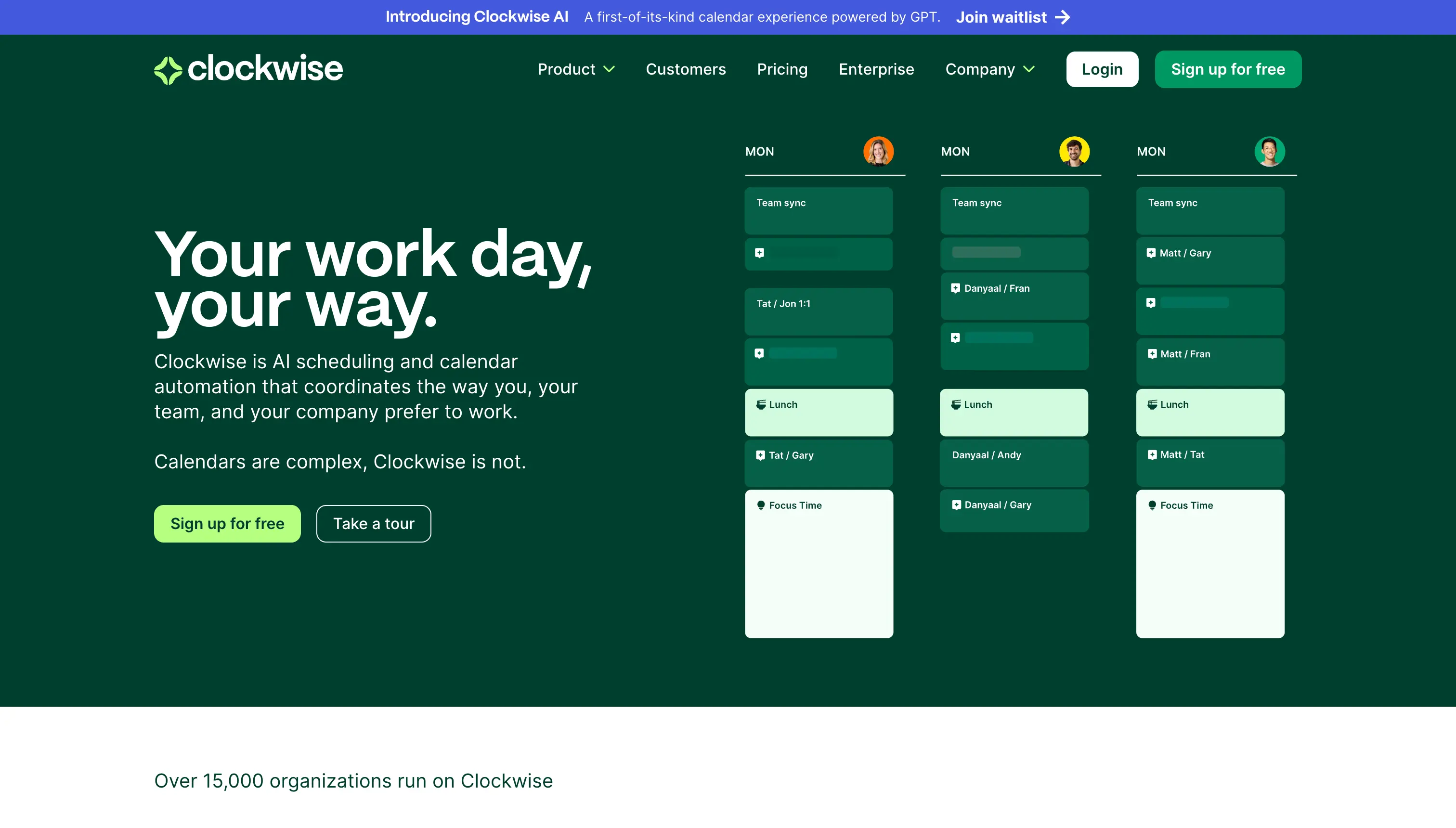 Clockwise Features:
Flexible Holds: Allows your schedule to have a free, uninterrupted block of time, so you can focus on important matters.

Focus Time: Focus Time is defined as at least 1 hour of uninterrupted time on your calendar. With Focus Time, Clockwise is able to learn from your schedule and find the best slots for your focus time.

Flexible Meetings: Usually a Flexible Meeting is a brief, internal meeting that has some flexibility in terms of when to be scheduled. Clockwise will time the meetings to avoid meeting conflicts, preserve focus time, and align with the preferences of your team.

Scheduling Links: You can create Scheduling Links and share them for other people to book meetings with you.
Clockwise Cons
Limited integrations: Clockwise only integrates with Slack and Asana. If you're looking for more integrations, you'll have to check one of the other AI calendar tools mentioned in this article.

No Calendar Sync: There is no feature that replaces the Reclaim Calendar Sync feature that allows you to sync calendars.
Clockwise Pricing
Free

Teams: $6.75/month per user paid annually

Business: $11.50/month per user paid annually

Enterprise: Contact for pricing
3. Motion
Motion is a calendar app that focuses on managing calendars, projects, and your scheduling.
In terms of features, Motion is definitely broader than any tools mentioned before, as it combines calendars with project management tools, into one single app.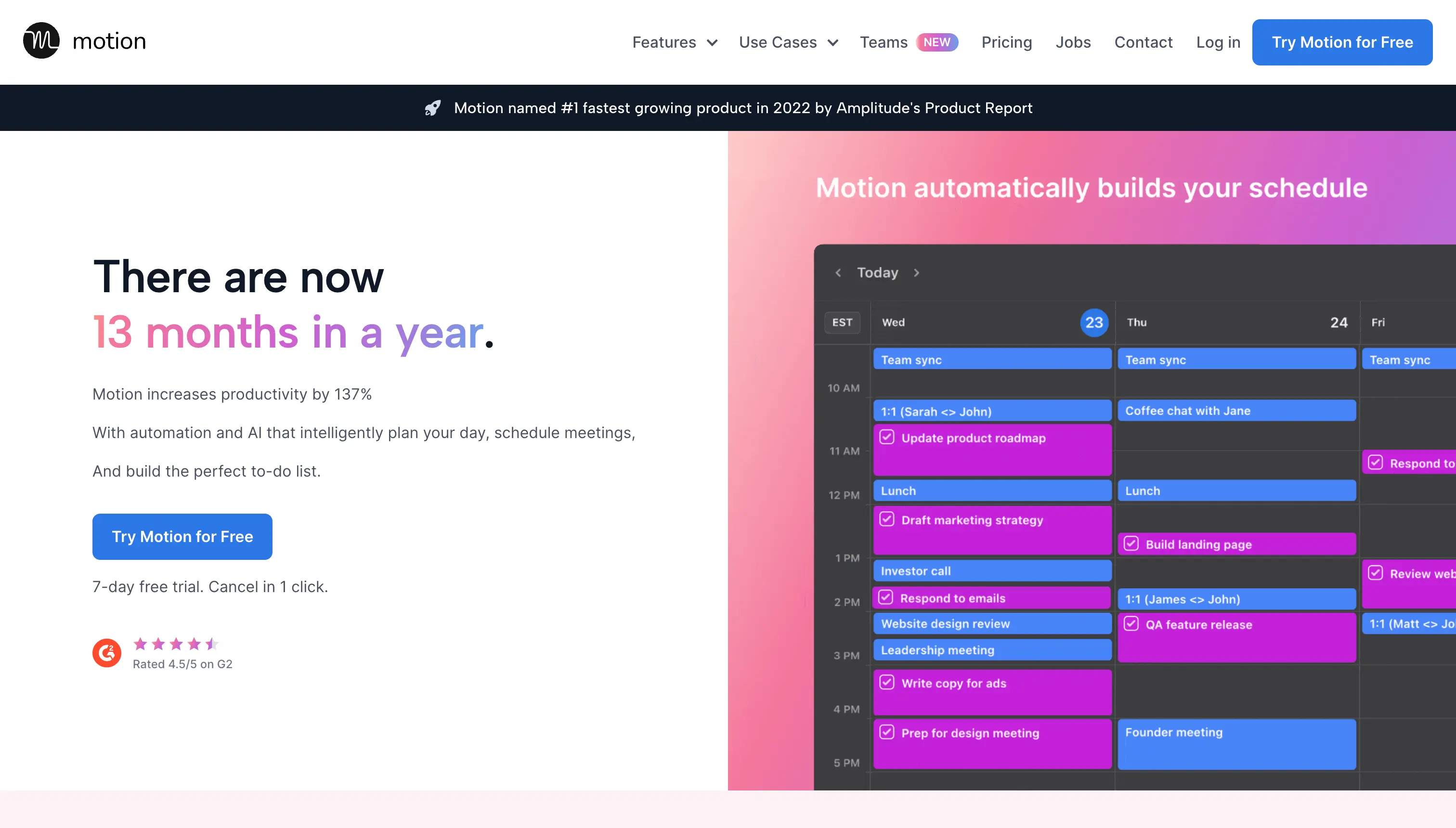 Motion Features
Task Management: Integrates tasks into your schedule, making sure you complete tasks by the deadline.

Calendar: Incorporates tasks, todos, and meetings into one schedule, so you can manage them easily.

Project Management:

It incorporates project-related work into your team's calendars.

It measures your team's capacity for task completion.

It tailors personalized schedules for each team member, emphasizing priority tasks.

It streamlines and automates up to 90% of project planning processes.
Motion also had a Calendar Sync feature that allowed you to sync calendars, but as of September 1st, 2023, they sunsetted it. We wrote a blog post about some alternatives to Motion Calendar Sync.
Motion Cons
To complex if you're looking for a basic Calendar Automation app: If you're only looking for a Calendar Automation, Motion might get a little bit overwhelming, as it has shifted focus to Project Management.
Motion Pricing
Individual: $19 per month, billed annually, $34 billed monthly

Team: $12 per user per month, billed annually $20 per user billed monthly
4. Calendly
Calendly is the OG of scheduling links and has some overlap with Reclaim, as both offer scheduling links.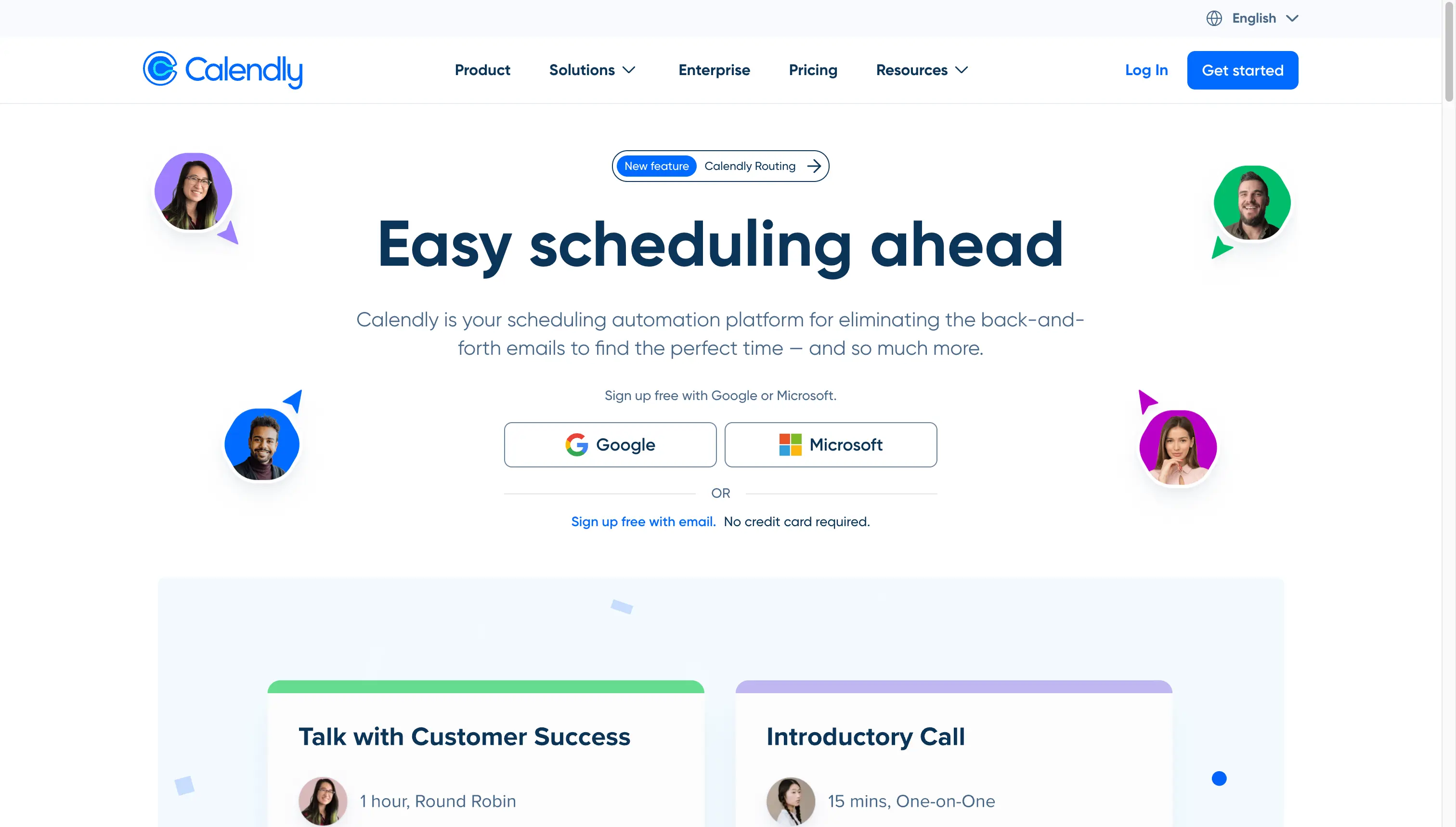 Calendly Features
Intuitive scheduling links: there is a reason why Calendly is so well-known and used by millions: its scheduling links are easy to create, share, and use by everyone.

Outlook and Google Calendar Support: Caldendly has support for Outlook and Google Calendar, making it easy to get availability from both calendars.

Hundreds of integrations: The benefit of using a well-established tool is that it comes with almost every integration you'll ever need, making your scheduling experience easier.

Team scheduling links: Calendly allows you to schedule meetings with multiple people involved, getting the best time to meet, and considering everyone's preferences.
Calendly Cons
No smart features: Calendly doesn't offer some of the smart features that Reclaim offers, such as task scheduling, habits, calendar sync, focus time, etc.
Calendly Pricing
Free

Standard: $10 per seat, per month

Teams: $16 per seat, per month

Enterprise: Contact for pricing
5. Routine
Routine is a multi-purpose calendar app that allows you to manage your events and tasks in one place, write meeting notes, write your knowledge base, and more.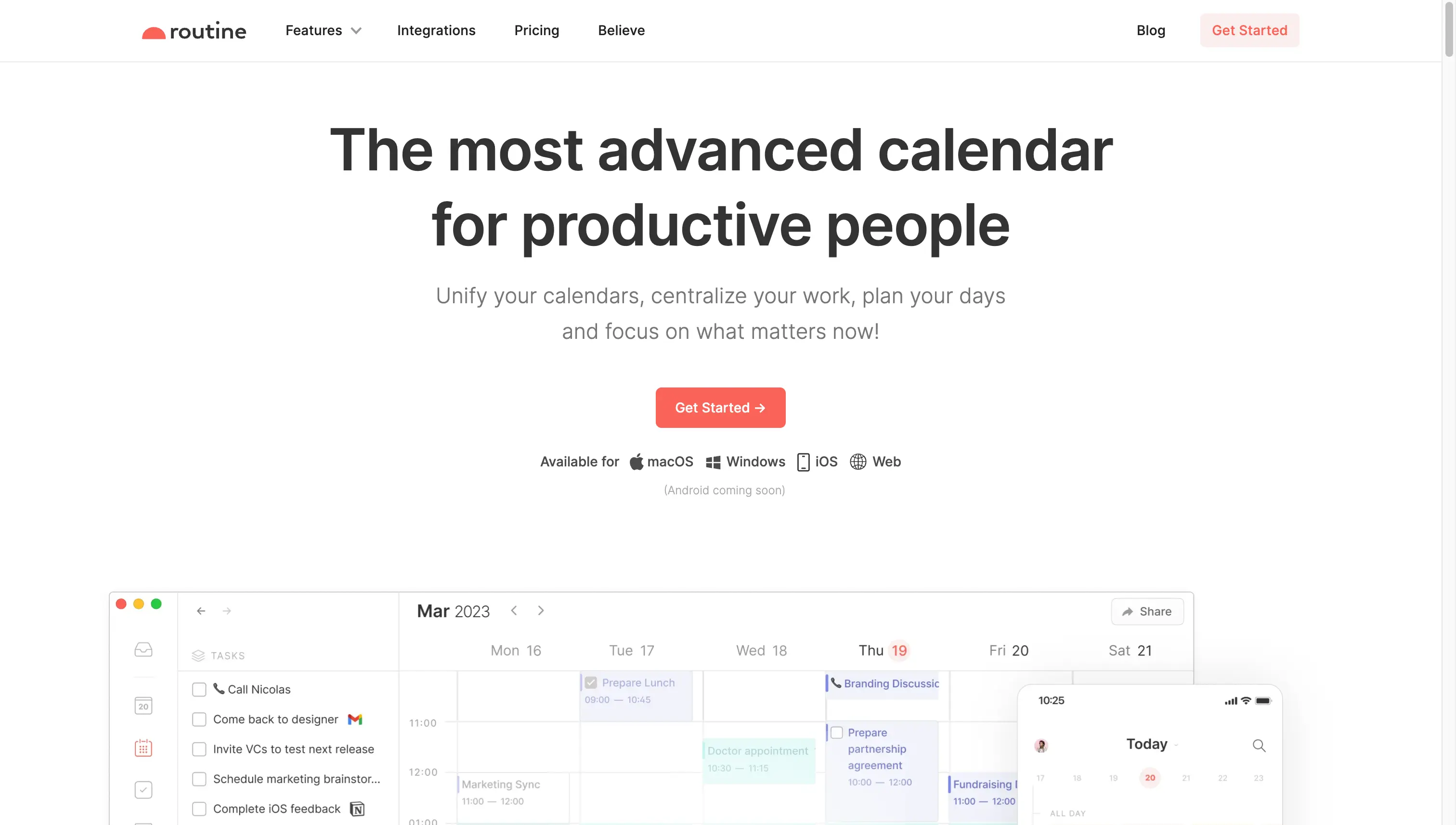 Routine features
Planner: Allows you to create meetings and tasks in one calendar view. Furthermore, you can use it to view your calendars, join meetings, etc.

Smart tasks/meetings creation: Uses natural language processing to write commands, which are translated to meetings or tasks.

Meeting Notes: This allows you to create a meeting agenda ahead of time, take meeting notes, etc.

Reminders: Notifies you when meetings are about to start, and allows you to join meetings quickly.

Knowledge base: Creates a knowledge base by linking your reference tasks, persons, meetings, etc.

Smart Planning: Routine can plan your work for you, you just provide a task, and it will find the time for it.
Routine Pricing
Free

Professional: $10 per month

Business: $15 per user per month

Enterprise: Contact for pricing
Which Reclaim Alternative is Best For Your Scheduling Needs?
Many Reclaim Alternatives have a lot of overlaps with Reclaim, but ultimately, you should choose the Reclaim Alternative based on your unique needs.
For Calendar Jugglers who want their Outlook or Google Calendars synced, with the ability to share booking links, OneCal is the best alternative.
For users who want advanced scheduling links, Calendly is the tool to use, as it's proven and offers tons of features and integrations.
If you want one tool to manage all your calendars, projects, and tasks, you should consider Motion.
Streamline your availability with OneCal
Sign up for a 14-day free trial to share intuitive booking links, sync Outlook Calendars and Google Calendars in real time, avoid meeting conflicts, save time, and keep your personal life private.