Published on
Winter 2022, Product Update
Authors

Name

Eraldo Forgoli

Twitter
Let's take a look at all the features and improvements we got added in October and November 2022.
Summary
If you don't want to read through all the details, here's a quick summary of everything that's changed:
Custom event colors

Sync meeting links

Sync event location

Exclude events from sync by assigning colors

Tons of improvements around sync reliability and performance

View the full details of a Sync

Enhanced UX around creating and managing syncs

Removed "One Time" syncs. All syncs will now always stay up to date.

A lot of bug fixes
New Features
Custom Event Colors
When creating a new sync, you can now assign custom colors to the cloned events, so you can distinguish them from other events. You can select to use a custom color or keep the target calendar's default color for the cloned events.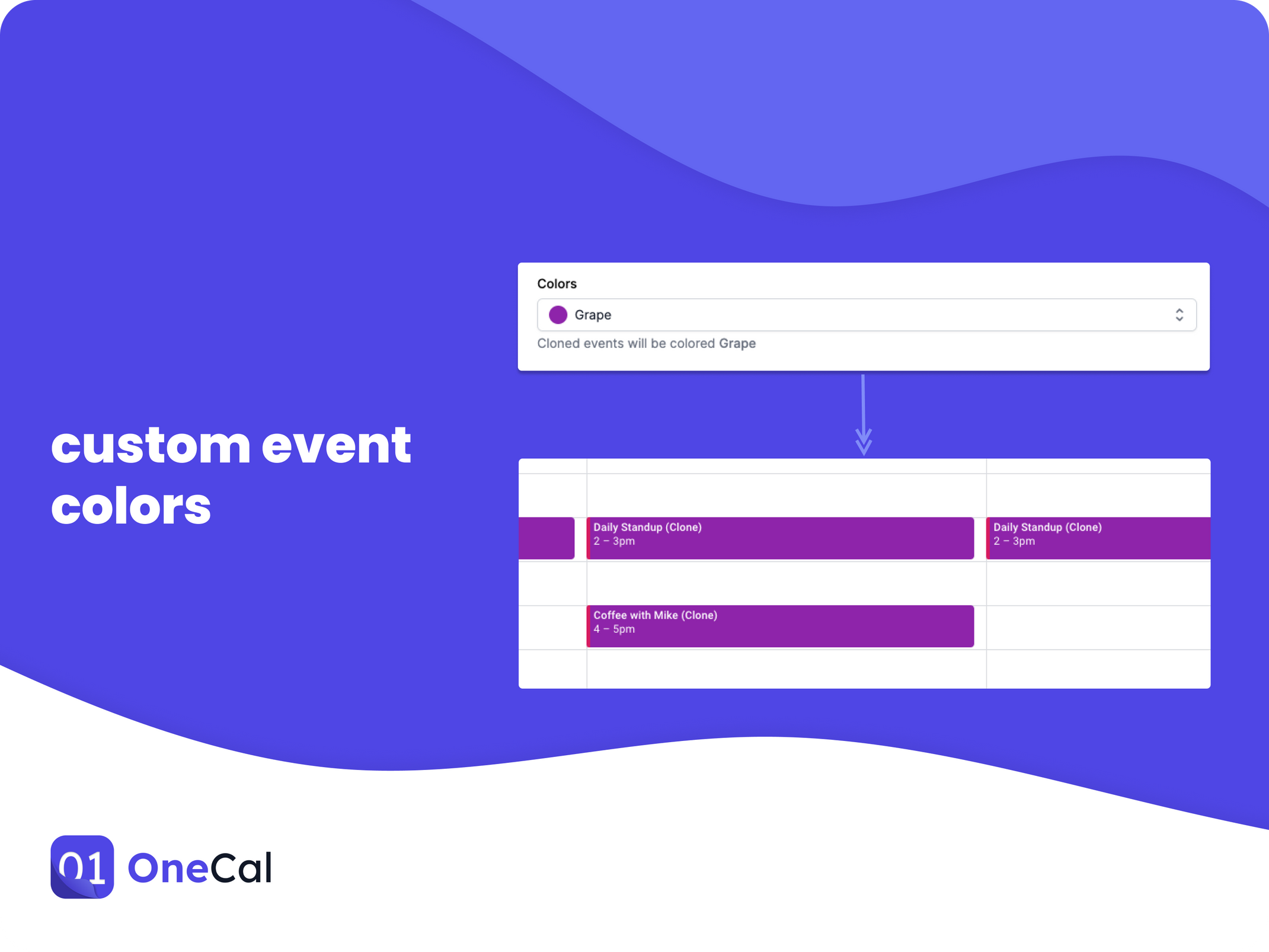 Sync event conference data & meeting links
Want to sync meeting links to cloned events? No problem. You can now choose to move over the meeting links to the cloned events.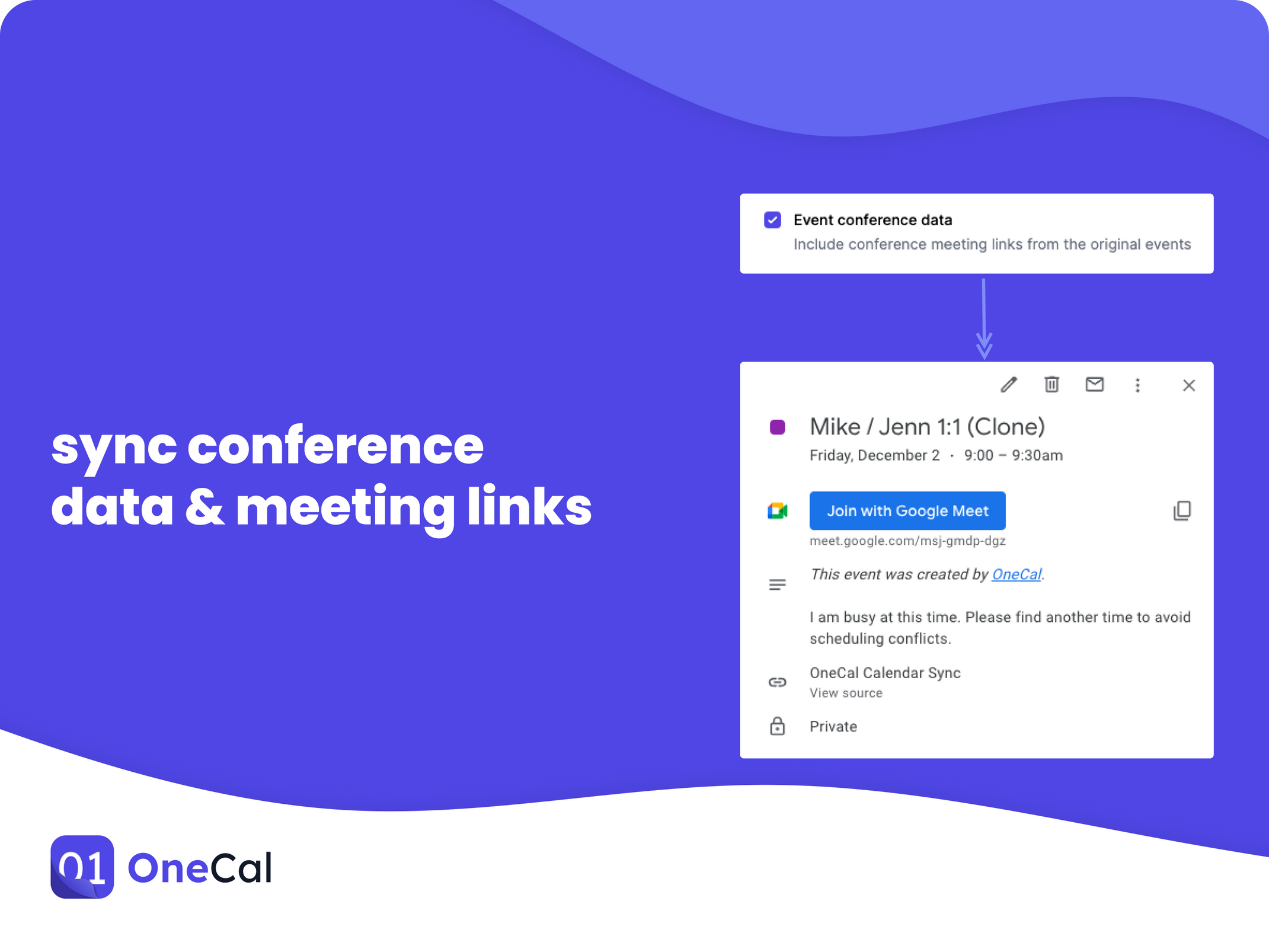 Sync event location
You can now choose to move over the physical location to the cloned events. When creating a new Sync, enable the "Event location" option to keep the physical location of the events in sync.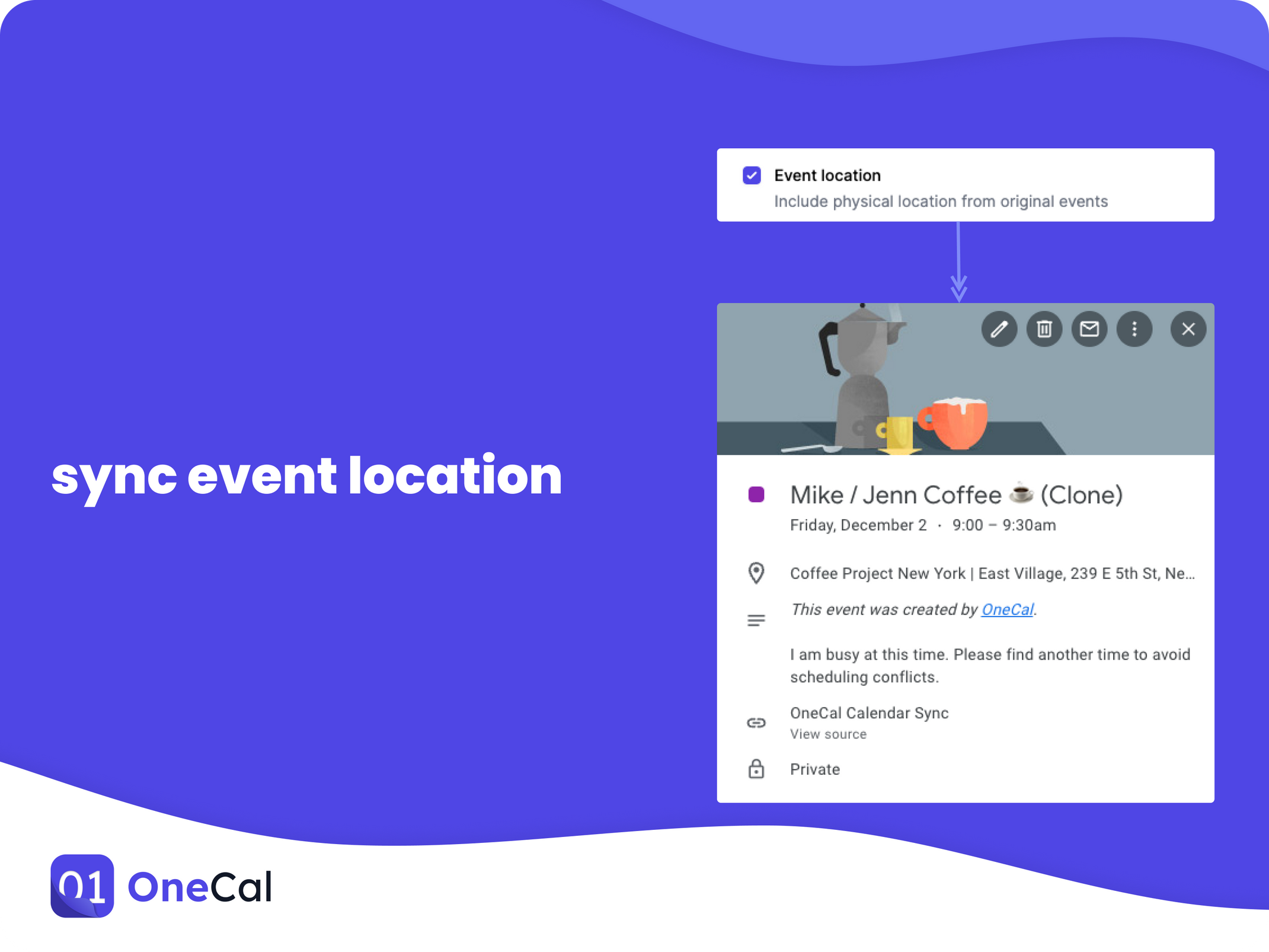 Exclude events by color
Excluding events from the sync has been one of the most requested features we have received. We're happy to announce that now you can exclude certain events using colors. To do so, we're adding a new section to the sync settings where you can select to exclude events from synchronizing if they have a certain color.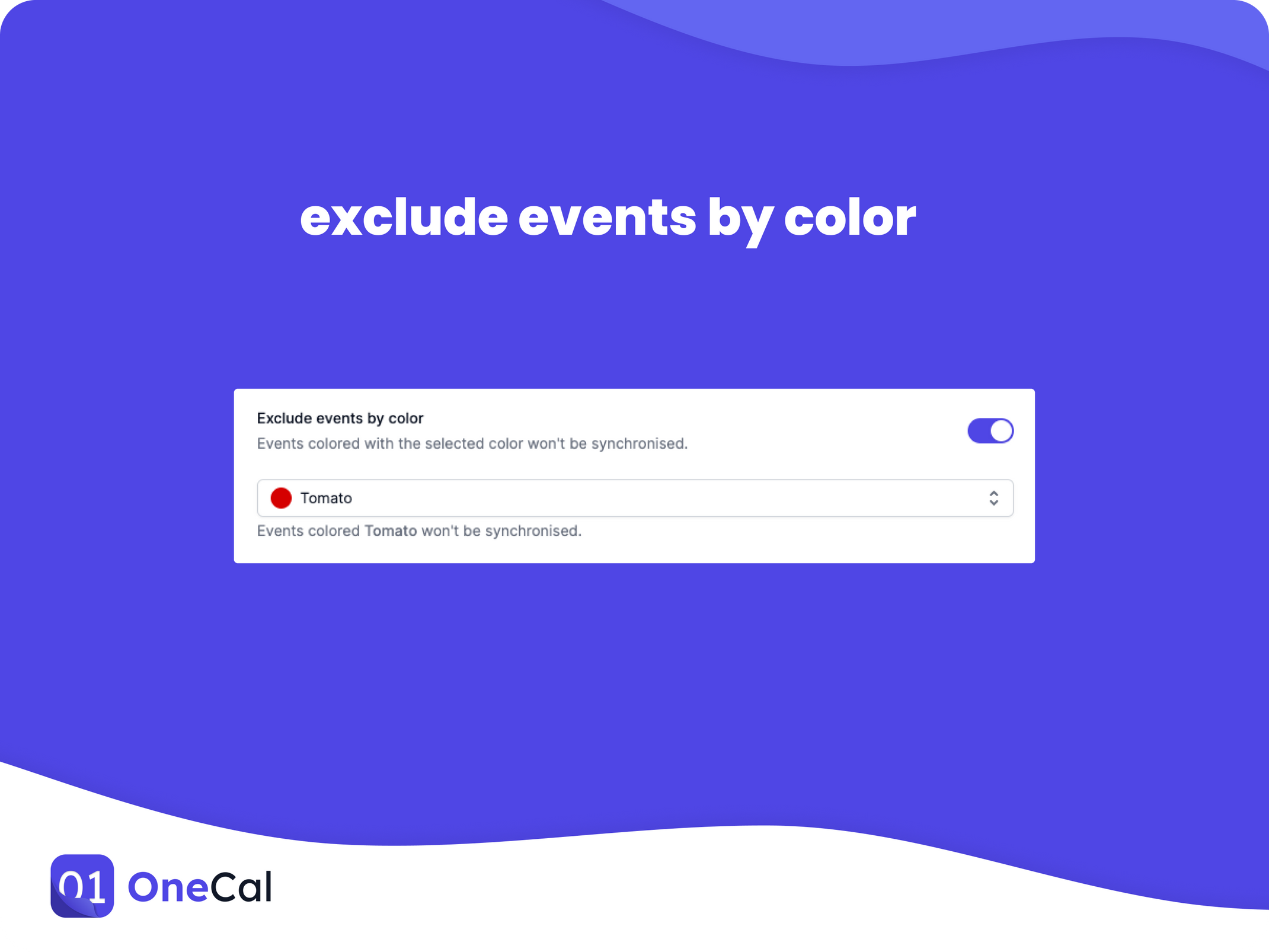 Improved sync performance & reliability
Our first iteration of the sync algorithm and architecture was faulty at high loads of events to keep in sync. After testing the system with loads of events to clone, we noticed that the web app would crash and the users couldn't log in or use the app. This issue was reported by several beta users, and we knew we had to fix it ASAP.
We switched our sync process to a queue-based process that only processes the last updated events on a dedicated server that can scale to a large number of events.
Enhanced UX around sync (re-run sync, create sync, etc)
Along with improving the sync performance and reliability, we also improved the UX around the sync feature. Now that the sync happens asynchronously, we have changed the UX to reflect it.
We ditched the loading indicated when a user re-runs a sync. We are queueing the sync, so the processing is done at a later time.
Removed Sync frequency
Based on our metrics, we noticed that almost all the users wanted the cloned events to be automatically synced with the corresponding source events. Considering this, we decided to remove the Sync Frequency step. This way the sync creation is simpler and takes less time to complete.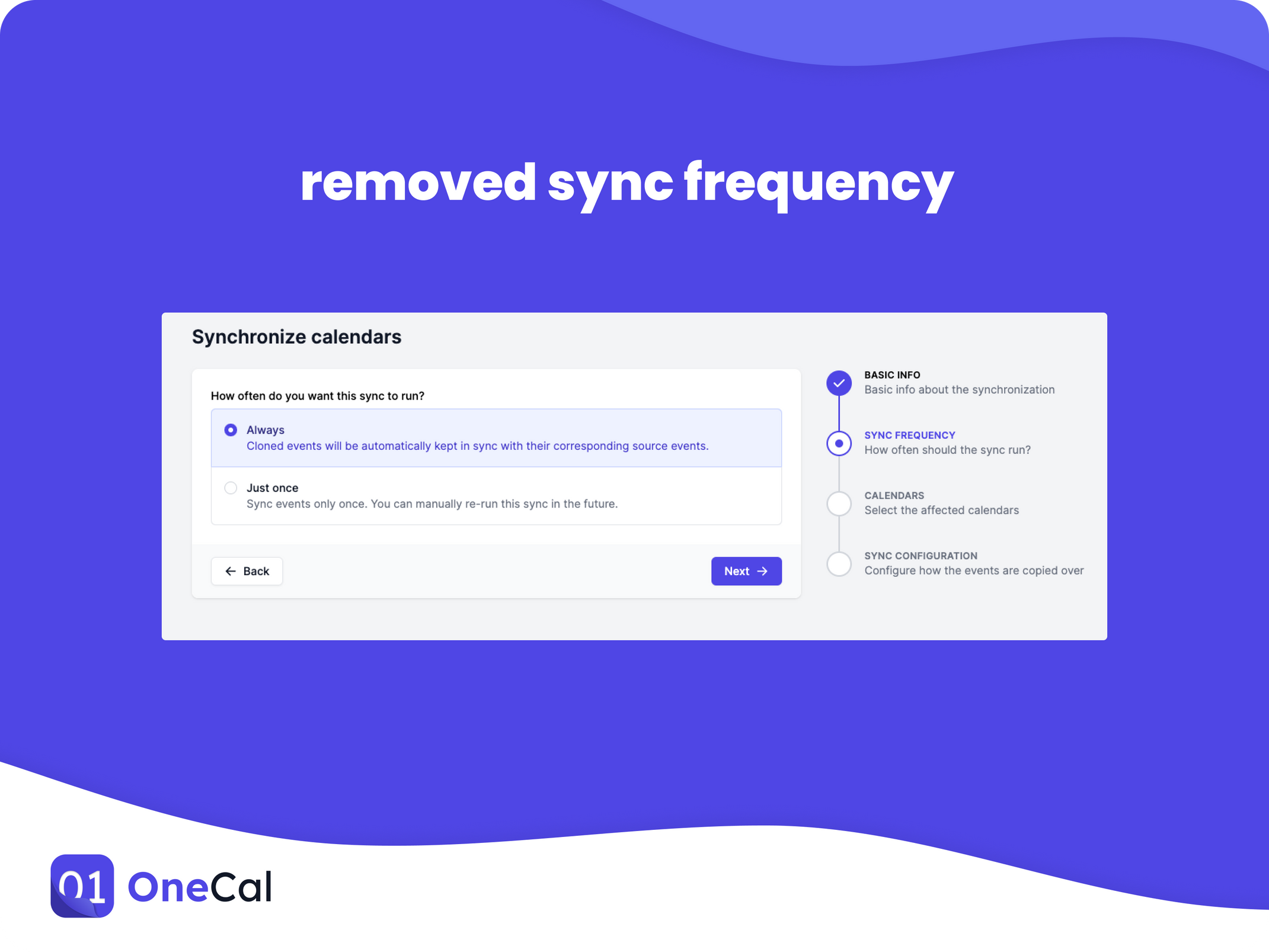 View the details of a Sync
In our previous iteration, you could only view the essential details of a sync on the Syncs table. Now we have added the ability to view the full details of a sync.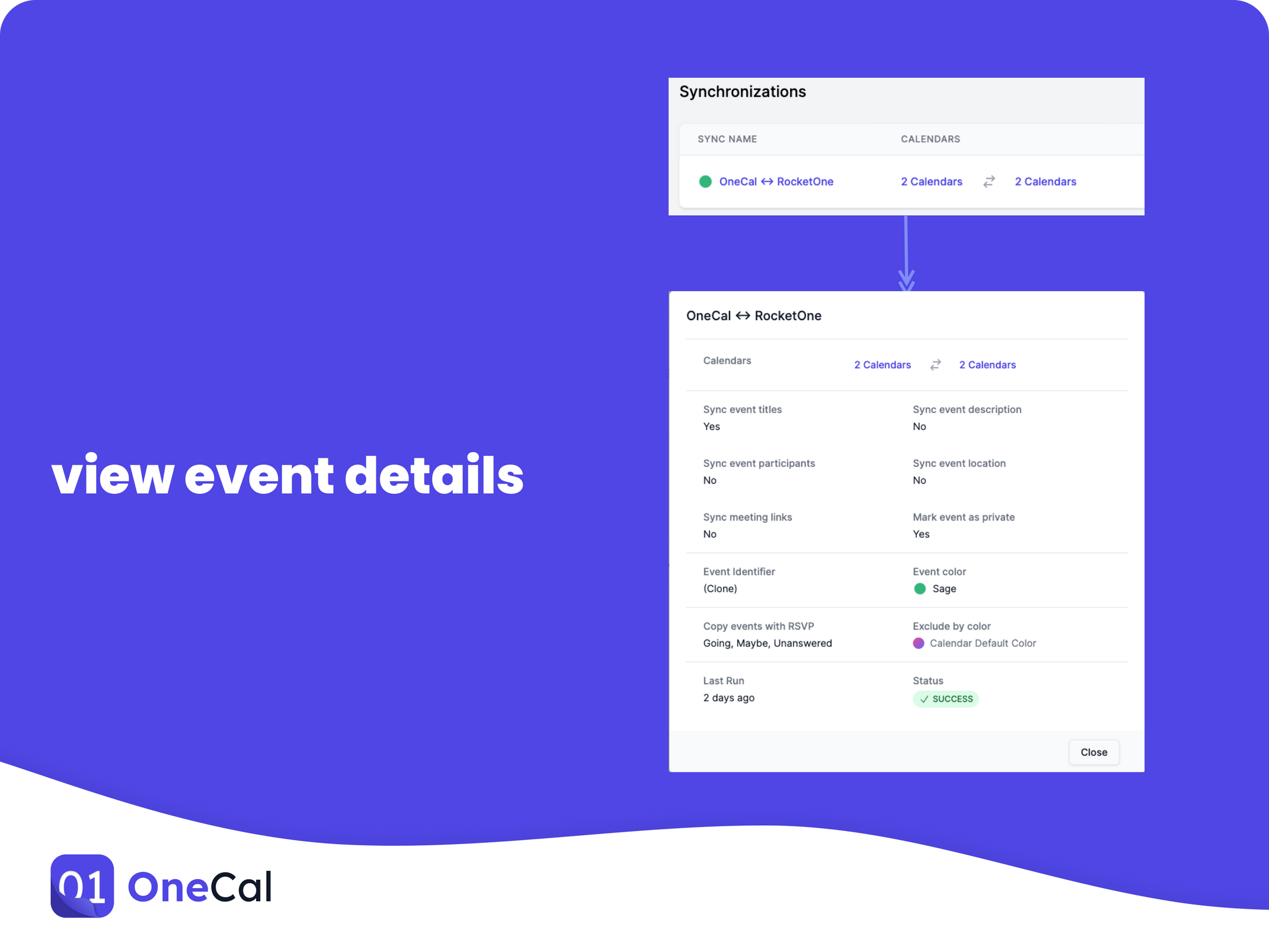 Bug Fixes
Fixed events being duplicated when syncing multi-way.

Fixed excluding by RSVP in recurring Events.

Fixed a UI error when connecting calendars with long names.

Enhanced small-screen UX on the calendars page.

Fixed the UI of error modal buttons that didn't go full width on mobile.

Fixed the long calendar names overflow.
Closing remarks
We want to give a special thanks to everyone who provided us with great feedback, suggested new features, and reported some of the issues mentioned here. We wouldn't be here without your help. Please keep sending us your valuable feedback so we can make OneCal an even better product for you.