Advocate OneCal
Earn money by
by promoting OneCal
Join our Affiliate Program and earn 25% recurring revenue from every user you bring.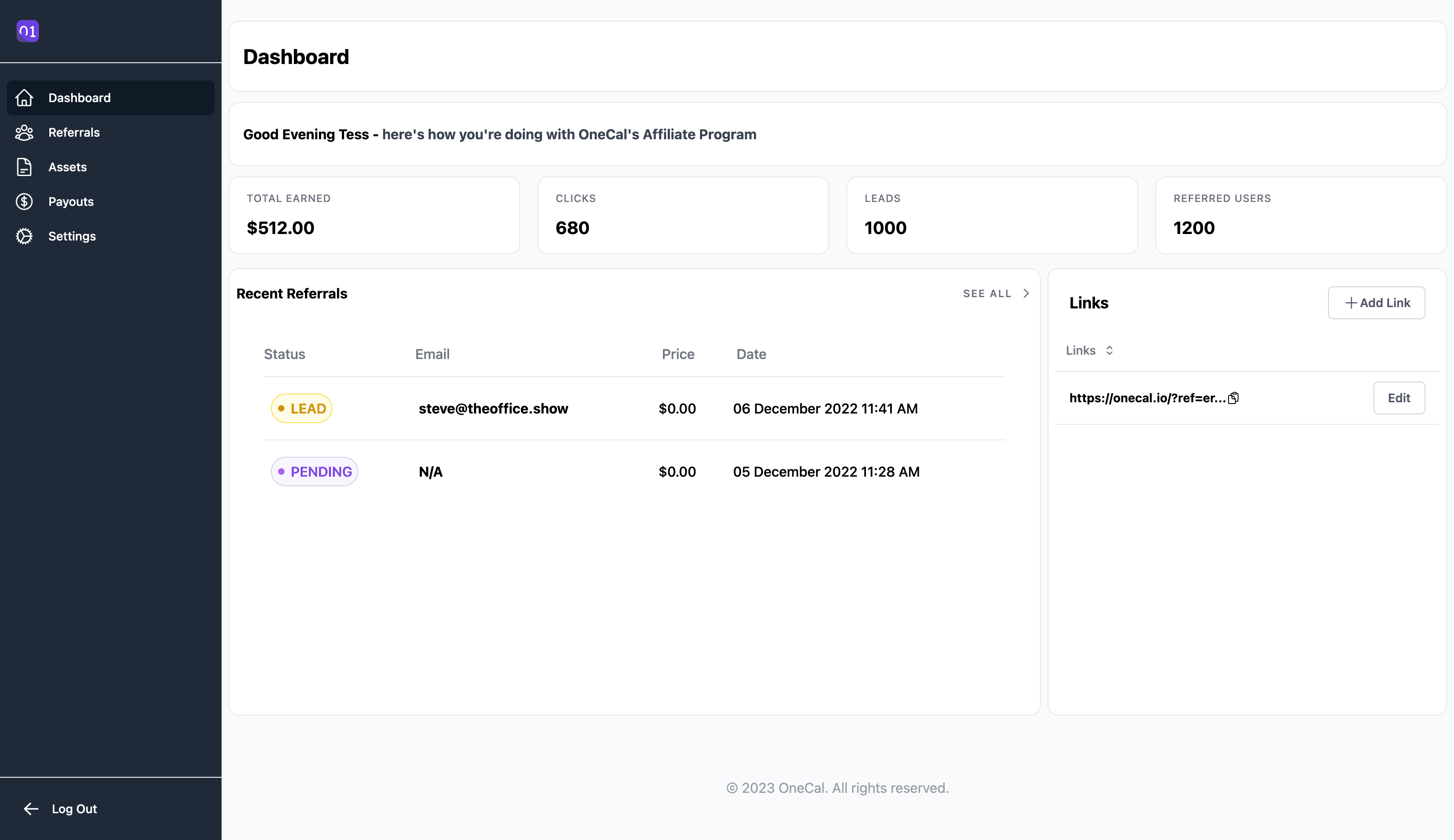 How it Works?
We handle all the hard work so you don't have to. It only takes a few minutes to apply.
Contact us
Apply
Apply to become a OneCal affiliate. We'll review your request within 2 business days and email you the details.
Setup the Affiliate Account
We use a dedicated dashboard where you can track all your referrals and payments. No need to manually track or go back-and-forth with payments.
Refer & Earn
That's it, after setting up, you can copy the URL and share it with your referrals. After your referrals have purchased OneCal, you'll earn up to 25% recurring revenue.
A great deal for everyone involved
You get a fair share for every user who signs up with your referal link. Your audience will get a discount when they sign up. Everyone wins.
Become an Affiliate
We value your work and your audience. Get paid for as long as your referals stay subscribed and give special discounts to your members.
What's included
Affiliate dashboard access

Click tracking

Signup tracking

Custom discount codes

Optional 10% discount for your audience

Monthly payouts
Receive
Recurring revenue from each user
Frequently asked questions
Can't find the answer you're looking for? Reach out to our customer support team.
Who can sign up to become an affiliate?

Anyone who has a paid and active subscription with OneCal can sign up to become part of this program.

How will I get paid?

At the moment, we only support payouts through PayPal, only in USD.

When will I get paid?

We process payouts on the 15th of every calendar month. It may take up to 5 business days for PayPal to process the transaction before it arrives in your account.

What's the minimum payout amount?

The minimum payout amount you can receive is $10. If by the 15th you have earned less than $10, your earnings will roll over to the next month.

How do you track my referrals?

When you become an affiliate, you will get a link, with your custom referal code. When users visit that link, sign up and purchase a plan, we can associate this referral to you.

Where can I see my referrals?

When you become an affiliate, you will get access to an internal Affiliate Dashboard. There you will be able to see everyone who has signed up with your link, what subscription they're on, track your payouts and more.

Can I get a discount for my referrals?

Yes. When you sign up you can also choose a custom discount code that your audience can use during checkout to receive 10% off.

Do discounts affect my earnings?

Yes. You will get 25% of the revenue we make from each user you bring. Your earnings are calculated after discounts are applied.

I have a very large audience, can I get a better deal?

If you have an audience larger than 20,000, please get in touch and we can work out a better deal for you.